Students get a taste of paradise with Luau Party
Though snow was piling up around campus on Jan. 31, Meadow Lodge embraced the tropical.
The lodge was home to IU Southeast's annual Spring Luau Party, hosted by Residence Life and Housing.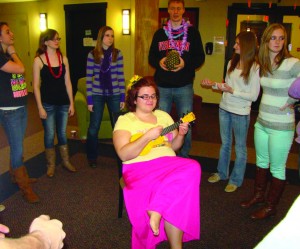 This event was free and open to all students. It offered a variety of games and refreshments, as well as separate games for the young children present.
The three-hour event was attended by a crowd of more than 40 people.
The luau has been a campus tradition for the last few years, and is one of Residence Life's signature events. Some other signature events include the '80s and Halloween parties, as well as Rock Fight, a battle of the bands.
According to Cory Dixon, the event's main host, this year's luau was a notable departure from previous signature events.
"Historically, all our big events are done in the Hoosier Room and consist of music, a dance floor and some light refreshments," Dixon said. "People usually meander around, eventually get bored and leave."
Dixon said the luau is consistently the event with the lowest attendance, so he decided to give the event a smaller, more laid-back atmosphere.
"I wanted to get rid of the loud music-and-dance set-up, throw it in a lodge, and pack it full of small games that people will get into," Dixon said. "This was our first time throwing a signature event this way."
Some of the games played include a tropical-themed version of Pictionary, limbo and a hula-hoop competition. The night's most popular game appeared to be "Pass the Pineapple," a variant on hot potato that used a pineapple instead. About 20 people were playing the game at one point.
A few students even embraced the snow outside. Some engaged in snowball fights, while others built snowmen.
Also, a non-alcoholic mock-tail bar, which has frequently appeared at IUS events, was one of the main attractions. The beverages it serves have become popular among students attending the events.
"I really liked the mock-tail bar," Brooke Birchler, elementary education sophomore, said. "The Shirley Temple is my favorite."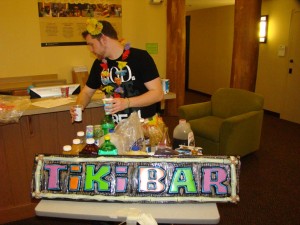 Birchler also said that "pass the pineapple" was her favorite game of the night.
The lodge was decorated with various Hawaiian-themed decorations. Leis were scattered about and given to students as they entered the great room. The mock-tail bar was designed to be a tiki bar complete with tiki-mask cups and a sign designed to look wooden.
A ukulele was being played by Anna Sneed, elementary education senior. Beach-themed bands and music artists, such as Jack Johnson, could be heard by the tiki bar.
Dixon said he was impressed by the positive, enthusiastic atmosphere.
"When I got there, there were about 40 people just laughing and talking and playing Pictionary, or getting chips and drinks," Dixon said. "At that moment, I realized we had thrown one heck of an event. That energy in the room when I first got there was my favorite part of the night."
Allison Bohm, music business senior, helped host the event as well. Her thoughts were similarly positive.
"I had band rehearsal the first half of it, but when I walked in and saw people playing games and enjoying the tiki bar, I considered the luau pretty successful," she said.
The luau is one of a growing number of events being held in the lodges. Other recent examples include Orchard Lodge's "Let's Taco 'Bout It" taco night, a Madden NFL tournament held by Meadow Lodge on Super Bowl Sunday, and talent shows held in Orchard and Grove Lodges.
While those events were primarily advertised within their lodges, the luau received campus-wide advertising and was included on IU Southeast's online calendar.
Dixon said that he originally did not know what to expect from the luau this year, but now thinks it could change the way upcoming events are held.
"I wouldn't be surprised if this event sets the precedent for future events to be done in a similar way," Dixon said.
Residence Life and Housing's next event is Rock Fight, a battle of the bands. It is currently scheduled for April 12.
By NIC BRITTON
Staff
nmbritto@umail.iu.edu