Fresh off its renowned holiday charity work, The Salvation Army upheld one of its newer traditions Feb. 8 in the Hoosier Room—an annual Bed & Bread Gala.
IU Southeast was home to the event attended by a crowd of more than 200 people.
There have only been two Bed & Bread Galas to date, and both times they have been held in the Hoosier Room.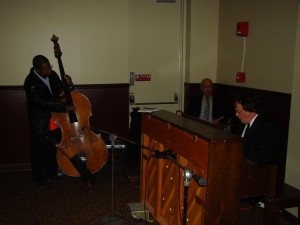 It was organized by The Salvation Army's Bed & Bread Club, a group dedicated to helping those in need of food and shelter.
The event featured both silent and live charity auctions, as well as live music, hors d'oeuvres and dinner.
Heather Kincade, psychology sophomore, helped serve food and beverages to the guests prior to the live auction. She said she was satisfied with how it went.
"The people were friendly," Kincade said. "There were so many, and everyone loved the food."
The proceeds of the event will go to those in need in the Southern Indiana area.
In particular, The Salvation Army hopes to assist those affected by last year's tornado in Henryville, Ind., and its neighboring towns.
Kevin Harned, meteorologist for the WAVE-3 television network, was the featured speaker at the event.
In his keynote speech, he said that Henryville and its surrounding towns are still in need of assistance.
"Even 11 months later, there's still work to be done," Harned said.
He praised The Salvation Army for being the "first on the scene" after the tragedy struck the Henryville area. He also discussed the commitment of the organization to help those towns as long as needed.
"The Salvation Army is there now, was March 2, and will be there as long as they need to be," he said.
To raise more money this year, The Salvation Army decided to incorporate a live auction, in addition to the silent auction from the previous gala. It was led by auctioneer Lincoln Crum.
Roxanne Haley, business administrator of The Salvation Army New Albany, said she was happy with how it turned out.
"It was the first year we did a live auction, and I was really pleased with it," Haley said.
While Haley did not have an exact estimate of the money raised this year, she said that it is a higher total than last year.
"We made around $24,000 last year, and I know we made more than that this time," she said.
Of the live auction items, the highest-grossing one was a $5 gold coin from 1987, which was released for the United States Constitution's bicentennial. It was sold for $450.
Other items sold at the live auction include a basketball signed by Indiana University coach Tom Crean, a pair of tickets for an Indianapolis Colts game and a football signed by University of Louisville coach Charlie Strong.
A wide variety of items were also available at the silent auction tables. Some were gift baskets containing items such as gift cards, Godiva chocolates and drink mixers.
Larger items, such as furniture and paintings, were also available.
The Bed & Bread Club is dedicated to tackling the issues of hunger and homelessness.
Major Stephen L. Kiger, corps officer for The Salvation Army, said that the Bed & Bread Club has a strong local focus.
"Bed & Bread is concerned with helping our local towns, which gives it a strong, distinct appeal," Kiger said. "It's aimed at addressing the very basic needs—food, clothing and shelter."
By NIC BRITTON
Staff
nmbritto@umail.iu.edu