On an unseasonably warm February afternoon, IUS softball players took the field and tried their best to avoid a swamp-like infield.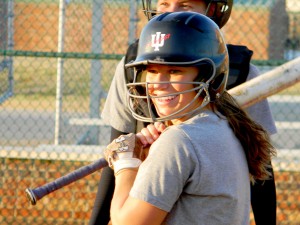 "We can get a lot done out here with weather like today," Joe Witten, IUS softball head coach, said.
The girls are dedicated to doing their best and are on the field for practice even in 8-degree weather, he said.
As the players prepare for the first game, they begin the season with targets on their backs, team captain Megan Sutherland said.
"We know we have to work extra hard this season," she said. "Everybody wants to knock us down right now, and we have to keep them from doing it."
The IUS softball team was voted the top team in the Kentucky Intercollegiate Conference (KIAC) coaches' poll, and the players say they are looking forward to another strong season.
Witten said the poll result has boosted the team's confidence.
"I don't know how much weight the poll holds, but it's important to be recognized," Witten said. "It doesn't mean we don't have to work hard though."
Sutherland said the poll results are humbling.
"You have to keep working hard to stay No. 1," she said.
As Witten begins his first year coaching college softball, he said he plans to continue the past success of the team.
The team is starting the season with an entirely new coaching staff, including Witten and two new assistant coaches.
Before coaching the Grenadiers, Witten coached softball at Floyd Central High School.
He said he worked there for ten years and used to coach Kara Rodden, who is now the volunteer softball coach. Mark Mayfield is a paid assistant coach.
Witten said Rodden is a teacher at Silver Creek Elementary and Mayfield worked as a travel coach at Henryville high school. Joining the staff last fall, Mayfield is the newest softball coach.
As a new coach, Witten said he feels privileged to have such talented players.
He said from the moment the new coaching staff arrived, he could tell the players were committed, and the new coaches were impressed by how hard the team is willing to work.
"I think their hard work is going to continue to show," Witten said.
Witten said the players are highly skilled, but they still have room for improvement.
Realizing when there is room for players to develop different skills is an important part of coaching, he said.
The team's goal for the season is to play with total intensity daily and excel scholastically, Witten said.
"Scholastically we want everyone on the honor roll," he said.
Team members routinely meet for study tables, Jade Detzer, outfield junior, said.
Some members are required to attend study tables if their grades begin to fall, but other members attend to help their teammates or get ahead on school work.
Detzer said the team is like one big family and players like to help each other when they can, especially when it comes to school work.
"12 of 16 players were on the honor roll, and academic success allows team members to have success on the field," Witten said.
Sutherland said players and coaches make maintaining good grades a priority.
"We're students first, then athletes," Sutherland said.
The team is excited about the new season but hopes more people will attend games, Sutherland said.
"A lot of times people don't even realize we have a softball team," she said. "It would be nice if people would come out and watch and support us."
The IUS softball team will open the season on Feb. 22, against Cardinal Stritch University at the Koetter Sports Softball Complex.
By HANNAH ASH
Staff
hash@ius.edu