IUS men's and women's basketball teams dominated their rivals during Homecoming on Feb. 9. Activities and free food highlighted the half day.
Before both games "The Star Spangled Banner" was performed and concluded with a salute to arms from military personnel carrying stock-issued rifles.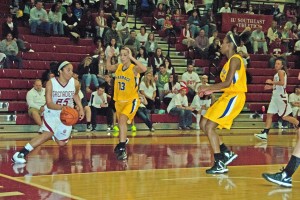 Papa John's donated free pizza for all attendees during the games.
IUS Chancellor Sandra Patterson-Randles and Channell Barbour, director of Campus Life, addressed the crowd between the two games and presented the campus Spirit Award.
Patterson-Randles said a new spirit stick for the Spirit Award was specially made by IUS graphic design students.
The new spirit stick is a 4-foot staff wrapped in purple tinsel and extensively bedazzled.
It was presented to the members of the Alpha Phi sorority for their involvement in the events and activities of Spirit Week leading up to Homecoming.
"It's good to see the spirit among our students for Homecoming," Patterson-Randles said. "It just keeps getting better and better every year. People are having a lot of fun. The band has been great. Our dancers and cheerleaders look great, and our teams, both the men's and women's, have played great."
The women's team swept St. Louis Pharmacy 88-32 in the first game of the Homecoming.
Robin Farris, IUS women's head coach, said he expected the win and was pleased to give some playing time to some of the new freshmen players.
"They're good kids and they work hard," Farris said. "We've had a lot of close games this year. I'm glad some of the freshmen were able to get out there and play some. Maybe next year they'll be able to step up and play some minutes for us."
Brian Sullivan, IUS women's basketball assistant coach said he was also pleased to see some of the new players rotate into the game.
"We've got to win three games in four days," Sullivan said. "If you're only playing five or six people, you're going to have tired legs by the end. So, having depth is important for us. Everybody who came in the game contributed, so its building some confidence for us."
"We're in the stretch now," Farris said. "We need to win at least three of our next four games to get a home game in the tournament. We're in fifth place now, and if we can finish in the top four, we can get that first round home game, which would be critical. In the tournament, you don't want to be traveling. You can win on the road, but you'd always rather be playing at home."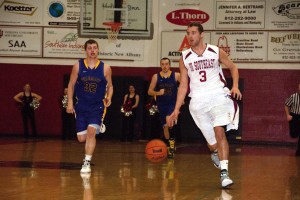 Farris said the women need to beat Brescia University to secure the fourth place position.
Heather Wheat, sophomore guard, came up just one rebound and two steals shy of a triple-double for the game, which would have been an IUS women's basketball record.
"Nobody's had one of those," Sullivan said, "and she could have easily gotten it, but we sat her for 15 minutes. When you're up by 40 to 50 points, you have to do that."
Sullivan said the team could not afford to keep Wheat in the game and risk losing her to an injury with the tournament starting soon.
Wheat said she understood the coaches' decision but was also hoping to reach the record.
"I wish I could have," Wheat said. "I was close, but we didn't want to risk me getting hurt in a game like that. It would have been really nice though. If I could have played just a little longer I think I could have had it."
Wheat said she was happy to see some of her younger teammates get some playing time.
"It was a good experience for them." Wheat said. "Everybody who got in hustled and played great."
The IUS men's basketball team also triumphed over St. Louis Pharmacy 79-51 in the second game of Homecoming.
After a hard-fought start, the Grenadiers took the lead in the first half and held it to the end.
Jake Simpson, sophomore guard, said the team is playing well but still needs improvement in areas before the tournament.
"Coach wasn't really happy with us in the first half," Simpson said, "but second half we came out a lot better. One of our goals right now is to keep our turnovers down. Our game is to force turnovers and run with the ball. If we do that, we can beat anybody."
Wiley Brown, IUS men's basketball head coach, said he sat some of the starters to rest them before the tournament.
"I got a chance to play some guys that haven't played a lot of minutes," Brown said. "And I got a chance to see them. We're going to need them eventually to come in and play some major minutes in conference time. So I got a chance to see them play, and I'm very happy about that."
Brown said he was pleased with the overall performance of the team.
"We got away with no injuries and came out in the second half and did well, so I'm happy," Brown said.
BY SAM WEBER
Staff
samweber@ius.edu