Students were laughing and enjoying themselves during the two nights of Tau Kappa Epsilon's cornhole competition.
While students may have looked to just be having a good time, there was a deeper issue underlying beneath all the festivities—breast cancer awareness.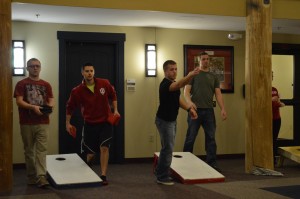 TKE hosted the two-day event in the residence halls, the first taking place Feb. 19 in Orchard Lodge and the second on Feb. 21 in Meadow Lodge.
Teams of two paid $5 to enter and all proceeds went towards breast cancer awareness, as part of TKE's I Heart Boobies campaign.
The student-led fundraiser consists of a series of events, including the cornhole tournament, with the goal of raising money in support of a yet-to-be-named local charity.
"The tournament was open-invite, and any student team could enter," Daniel Matthews, TKE president, said. "We brought people together tonight and they had fun for a good cause."
The cornhole tournament was played in a double-elimination format. The winners received a voucher for dinner at Buffalo Wild Wings and free admission to the I Heart Boobies Bash, the last event in TKE's campaign.
Teammates Jacob Jacobsen, nursing freshman, and Austin Ovington, education freshman, won both tournaments. Jacobsen said they were long-time players of cornhole beginning in high school.
"We played baseball together at PRP, [Pleasure Ridge Park] where one of our fundraisers to earn money for the team was a cornhole event," Jacobsen said.
"Eventually we were playing almost every day. At the time of our graduation we had at least 40 cornhole boards and drew some huge crowds."
Jacobsen said he thought it would be a fun event with an important purpose.
In addition to cornhole, TKE provided Jimmy John's sandwiches and sold T-shirts with proceeds going to help the fundraiser.
TKE raised $2,700 last year in its effort to increase breast cancer awareness, Amburgey said, but he hopes they are able to top that this year.
This year, the drive has brought in about $800 to $1000, Amburgey said.
"It is going to help the wife of one of our good friends," Amburgey said. "He is a respected member of the community and has done wonderful things for our organization in the past."
Amburgey said the person has not officially been named, and will remain anonymous until the night of the "I Heart Boobies Bash" where the family and benefactor will be unveiled.
The bash will take place at New Albany's The Grand on Feb. 28.
The bash costs $5 at the door and will feature dancing, music and food to promote the cause.
By BRETT HANCOCK
Staff
Brjhanco@ius.edu