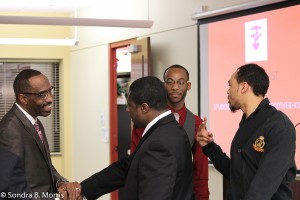 The president of the Student African-American Brotherhood broke with tradition for the group's annual "Stay the Course" keynote speaker and invited community leader Kevin W. Cosby to speak for the event held in the IU Southeast Library.
"I wanted to do something a little different and get someone local," Erwin Jacob, theater junior and SAAB president, said. "I am a member of Dr. Cosby's church so I knew his message could work for our group's event."
SAAB's motto is 'I am my brother's keeper and together we shall rise.'  The group's purpose is to be a support network for African-American men in college, to provide a source of fellowship and community.
"It's really nice to have other young men to hang out with that are focused on their education instead of other things," Kendrick Ready, business senior and SAAB treasurer, said.
Keynote speaker Cosby is senior pastor of St. Stephen Church as well as the 13th president of Simmons College of Kentucky, both in Louisville. Cosby delivered his "Importance of Self-Discipline" lecture with emotion and many references to his own journey as an African-American male growing up in Louisville.
The 20 or so people that attended the lecture were captivated by Cosby's practical, no nonsense, sometimes humorous delivery of advice for being successful in school and in life.
No one was looking at their cell phones or typing furiously at any devices.
The audience included IUS staff, SAAB members and other students, some who were also familiar with Cosby from his church.  And even though SAAB is an all-male organization, the event was open to all who wanted to hear the lecture.
"This talk really put me back on track," Ashley Funches, undecided freshman, said.
Another student, who is also a member of Cosby's church, said she thought this lecture gave new weight to advice she had heard but not really taken to heart.
"Networking and hanging with positive people seems more important the way Rev. Cosby puts it," Brandi Johnson, nursing freshman, said.
And the way he puts it is direct.  "Show me your friends, and I'll show you your future," Cosby said.  His lecture was riddled with zingers such as this one.
Cosby's lecture on self-discipline encapsulated information in easy-to-remember phrases and he used the letters of the word "focus" to make key points.
"F is for 'first things first', O is for 'other things second', C is for 'cut out unnecessary things', U is for 'unify around your purpose' and S is for 'stick to it," Cosby said.
The ability to stay with a task until it is finished is one of the many signs of a self-disciplined person according to Cosby.
By SONDRA MORRIS
Contributing Writer
sobmorri@imail.iu.edu