On Feb. 28, the TKE fraternity painted the town pink.
The group held its second annual "I <3 Boobies Bash," a charity event dedicated to helping those affected by breast cancer. This semi-formal event held at The Grand, a historic banquet hall in downtown New Albany, raised an estimated $3,850 for the cause.
In a twist kept secret by TKE's members until the night of the event, 100 percent of the proceeds were donated to the family of Jason Kerberg, a patrol officer from the Floyd County Police Department. Kerberg's wife, Sara, has battled a rare form of breast cancer for the past few years.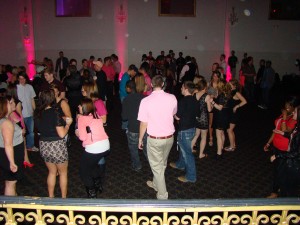 "I truly had no idea this was going to happen," Jason Kerberg said to the crowd.
Daniel Matthews, business marketing and management junior and chapter president of TKE, was enthusiastic about the donation.
"Everybody was on board with it," Matthews said. "He (Jason) has definitely treated us well."
Lesley Kleiser, environmental science junior, also supported the decision.
"I thought that was a really good thing to do," Kleiser said. "The doctors gave her (Sara) five years to live, and she's on year four."
Matthews said he was really impressed with the event's turnout.
"It was definitely bigger than last year," Matthews said. "Last year had about 275 people, but this time, we had close to 400 over the night."
In addition, Matthews said more money was raised this year. Last year, around $2,700 was raised compared to around $3,800 raised this year.
The event was started last year by Trenton Amburgey, business marketing senior and TKE's social events coordinator. Amburgey said his grandmother, who had been diagnosed with breast cancer, was the inspiration for the event.
The cause has resonated with many students.
"My grandma passed away from cancer three years ago, after battling it for 10-15 years," Kleiser said. "Breast cancer was the first type of cancer she had."
Nicole Cummings, secondary education senior, has also seen the effects of cancer.
"I've had family members with other kinds of cancer," Cummings said. "Any time you can help a family out in a time of need, that's a great thing."
Due in part to the cause's wide appeal, the "I <3 Boobies Bash" has become one of TKE's most popular events.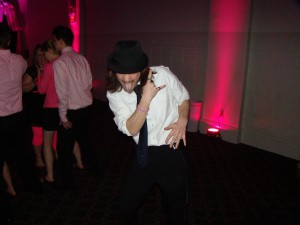 "Last year, this and the Halloween party were our two biggest," Matthews said.
TKE utilized many methods in raising money for the cause. Much of it came from admission to the main event at The Grand, as all proceeds went to charity.
Bracelets and T-shirts were sold as well, and the group also sought company sponsorships to be featured on the shirts.
"It was a minimum of $25 for a sponsorship," Matthews said. "We got $25 from some, and more from others."
In the week before the main event, TKE also hosted a pair of cornhole tournaments at Orchard and Meadow Lodges.
All the proceeds from both tournaments went towards the cause.
To get the word out about the main party, Matthews and the others members of TKE advertised it in a variety of ways.
"We utilized Facebook, had fliers made up, used Twitter and advertised within the lodges," Matthews said. "And of course, word of mouth is a huge advertising tool."
Matthews said he was also glad to be able to use The Grand as the venue.
The Grand was very cooperative," Matthews said. "It's been one of our most frequent event venues."
At The Grand, music and dancing were the main draws. The bar also provided a variety of alcoholic and non-alcoholic beverages for attendees.
For guests planning to drink, a free taxi service was also provided this year.
Prior to the event, Matthews said this event could be the "highlight of his presidency." He said he was satisfied with the end result.
"It's a really good feeling," Matthews said. "We are really appreciative of everyone who came out and donated.
This whole thing wouldn't have been possible without the community."
TKE is a non-profit organization that supports different charities throughout the school year. The fraternity also supports Susan G. Komen for the Cure and St. Jude Children's Research Hospital.
All the proceeds raised during last year's I <3 Boobies Bash were donated to Susan G. Komen for the Cure.
St. Jude Children's Research Hospital was founded by a TKE alumnus 50 years ago and is one of the international philanthropies of TKE. This also makes St. Jude one of TKE's dominate charities.
For the second year, a toy drive was held during the fall semester with proceeds benefiting St. Jude. A volleyball tournament, Spike for a Cause was also held last semester with proceeds benefiting St. Jude.
On April 6, a 3-on-3 basketball tournament, Hoops for Hope, is being held with all proceeds benefiting St. Jude.
Donations can still be made to TKE for the cause. Students interested in helping can visit www.gofundme.com/1y3en4 for more information.
By NIC BRITTON
 Staff
nmbtitto@umail.iu.edu