Jazzmar Ferguson is proof that you do not have to play at a big school to make it professionally.
The Grenadiers' all-time leading scorer is now in his second year of playing professional basketball.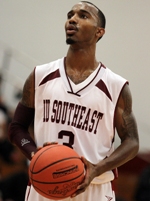 Ferguson signed his first pro contract for the Moncton Miracles, a Canadian National Basketball League team.
After playing a year with the Miracles, he played in the Southeast Australian Basketball League for the Albury Wodonga.
While there, he led the Australian league in total 3-pointers made.  In October 2012, he was traded to the Bendigo Braves, another SABL team.
Ferguson went to Moore High School in Louisville, where he averaged 19 points per game during his senior year before coming to IU Southeast in 2007. As a senior Ferguson was named an all-region player.
Carlos Mitchell played against Ferguson in high school for Fern Creek, and then played three years with him at IU Southeast.
"When I saw he was joining the IUS team when I was a sophomore, I knew he was going to do a lot of successful things," Mitchell said.
Mitchell is currently working on a professional deal to play in Mexico.
"It was cool playing with Jazz, it was fun," Mitchell said. "We both were very hard competitors, so it made things fun on the court. During summer pick-up games, we would always play on different teams to push one another. When he was on offense, I could practice my defense guarding him. I think Jazz was one the best offensive players in NAIA [National Association of Intercollegiate Athletics.]"
Carlos Mitchell said he played with Ferguson in Amateur Athletic Union, and he knew Ferguson could score.
He said one thing people did not realize about Ferguson was how much he worked on his defense, and how much he improved as a defender.
"People never notice it because of his ability to score," Carlos Mitchell said. "I've known Jazz for a pretty long time. When we was young guys, we always had a good friendship and it helped on the court. One thing I like about Jazz, is he always played hard and never gave up or backed down from a challenge."
In support of Carlos Mitchell's claim, Ferguson holds multiple records and is one of the most awarded players ever at IU Southeast.
He holds the record for most career points, 2,042. He was not only a prolific scorer, but Ferguson is second in all-time assists for in a career with 487 total assists.
On November 5, 2010, it took Ferguson only one game to break two school records.
Ferguson scored 46 points against Mid-Continent University, and knocked down 10 3-pointers in a blowout win breaking two records in the process.
In his senior season, Ferguson broke the record for most points per game with 24.34, and total points with 779.
He was named Kentucky Intercollegiate Athletic Conference Player of the Year in 2010-2011, NAIA first eam All-American and NABC All-American.
Ferguson also averaged 24 points, four rebounds and five assists during his senior season.
During the four years Ferguson was at IU Southeast, the men's basketball team won the KIAC championship every single year.
Brice Mitchell, marketing senior, played with Ferguson at IU Southeast for three seasons.
"It was fun playing with someone who has a huge passion for the game of basketball," Brice Mitchell.
"Also it made the game a lot easier having a point guard that can give you the ball in positions on the floor where you can score. Coach Brown always said the point guard is the most important position on the team; you can't have a good team without a good point guard."
Brice Mitchell said Ferguson's speed is one of the things that set him apart.
"Without a doubt, Jazz's work ethic is the reason why he is such a great player," Brice Mitchell said.  "He never made excuses, lived in the gym and always went hard in practice. His drive to become a better player made him a leader and rubbed off on the team, which is a reason for our successful seasons in the past. Coach Brown repeatedly said to the team, 'Speed will always beat size.' Jazz, being an undersized player, never was outworked, which made him stand out over the bigger players at his position."
Brice Mitchell said during Ferguson's senior year, the Grenadiers played the University of Cincinnati.
This teams is a member of the Big East Conference and is regarded as one of the best conferences in the nation every year in NCAA Division 1.
"Playing against a high caliber Division I team, like Cincinnati, was a good way to compare your skills with the best of the best," Brice Mitchell said. "The fact that Jazz scored 36 [points] proved to everyone that he has the ability to play at a higher level which he is doing now in Australia."
By RAYMOND SHUTT
Staff
rshutt@ius.edu