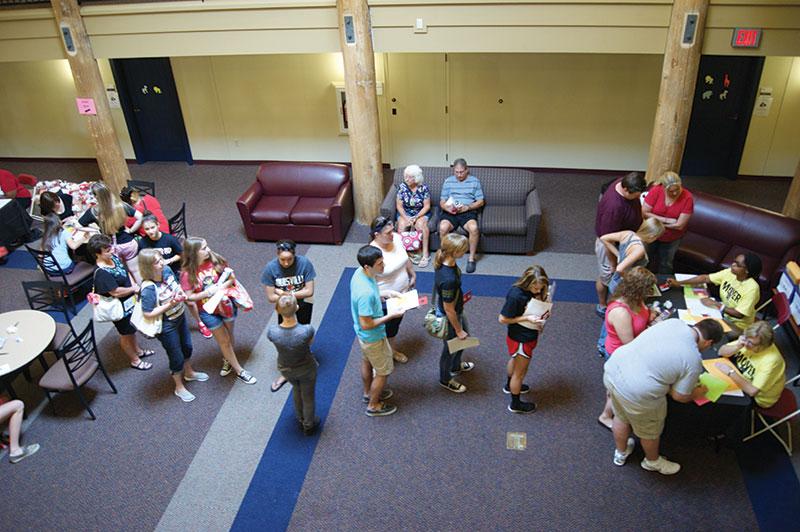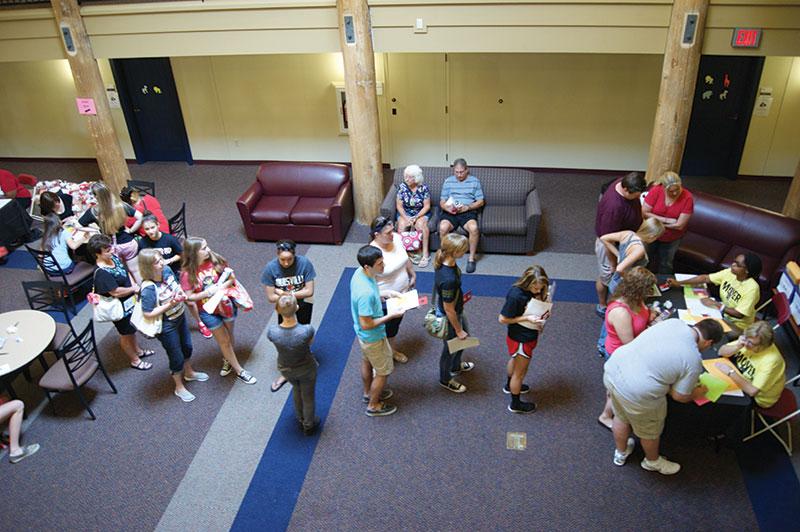 Inside Meadow Lodge, a line is extending halfway across the lobby. Dozens of students have poured in for Move-In Day, alongside their families, friends and the event volunteers, making it a crowd of several hundred.
On the other side of the lobby, Annette Wernert, office service assistant, is answering students' questions about the process.
While doing so, she is also observing the crowd as a whole, trying to gauge reactions and the overall excitement level. She is pleased with what she sees.
"This is going very smoothly," Wernert said. "Just by watching people, I can see there's a good mixture of new and returning students, and they all seem excited."
The five residence halls opened their doors to students for Move-In Day Aug. 22. Beginning at 9 a.m., students were guided through the process and moved to their rooms.
Volunteers, campus staff and campus group members were on hand to help families unpack their belongings.
Unlike last year, the residence halls reached full capacity for the fall 2013 semester, with all 399 available spots claimed in advance.
"Our lodges are packed full of very excited residents," Wernert said. "This is going to be a really good year, and I'm excited to start. I think the lodges will teach them life skills."
Among the new residents was Jonathan Gentry, computer science freshman.
"The main reason I wanted to live here was the size of the rooms," Gentry said. "I really like the layout."
Whitney Estes, criminal justice sophomore, said she felt similar about the rooms, viewing their size as a major selling point.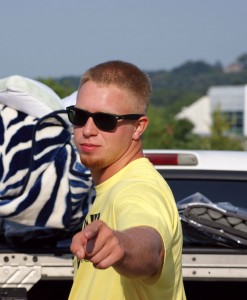 "It's not a jail cell like some dorms," Estes said. "It's more like an apartment than a dorm."
Estes also said being able to live on campus is crucial because her home town, Greenfield, Ind., is inconveniently far from campus.
"Greenfield is about two hours away, so I definitely couldn't commute every day," Estes said.
Many of the volunteers were students returning to residence hall life.
"I'm living in Orchard Lodge again, like I did last year," Kristi Roach, nursing sophomore, said. "I really like living close to the community and campus activities. It's also nice rolling out of bed to classes."
Also coming back was Brittanie Glasser, nursing junior.
"I live on campus because it's way easier," Glasser said. "It's good to come back to my lodge, instead of sleeping in public. It's also a good vacation from home."
Members of the campus's fraternity and sorority organizations were also on hand to help families.
"Everyone from our Alpha Phi is helping people move, or being greeters," Katie Walsh, nursing junior, said. "It's a good way to get to know incoming freshmen."
This year's Move-In Day had a different setup. Previously, all five residence halls had check-in stations; this year, there were only two. One was located in the Activities Building, while the other was located in Meadow Lodge.
"We consolidated the check-ins this year to make the move-in staff more efficient," Amanda Stonecipher, director of residence life and housing, said. "We have close to a hundred volunteers, most of which are returning students. I think they send a great message to students that they can get involved on campus too."
Wernert said another reason for the change is to allow the community advisers to meet a wider variety of people.
"They get to know not just the people staying in their lodge, but the people in all the lodges near their station," Wernert said.
Stonecipher said she was pleased with how the day turned out and is looking forward to the semester ahead.
"We're always excited to welcome new students, and welcome back returning ones," Stonecipher said.