It's a fine line: student practices slacklining on campus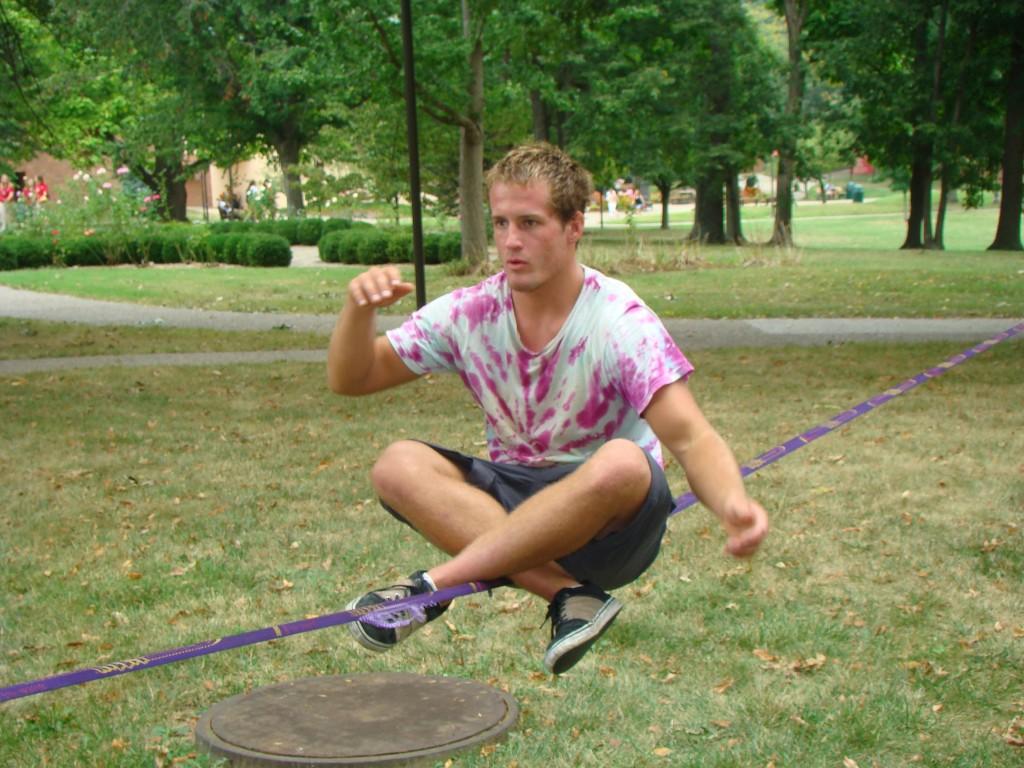 Aside from the usual shuffling of students to their classes, the commons are generally calm and free of surprises during the morning hours. On this warm Wednesday morning, however, there is a bit more commotion than usual. Cameras are flashing, several of the benches are packed with onlookers, and many students are walking more slowly to see what is going on.
Upon closer inspection, the reason becomes clear: Tyler Newcomb, philosophy freshman, has just set up his slackline.
The long, purple nylon slackline extends from one tree to another, its ends firmly fastened onto the trunks with ratchets and straps. After ensuring that the line is set up safely, Newcomb hops on and begins his practice. The line is similar to a tightrope, but more flexible: it sinks, stretches and allows him to bounce, almost serving as a particularly thin trampoline.
To many of the onlookers, this is something that they have not seen before. To Newcomb, it is a regular morning routine.
"I have three hours in between classes on Monday and Wednesday, so this is a good way to kill time," Newcomb said. "Sometimes I should be doing homework instead, but this is more fun."
Newcomb took up the hobby while living in the Dominican Republic. He, his brother Taylor, and their friend Leo all had the same day off. Leo told Newcomb about slacklining, and they decided to try it as a way to pass the time.
"I had no clue what it was until that day," Newcomb said. "From that point on, though, I fell in love with it."
Newcomb said it took "lots of practice" to get the hang of it, but his love for the sport has not wavered since day one. His interest did not even fade during his brief time in the military.
"I was in training in the Air Force, but then decided it wasn't for me," Newcomb said. "So I got out."
His military experience ended up making his enrollment at IU Southeast possible, however.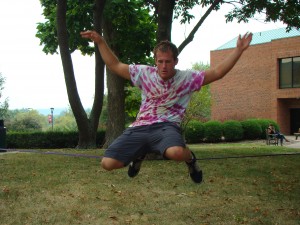 "Since I have military benefits, I decided to just go to college," Newcomb said. "I don't really know what for yet, but it's really close to home, and I heard it was a good school."
Since starting his college career, Newcomb has regularly slacklined on campus, and frequently lets other students give it a try.
"Some of them have been naturals," Newcomb said. "This one kid I met almost got across the line on the first try. It was crazy."
Newcomb said none of the authorities on campus have objected to his slacklining, thanks to his safety precautions and tree protection. However, this has not always been the case in other places he has slacklined at.
"I was at the airport once, and ended up being about twenty dollars short for my flight," Newcomb said. "So I set up the slackline and performed for the first time publicly. The TSA eventually told me to take it down, but I was able to raise the money before that happened."
Often, Newcomb is joined by his brother Taylor, who said his passion for the sport has remained similarly strong.
"We slackline together at least three or four times a week," Taylor said. "It's fun seeing our progression the more we slack. He is better at it than me, so slacking with him drives me to try new things."
Newcomb said the sport is a good way for him and his brother to bond, and is also more calming than other sports.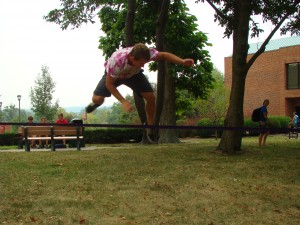 "Slacklining requires a lot of concentration and skill, but is also relaxing," Newcomb said. "I prefer sports like these. Nobody gets mad about losing or anything."
Newcomb said he encourages those curious about slacklining to come talk to him and experience it for themselves.
"If anyone wants to try it, come see me," Newcomb said. "I love seeing people try it."