It is March 2012. Long after the sun has clocked out for the night, I am still on the state road connecting Boonville and Newburgh, two small Indiana towns just outside of Evansville Ind.
I'm currently driving to Boonville, and very few other cars are joining me on this quiet, desolate stretch of road: I more or less have it all to myself. A mix of The Black Keys, Cee-Lo Green and Steely Dan is playing through my car speakers; and even though it's March, I have my window slightly down. The winter breeze is nice in small quantities.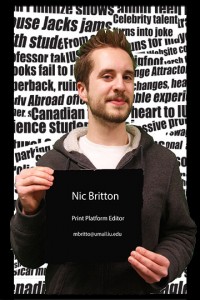 This is definitely not my first time going down this road. I had traveled it often to see friends living in Boonville – usually at TF Ice Cream, our most common (and dirt-cheap) hangout spot. On this particular night, however, I'm not heading off to see anyone, nor do I have anything in particular on my agenda. I just want to drive down it again one last time, before I move for the first time in 11 years.
As a kid, I moved on a frequent basis. I was born in Florida, and over the course of the next ten years, I also lived in Kentucky, Virginia, Pennsylvania, North Carolina and Indiana. I even lived in a few of these states on multiple occasions – my family briefly returned to both Kentucky and Virginia after we initially left them behind. If you would have told 10-year-old me that I would one day consider moving to be a strange experience, I would have never believed you.
But then again, I also didn't expect to stay in Newburgh very long. And yet I did – for around 11 years, in fact. The gradual realization that we were there for the long haul genuinely took me by surprise.
Steadily, I grew to like it; eventually, I even grew to love it. I met some of the best friends I ever had there, and we saw everything the (admittedly fairly small) Evansville metro area had to offer. We'd go to concerts at Roberts Stadium and Boney Junes, both of which have sadly closed their doors since. My old band and I played countless shows in the city, ranging from small acoustic sets to exciting shows in downtown Evansville, where we played while the golden lights of the casino flickered behind us. And when we needed to unwind, the calm shoreline of the Ohio River was always waiting.
Leaving it all behind was difficult. My family and I relocated to Louisville in April 2012 for the sake of my dad's job, and it was not an easy transition. It's tough saying goodbye to where you spent your formative years.
But it soon became clear that the decision was for the better. Not just for my family's livelihood, but also because leaving my comfort zone has been a terrific experience.
Evansville, great as it is, is fairly static. It doesn't undergo many changes, and after a while of living there, I felt like I always knew what to expect. I could have lived there the rest of my life and been content, but I feel like Louisville gives me a chance to be more than just content.
Even after living here for almost two years, I feel like I've barely scratched the surface. There's always a new restaurant to try, new people to meet, or a new part of town to visit. Coming to IU Southeast has given me even more fresh opportunities – I've genuinely surprised myself with some of the things I have accomplished here. All things considered, I think I've grown more as a person in these last two years than I did in the entire decade prior. As tough as it is to give up something you love, it's immensely rewarding when something even better fills its void.
Evansville or Louisville — it was a win-win, really. But I can safely say I got the better "win."