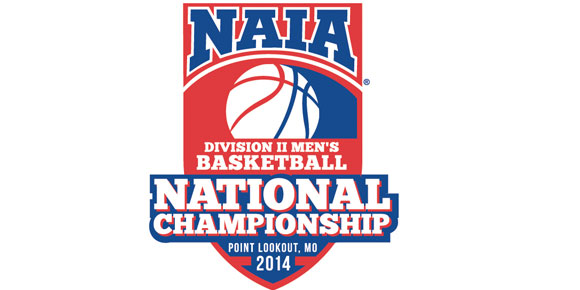 Parker Henes, journalism junior, is a 6-9 forward on the IU Southeast men's basketball team. He will be blogging from the road as the No. 3 Grenadiers play in the NAIA  Basketball National Championship tournament  in Point Lookout, Mo.
Post III
Game 1
By Parker Henes No.34
The tournament began for us last night against the Tabor University Bluejays. When I say it was a great game, I mean it. Tabor stayed in the game all the way through. there were so many lead changes that I thought it was going to be over for us. But like they say, the first game is always the hardest one.
I am so proud of my teammates. They stayed in the game and played wonderful. One of the hardest games we have played all season. One through fourteen played very well for us. When it came down to it, we stuck our heads in there and were not afraid to get hit.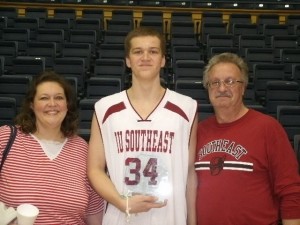 We took a lot of shots from Tabor. Playing physical is what this tournament is about. Physicality, in my mind, is one thing that we have lacked throughout the regular season. But after last night, I feel like we passed a really hard physical test and we prevailed.
One player that played very well for Tabor University was Lance Carter. He played very well from the tip off to the final horn. His valiant effort was what kept the Bluejays in the game.
The Bluejays, however, couldn't keep running with us. One thing that we have over other teams is that we run every possession. We run them down until they are tired, and that is where we put it on them.
"It is cool to see the other teams break down because they aren't in as good as shape as we are," Kevin Mitchell, senior guard, said.
Kevin played very well yesterday. He has been struggling with turning the ball over during the regular season, but last night he did not have one turnover.
"I give it all to my teammates. They were catching the ball and knocking down shots. They were in the right spot at the right time."
Aishon White, junior guard, and Greg Magee senior forward, came off the bench and played very well. When someone comes off the bench, you want them to automatically impact the game. Thats exactly what Greg did. He came right off the bench and scored 15 in the first half. In my mind, he is the reason we were in the game. Aishon came in and impacted the game on the defensive end. He shut down their point guard, Robbie Samuel. All in all, it was a great team win for us.
We take the floor today for the second round at the same time as yesterday. We take on Robert Morris University Eagles. They won yesterday against a really good Saint Francis team. This game will be a big test because the are bigger than us. One thing that beats big is quickness. We shall see which one is dominant.