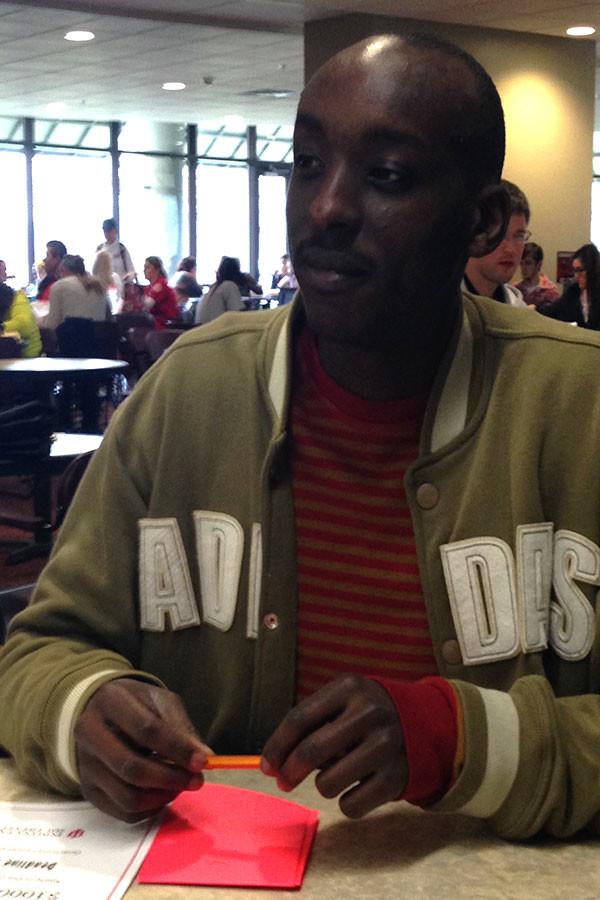 Kristin Kennedy
In 2012, Carlos Kuria traveled thousands of miles from Kenya to New Albany. He was 18, and he didn't know anyone in the U.S. besides his sister, who traveled with him, and his father.
Kuria, a biochemistry senior in his third year at IU Southeast, is among a small group of international students on our campus. That group, according to the IU Fact Book, only included 103 students in the Fall 2014 semester.
These students have made IU Southeast their home over the years. These students have come from countries around the world, including Kenya, Vietnam, Cote d'Ivoire and others. Here, we profile some of their stories.
Carlos Kuria
Kuria's native country is Kenya, a country with varying climate and the largest economy in eastern Africa.
Kuria said his life in Kenya was similar to his life in the U.S., with a few differences. For example, in Kenya, he went to boarding school, and he did not think about working.
"In Kenya, you can't work until you are past 18 years old," Kuria said. "So when I finished high school, I was just hanging out with my friends.."
Kuria said he chose to come to the U.S. because he wanted to stay with his dad, who has lived in New Albany for over 10 years. Kuria said he had never been to the U.S. before.
He said the immigration process had a lot of steps, but his dad took care of most of them.
"I don't know a whole lot of details because my dad is the one that took care of everything," Kuria said. "The only thing that I had to do was go to the U.S. embassy in Kenya and do an interview with the embassy."
In addition to the immigration process international students also have to juggle many other responsibilities, like arranging for housing, applying for visas, planning travel, setting up health insurance, and determining financial situations before arrival.
As for his decision to study at IU Southeast, Kuria said he has family ties at the university.
"I have one cousin that graduated from here, and they said that this was a good school, and it's cheap, so that's why I came here," Kuria said.
After Kuria began his studies at IU Southeast, he said he was eventually able to become a permanent resident of the U.S., since he lives with his dad. This means he no longer has or needs a student visa.
"I'm like regular, other students," Kuria said.
At IU Southeast, besides concentrating on his classes, Kuria is the informational technology coordinator on the executive board of the National Society of Leadership and Success. He is also a member of the African American Brotherhood and the Chemistry Club.
Kuria said being involved in organizations on campus has helped him develop his leadership skills and adapt to campus life and life in the U.S.
"At first, when I came here, I was a little bit scared because when I came here, I came straight to college, so I didn't have time to stay at home and try to transition," Kuria said. "But I feel like getting involved helped me to get used to people, meet new people, and I don't think I'm scared anymore."
Kuria said he has not traveled outside of the U.S. since he has been a student at IU Southeast. He has taken fall, spring and summer classes each year. And since he has not been able to visit Kenya since coming to the U.S., he misses his family and friends.
"I enjoyed being with my family," Kuria said. "My mom is in Kenya right now, so of course I miss her. I miss my other extended families. Also, I have a lot of friends back in Kenya."
Kuria said he has also had to get used to differing expectations between the U.S. and Kenya, including personal space expectations.
"In Kenya, we can stand really close, and people don't see that as bad. And here, I have to give you your personal space," said Kuria. "There are different ways and culture here."
Kuria said he expects to graduate from IU Southeast in May 2016, and he wants to attend medical school at Indiana University or the University of Louisville after graduation. He said the professors in his courses have helped him prepare for medical school.
Kuria said he advises other international students to follow their dreams and work hard.
"Most [international students] have come from far away, and success is not easy," Kuria said. "What I'm able to tell them is, aim for the sky and give it all your best. That's what my dad always tells me."
Thuy Nguyen
Nguyen lived in Vietnam until February 2009, when she was 18 years old. Nguyen said Vietnam is a bustling, crowded country. She lived in a city that is home to over 7 million people.
"Where I lived in Vietnam, life was vibrant," Nguyen said. "Constant noise from the street, day or night. There are always people, if not way too many people."
Nguyen said her choice to go to the U.S. was not an easy one. Her parents were the ones who wanted her to go, and she ended up taking their advice.
"Honestly, my moving to the U.S. was my parents' idea," Nguyen said. "I got a scholarship to go in 11th grade, but I was not ready to. After high school, I changed my mind and left. I had no idea about what was awaiting for me. Any ideas or impressions I had turned out to be not quite right."
When it was time to go to the U.S., Nguyen said she flew to Virginia with her mother and her sister. She said the scenery surprised her.
"Everything looks big, clean and sad," Nguyen said. "I was very surprised that it looks nothing like the U.S. I saw in movies. Apparently most movies are shot in New York, Los Angeles, which look nothing like Virginia."
Nguyen said it took a long time for her to get used to life in Virginia, because she moved from one of the most populated cities in Vietnam to a suburb.
"The quietness took me a while to adapt," Nguyen said.
Even though Nguyen had to adapt to the quietness, she said she did not have a hard time adapting to U.S. culture, because many different cultures interact with one another in the U.S.
"U.S. culture is a culture that celebrates all cultures around the world," Nguyen said. "And that is the greatest part about this country. I had no difficulties adapting to any specific U.S. culture. All cultures of different parts of the world meet here, interact and learn from each other."
Nguyen said after she arrived in the U.S., her perceptions of the nation changed over time.
"At first, I thought nothing is the same between life in the U.S. and Vietnam," Nguyen said. "But the longer I observe, I realize that things are just the same everywhere. Humans' greed, humans' violence, inequalities. They take different forms, but they are all the same."
Nguyen said even though she believes the U.S. and Vietnam are similar, she said the levels of freedom of expression are different in the two countries.
"I can have access to any kind of knowledge I am interested in because of (freedom of expression)," Nguyen said. "Back home, to criticize the government can cause a lot of trouble to your life. Perspectives that are not in line with those in the government are definitely viewed as a threat."
Nguyen said after she got settled in Virginia, she started working, and she attended community college before transferring to a university. She said she took a sociology class and decided to major in it, because she believed she needed to learn about U.S. society.
In 2013, Nguyen, her mother and her sister moved to Louisville to start a Vietnamese cafe called Four Sisters, which got its name because Nguyen's parents have four daughters.
Nguyen said she took a year off school to help establish Four Sisters, but she then decided to go to IU Southeast to finish her degree in sociology.
"I chose IUS because of affordable tuition rates," Nguyen said. "The advisers that I had the pleasure to meet were incredibly helpful as well."
Nguyen said her IU Southeast experience has been "exciting." She said she has taken fall, spring and summer classes.
"I like to learn," Nguyen said. "I enjoyed my theory class in sociology during my first semester here."
Since becoming a student at IU Southeast, Nguyen has continued to work at Four Sisters. She said it is sometimes difficult for her to balance work and school.
"Running a small business, physically working there and going to school full time can sometimes be challenging, especially when unexpected life events happen," Nguyen said. "I only hope that my classes teach me knowledge which is worth coping with that challenge."
Beda Yves Martin
Martin said he has lived in various countries around the world. He was born in Côte d'Ivoire in western Africa, and he lived there for 10 years.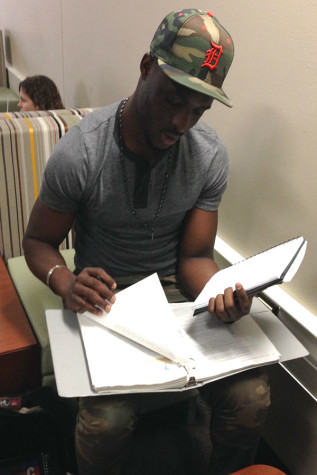 "I was 10 when I left," Martin said. "I went to a couple countries next door. Nigeria, that's where I learned to speak English. And after that, I went to Venezuela. I was there for about a year. And from there, I went back home for a couple months, then I came here."
Martin said he enjoyed the accessibility of the beach when he lived in Côte d'Ivoire.
"The thing I miss the most back home would be driving to the beach, because I had access to the beach from wherever I (was)," Martin said. "It was about a 45-minute, 30-minute drive to get to the beach, and I really miss that. There's no beach over here."
Martin said he wanted to go to college in the U.S. because he believes a bachelor's degree from the U.S. is powerful.
"If I was to go back home and come with an American bachelor's degree compared to somebody who comes with a French degree, I am more likely to get the position than he would, just because I have an American degree," Martin said.
Martin said this reality is evident in several companies in Africa, including his dad's company.
"My dad actually has his own company," Martin said. "He told me what he does when he hires. He puts all the American degrees in one spot, and everybody who has another degree, he puts them on the other side. So he goes to the list of American degrees first before he even touches anybody else. So it's really powerful."
Martin said while looking at U.S. colleges and universities, he was attracted to IU Southeast because of its small class sizes.
"I have a friend who goes to IU Bloomington, and we graduated from high school together," Martin said. "He came here (to the U.S.) a year before me. So he went to IU Bloomington, and I told him that I've always been used to small classes since I was little, and I was trying to stick to that because I like to ask a lot of questions."
Martin said he asks several questions because English is not his first language. He also said the small classes at IU Southeast enable his questions to be answered.
"There are some ways some Americans express themselves that I don't understand, so I tend to ask a lot of questions," Martin said. "And you really cannot do that in big classes."
To come to IU Southeast, Martin said he had to overcome challenges, particularly when applying to get his visa.
"I missed a bunch of deadlines because of the visa issues, so I wasted two years of my education because I was struggling to come here," Martin said. "It was pretty difficult to come here."
Martin has been a student at IU Southeast for about six years, because he came in 2009. He came to the U.S. by himself, and he lives alone off-campus.
"I have no family whatsoever in the U.S.," Martin said. "No cousins, no uncles, no nothing."
Despite being in the U.S. with no family members, Martin said it was easy to adapt to life in the U.S., because he was immersed in U.S. culture through entertainment and the media when he lived in other countries.
"America is number one in the world, so even if you're not in America, if you live out of America, you kind of know what's to be expected when you come to America, because you watch American movies, you listen to American music, you watch American news everywhere, so I already knew what to expect before I came here," Martin said.
At IU Southeast, Martin said he has found his studies to be relatively easy, because he believes academic life is tougher in Africa than it is in the U.S.
"Back home, I would more focused about school because school is more difficult than it is over here," Martin said. "School is a bit difficult over there because the material is more difficult to understand. Over here, I think school is a little bit easier, but you still have to deal with working and juggling managing your time."
Martin said he enjoys his classes because they will help him earn a powerful degree, and his professors apply classroom knowledge to real job experiences when they teach.
"Well, the main thing obviously is by giving me a degree, which is really powerful," Martin said. "And I love the classes, what I learn, because most of the professors I have in my business classes were professionals. They were actually in the work field, so I like the fact that they teach you, they relate to you and with the workforce. So I like the examples of what you learn in class and how you apply that to your actual job. I love that."
Martin said he earned his associate's degree in business from IU Southeast in May 2014. He said he enjoyed the commencement experience, because he had not celebrated a graduation before.
"Where I'm from, when we graduate, we don't do a celebration," Martin said. "You don't wear the hat or any of the other graduation stuff. You just get your degree, and that's it. So I actually got to experience for the first time that gown and the hat and all that stuff. And I thought it was really nice."
This year, Martin also earned his bachelor's degree. He plans to earn his master's in business administration. He said he then wants to go back to his home country to teach people the business skills he has learned.
"I'm going to do my master's over here, so I'm still going to be here for quite some years," Martin said. "My plan is hopefully to try to get a job over here, get as much experience as I can in the work field over here, and who knows? After a couple of years of experience, I'm probably going to go back home and try to teach people what I learned over here. I really want to open a company. That's my main goal. I want to go open my own business."
Martin said other international students at IU Southeast should be true to themselves, remembering their passions and what brought them here in the first place.
"Don't put too much pressure on you than there already is," Martin said. "Just go with the flow. Keep your values that you had before coming here, and just try to assimilate and adapt to the culture over here. And just keep asking questions."