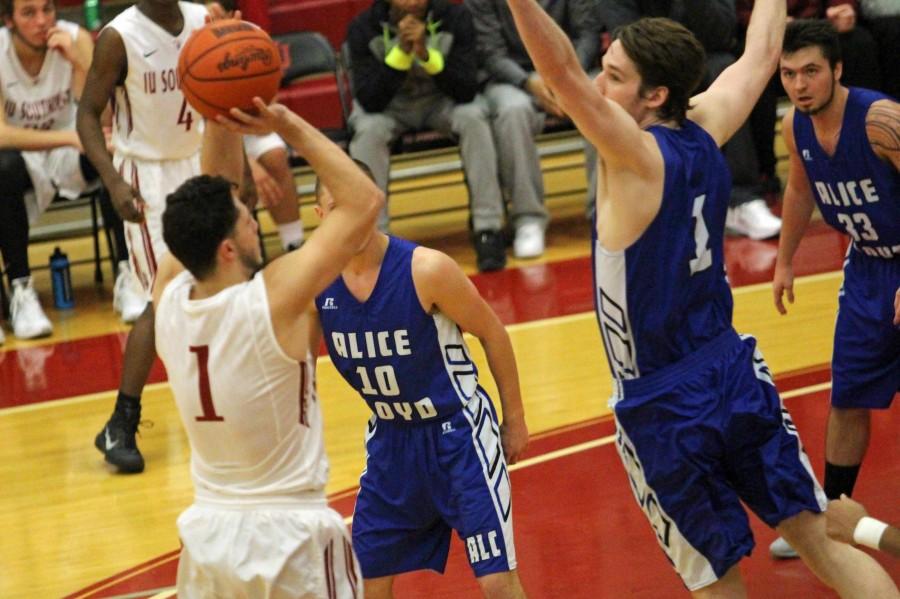 Enrique Bryan
The IU Southeast men's basketball team won Alice Lloyd with a final score of 85-68 on Jan. 30, 2016.
Earlier in the season, the Grenadiers traveled to Pippa Passes, Ky and lost by four points with revenge on the mind.
One thing that the Grenadiers did not have when they visited Alice Lloyd was scoring. However, on Saturday night the Grenadiers had four players score in double figures.
"We work hard on shooting," said head coach Wiley Brown. "We hit a couple shots which got our confidence up and that led to the other guys that came off the bench."
The Grenadiers shot 44 percent from the field for the game.
However, the three point shot wasn't falling for the Grenadiers. They finished the game shooting 28 percent from behind the arc. The Grenadiers missed all six attempts from the three in the first half.
Freshman guard Myles Harvey was the leading scorer with 19 points off the bench for the Grenadiers. Freshman guard Kerry Smith and freshman forward Robert Sawyer each had 16 points. Sophomore guard Demetrius Stanton added 12 points.
The Grenadiers kept the lead they created in the first minutes of the game throughout the entirety of the game. The Grenadiers had 36 points in the paint and 43 points from their bench players.
Harvey said that this win gave the Grenadiers motivation after their recent blowout loss to conference rival in Cincinnati Christian.
"There was big improvement. Last game we lost and this game we won," said Harvey.
The second half was just like the first for the Grenadiers. They still found a way to score. Smith scored 12 of his 16 points and Harvey scored 11 in the second half alone.
"We can improve on keeping our lead, taking care of the ball and all around team defense" Smith said. "This game was momentum for us in which we will carry on to the next games."
Stanton, who usually starts, surprised Alice Lloyd when he came off the bench.
"As a team we played well together," Santon said. "We moved the ball and didn't take too many bad shots."
According to Stanton, the thing that had the greatest impact on their win was the Grenadiers ability to rebound the ball.
There was a big discrepancy in rebounding. The Grenadiers out rebounded the Eagles by 11. This effort was led by senior
forward Jordan Thompson. He finished with ten rebounds in 22 minutes.
The IU Southeast Men's basketball team will face IU Kokomo again Tuesday in Kokomo. Their last meeting, Kokomo beat the Grenadiers by 10 points.
"If we want to have a season in March we have to win the last eight (games)," Stanton said.
Coach Brown says that the next games on the Grenadier schedule are winnable.
"We have to go take one from them, just like they came and took one from us." Brown said.