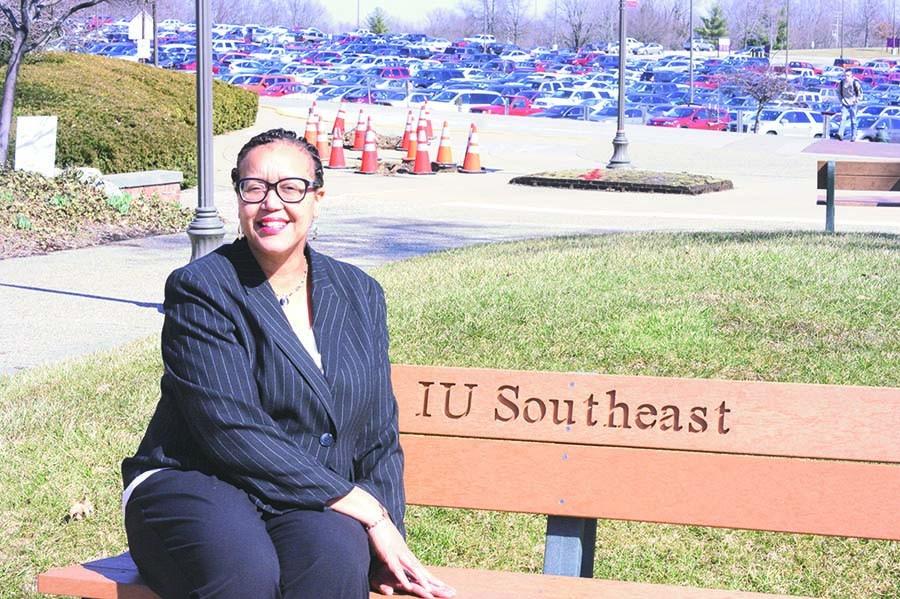 Tony Pacheco
Longtime IU Southeast staff member Channell Barbour, associate director of Campus Life, departed IU Southeast on March 1 to pursue a career at another college.
"I definitely value my student workers," Barbour said. "Furthermore, the office of Campus Life would not be as functional and as receptive as it is if it were not for the student workers."
Ashley Kern, English senior and student liaison in Campus Life, said she was shocked to hear Barbour was leaving IU Southeast.
"I know I will miss her but overall I'm happy that she is happy and is starting a new journey," Kern said.
Kern said she has known Barbour since she was a freshman. Kern said she started working as a receptionist in Campus Life and is now a student liaison. Kern said she has worked closely with Barbour over the past two years.
"I will miss her presence in the office the most," Kern said. "She's one of those people who has a contagious smile and lights up a room with her laughter when she walks in. She has been one of my biggest supporters in college and has helped guide me through difficult times."
Ryan Malone, psychology senior, said he was shocked and saddened to hear Barbour was leaving as well. He said he met Channell at his orientation in 2010. Since then he said he has been the secretary for campus life for the last three years and has worked in the game room for one year.
"The thing I'll miss most about Channell is knowing when she was in the hallway just by hearing her laugh," Malone said.
Alyssa Hendershot, business senior and member of Phi Sigma Sigma, said it will be hard to see Barbour leave after working closely with her over the past four years with Greek Life and the student program council.
"She has been an amazing source of motivation and support," Hendershot said. "She has been there for me through my toughest moments."
Cari Edwards, office assistant senior in Campus Life, said she has worked alongside Barbour for more than 10 years.
"We've experienced so many things together," Edwards said. "I am going to miss her contagious laugh and the care and concern she gave each and every person she encountered. She makes every person feel special."
Edwards said Barbour will be missed but that she wishes her the best in her new job.
"I just know she will do great things in her new position," Edwards said. "But she is going to be missed at IU Southeast by faculty, staff and students."
Barbour said she started working at IU Southeast in November 2005 as an academic advisor for the Academic Success Center now known as the Advising Center for Exploratory Students. She said she worked there for two years before moving to Campus Life in 2007.
Barbour said she is responsible for working with student organizations and Greek life on campus, being an advisor for the student council and managing the game room and volunteer programs. She said when she first started in the position she was responsible for it all but now utilizes student workers to manage those areas.
Barbour said she will miss the student interaction she currently has in her position in Campus Life the most. In her new position she said she will be managing a professional staff, instead of primarily students, who will in turn manage the students for her.
"While we are busy in here, I wouldn't change it because that interaction with students that fuels me, it motivates me. It really says 'that's why I want to come to work' so regardless of everything else that goes on, you all – students – make me happy," she said.
Barbour said her career path is different than most in student affairs and she did not know student affairs was something to major in.
She said she graduated with her bachelors in criminal justice and political science from Berea College.She obtained her master's degree in public administration from West Virginia University and her PhD in educational leadership and administration from Indiana State University.
Barbour said she is the youngest of nine and the first in her family to have earned a PhD.
"I feel pretty special about that," Barbour said.
Barbour grew up outside of Louisville to parents in law enforcement – her father was a deputy sheriff and her mother worked at a women's prison. Her original intention was to go to college to become an entertainment lawyer.
She said her parents would not allow her to go to school out of state and only one school offered a class in entertainment law in Kentucky, so that is how she found herself at Berea College pursuing a degree in political science and criminal justice.
Before working for IU Southeast, Barbour worked as a policies and procedures manager at Central Kentucky Treatment Center, a maximum security prison for juvenile boys. Barbour said it was her time at the prison that would lead her to working for the governor of Kentucky.
Barbour said it was after the residents of the prison burned down the building that she had a visit from one of the governor's staff looking into the fire. Barbour said it was her description and handling of the incident that led her to the governor's office.
Barbour said she ran communications for Kentucky Governor Paul Patton for four years starting in 1996. When the governorship changed hands, and after a brief stint working for Louisville Mayor Jerry Abramson in communications, she found her way to IU Southeast.
"IU Southeast was looking to add more diversity on their campus," Barbour said. "So low and behold, they liked me and I liked them and that's how I got started."
Barbour said that all of her careers have been exciting and she has made several great friendships at IU Southeast.
"I have had a great experience here," Barbour said. "I'm going to miss the students dearly."
Barbour said she has enjoyed her time at IU Southeast and, even though she is leaving, her experience at IU Southeast will be with her always.
"Maybe one day I will write a book," Barbour said. Not a tell-all book, she said, but a characterization of someone who has gone through similar life changes and make it exciting."