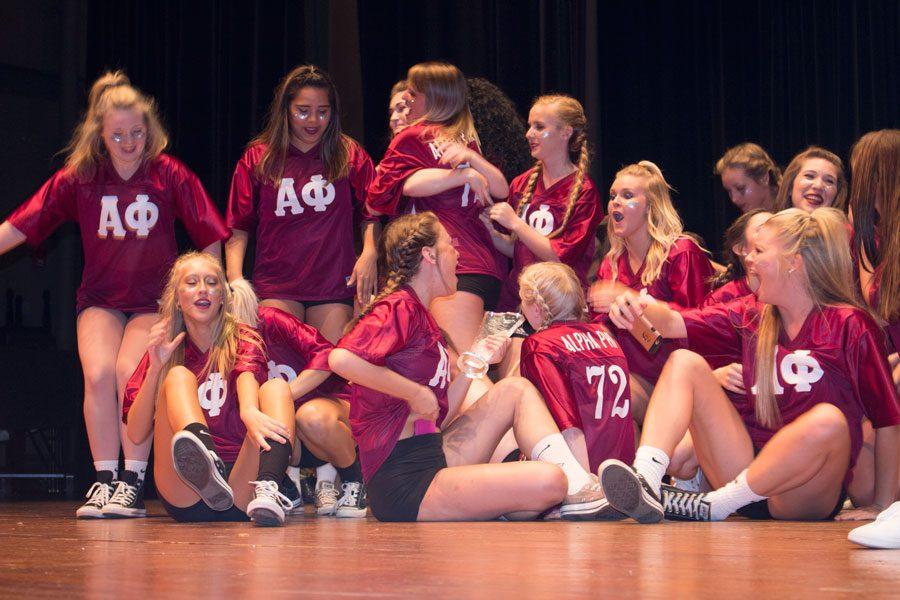 Ty Simpson
Stem Hall erupted with applause after Alpha Phi and Pi Kappa Alpha were announced the winners of the 2016 Greekdom Stroll Off.
The Greekdom Stroll Off took place in Stem Hall on April 21st at 7 P.M. All greek life at IU Southeast was represented.
The event was started three years ago by Amanda Sharp, a member of Zeta Phi Beta. Sharp said she loved this year's dance and approved of the venue change from the Hoosier Room to Stem Hall.
"I'm so happy that they are raising the bar that was set when I started the event three years ago," Sharp said. "Sure it's a competition but more than that it's about Greek unity."
Alpha Phi received first place in the sorority division beating out Phi Sigma Sigma and Sigma Kappa.
Katie Watkins, special education junior, said that they had been training hard for the past three months to prepare for the event because having lost the past two years, they wanted a shift in tradition.
"These events are awesome because Greek events are supposed to be unified," Watkins said. "This event brought us closer to all greek life, especially the Zeta Phi Betas."
Rachel Cox, agriculture senior and member of Phi Sigma Sigma, said the loss was tough to take but she was more concerned about the experience rather than taking home a trophy.

"It was a lot of fun, and I wouldn't trade it for the world," Cox said. "We went out with a bang so that's all I can ask of my girls."
Pi Kappa Alpha received first place in the fraternity division scoring higher than Kappa Sigma.
Jordan Cole, secondary education sophomore and Kappa Sigma member, said they trained hard for the event and enjoyed competing against the other fraternity.
"The Stroll Off's great. Everyone gets to come together as a group and compete with your team," Cole said. "Everyone is a real good sport about it even though it's a competition."
Along with the awards for best performances at the Stroll Off, Seuth Chaleunphonh, Dean of Student Life, gave out awards for greek involvement. Chaleunphonh presented awards for highest fraternity and sorority G.P.A., most volunteer hours, and most iChip points.
The award for highest grade point average was presented to Sigma Kappa and Kappa Sigma.
The award for most volunteer hours was presented to Sigma Kappa and Kappa Sigma.
The Award for most iChip points was presented to Phi Sigma Sigma and Phi Kappa Alpha.
"Our Greek life does an amazing job. These organizations have done 53 percent of the volunteer hours and only represent 6 percent of the organizations on campus," Chaleunphonh said.
Correction: The original version of this story incorrectly said that the award for most volunteer hours was presented to Sigma Kappa and Pi Kappa Alpha. Sigma Kappa did receive the award, but Kappa Sigma received the award instead of Pi Kappa Alpha. The Horizon apologizes for this error.