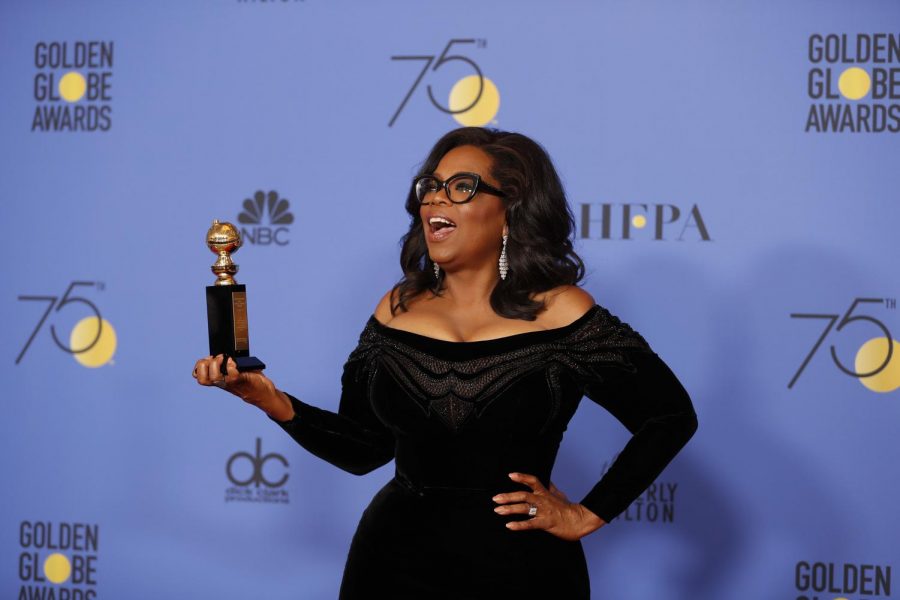 Photo by Allen J. Schaben, courtesy of Los Angeles Times/TNS
The 75th annual Golden Globe Awards aired live on Jan. 7 and didn't shy away from the topic of sexual misconduct allegations surrounding high profile men in the entertainment industry.
Instead, the Time's Up movement, a legal defense fund organized to support individuals who have been victimized by sexual harassment or abuse in the workplace, requested that women come to the award show in black attire to raise awareness.
Oprah Winfrey, talk show host, actress, producer and humanitarian became the first black woman in history to receive the Cecil B. deMille award which was originally created in 1952 to celebrate "outstanding contributions to the world of entertainment" according to the Golden Globes website.
Winfrey's speech was well-received by the audience and viewers from home, making national headlines and alluding to rumors of a potential Winfrey presidency. But why was the speech so powerful to so many?
Winfrey utilized her platform to speak against the injustice surrounding the controversies in not only the entertainment industry, but any industry in which high-profile men feel empowered to objectify and sexually harass or abuse women.
For centuries, and arguably much longer, women feared speaking out because retaliation would likely lead to harsh consequences, that is if women were actually to be believed in the first place.
Winfrey shared the story of late Recy Taylor and her encounter of sexual abuse in 1944. Taylor was allegedly raped by six white men and left blindfolded by the side of the road; however, Taylor did not remain silent during this era and reported her experience to the NAACP. Unfortunately, her case was never brought to justice.
The awareness Winfrey and many other women want to shine light upon is the manipulation of power some men utilize to orchestrate these crimes by silencing or punishing their victims for speaking out.
Sexual assault and abuse can be just as psychologically damaging as it is physically damaging, especially when the abuser has external power over a victim. Whether this external power is race, class or superiority in the workplace; Winfrey preaches that our society has no place for it.
Maybe those men knew that society wouldn't listen to a black woman speaking out against six white men in an era of intolerance. This is the same thinking abusers in high-profile positions may adopt and Winfrey says their time is up.
Just as any famous advocacy speeches in our history, this speech marks the pivotal beginning of a monumental point in time for women.