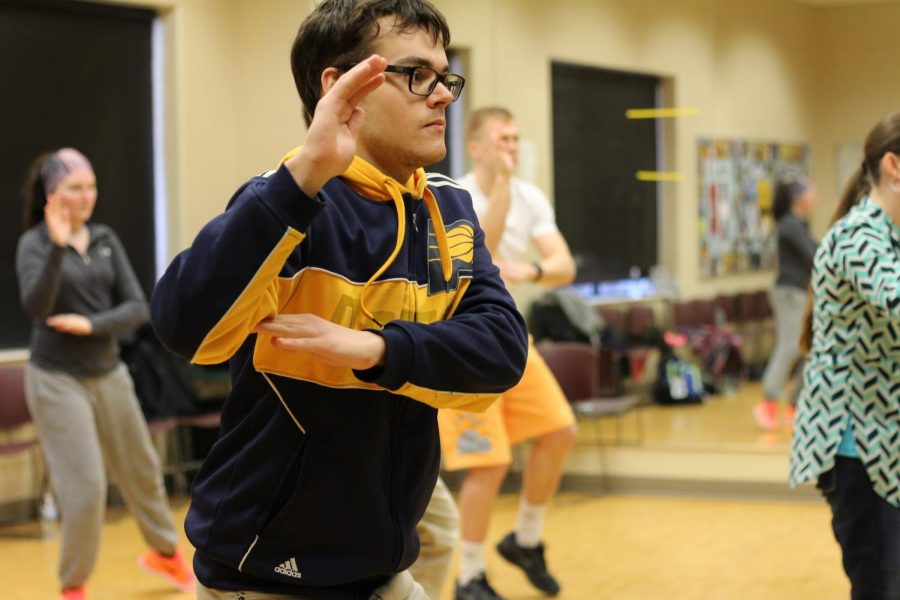 Beth Hunter
IU Southeast offers many classes that students wouldn't typically think of taking. Some will keep them active, some will let their artsy side show and some can be skills that are pertinent to everyday life.
Electives allow students to explore new interests whether they are required to or not. However, these classes are especially ideal for those who don't know what they want to major in yet,  allowing them to take a variety of classes in order to see what they may or may not be interested in.
All majors require 120 credit hours to graduate, but some majors don't require 120 credit hours worth of classes, which is where electives can come in. Students can take classes that may or may not be outside of their major to fulfill the 120 credit hour requirement.
Tai-chi
COAS-S100
Tai-chi is a Chinese martial art form that was originally used for self-defense, but is now taught as a stress-reliever. Glenn Brown, instructor at IU Southeast, teaches Tai-Chi Basics and Intermediate Tai-chi.
Yoga
COAS-S100
Brown also teaches Intermediate Yoga and Yoga Basics at IU Southeast. Yoga, a Hindu discipline, originated in India and its practices include meditation, breathing control and specific body postures that help with relaxation and health.
East Coast Swing and Salsa
COAS-S100
Jane Blum, adjunct professor at IU Southeast, began her sixteenth year of teaching this class last fall. Students who take East Coast Swing and Salsa will be able to practice moves to five different dance styles with a partner. Blum says students really enjoy the class and she hopes to see more students share her love of dance.
Ceramics for Non-Majors
FINA-S165
Ceramics for Non-Majors is taught by Lindsey Dezman, resident artist in ceramics and professor at IU Southeast. Ceramics is the art of making materials out of clay which are hardened by heat. Students will get the chance to create their own art by learning how to prepare the clay, glaze it and fire it.
Tennis
HPER-E181
Students will learn the basic fundamentals of tennis, including the different types of strokes and serves. Students will play the game along with learning the basics.
Personal Finances of the College Student
BUS-F151
Personal Finances of the College Student focuses on financial struggles the typical college student may face. This class puts an emphasis on budgeting, taxes, goal-setting, and how to make good financial decisions.
Music for the Listener
MUS-M174
Music for the Listener takes students back in time to classical composers and their works. Students will be introduced to many different composers and will learn the history behind their pieces.
Appreciation of Theatre
THTR-T105
Appreciation of Theatre will help students understand the art of theater. Students may be required to attend a play, write their own plays, watch adaptations of plays and perform short plays in class.
Introduction to Creative Writing
ENG-W206
Introduction to Creative Writing familiarizes students to poetry and fiction. Students can expect to read and write works of poetry and fiction as well as receive feedback on their work from the professor and classmates.
The Advising Center for Exploratory Students
Shane Thomas, the director of the Advising Center for Exploratory Students (ACES), says his goal is to help students find the major that is the best fit for them.
"When [students] find something that resonates with them, that they're kind of interested in learning about, and are willing to spend the time and energy to do well in the classes, then they're going to stick around here a lot longer and they're going to graduate," Thomas said.
The ACES isn't just for students who haven't chosen a major. Those who have declared a major but may be second-guessing it, can always consult with the ACES to see what else is out there.