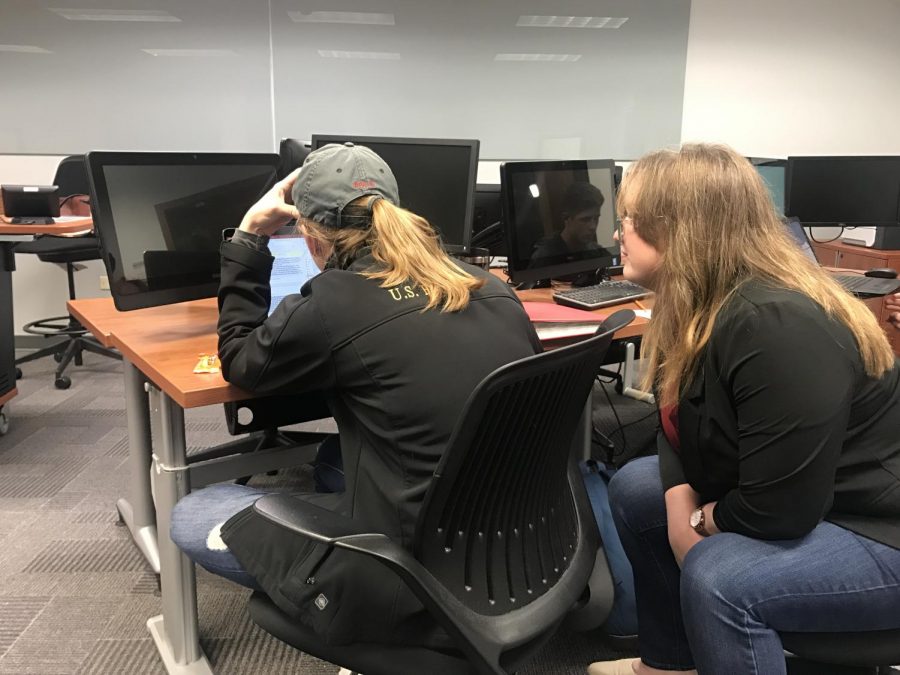 McKenna Curry
Imagine yourself sitting down at a desk, working on a problem that you just don't seem to understand. You repeatedly refresh your email, patiently waiting for your professor to respond to your quick question. A tutor would be helpful, but your bank account screams "college student."
IU Southeast has provided a form of free peer tutoring since the late 1990s. Students that are struggling in class and need extra help or want to acquire more study hours have a scheduled time and place to achieve these such things.
What is Supplemental Instruction?
Supplemental Instruction (SI) is a tutoring program where student peers help current students in a specific course. The SI program provides a regularly scheduled, voluntary, free tutoring experience for students taking difficult classes.
These difficult classes are defined as DFW courses, which are characterized by a large percentage of students earning a letter grade of a D or an F or a withdrawal from the class. Each major has a class or several classes that can potentially hinder a student's achievement toward a degree.
The SI program has grown since its start at IU Southeast. Ryan Norwood, the director of the student success center, stated that there were around 12 to 15 sections of SI each semester in the early 2000s, and now there are 42 to 48 sections.
Who are the SI Leaders?
The SI leaders are students who have previously taken one of the courses and earned an A or a B+ in the course. According to the Student Success Center's website, the Student Success Center works with the faculty to find credible, past students to assist these current, struggling students.
To become an SI, there are various criteria to fill to ensure the validity of their knowledge and responsibility.
Norwood revealed that SI leaders must have an overall GPA of 2.75, a B+ or an A in the course they are assisting and a faculty recommendation. SI leaders are also required to attend a pre-semester training before tutoring current students.
Professors look for past students that have performed exceptionally well in a course to apply for a potential SI leadership position.
Sarah Caminiti, a human resource management sophomore, is the SI leader for Computer in Business, K201,  this fall semester. She completed the summer class with a grade that led to an SI leadership position.
"If you're approached, and you really love the topic, do it. It's a great program and you learn a lot," Caminiti said. "If you're not approached, but you are passionate about helping out future students, send your professor a message."
Business isn't the only major that provides SI sessions for its students. IU Southeast offers an SI component for about 42 to 48 course sections each semester.
Norwood revealed the SI program can benefit any course that has a DFW rate of 30 percent or higher. Anatomy, chemistry, lower-level math, accounting, political science, biology, philosophy and psychology are some of the classes that often include an SI component.
Benefits of the SI Program
The SI program at IU Southeast has been proven to help students' overall GPA and lessen the DFW rates of students while attending college. Norwood said SI sessions benefit students that attend in an increased GPA of 0.5 to 1 full letter grade, and the DFW rates for attendees is roughly 28 percent less than DFW rates for non-attendees.
Since the SI leader has already taken the course that they are "teaching," it provides a more directed and facilitated insight for the current students taking the class.
Norwood stated that students benefit from SI sessions by engaging with the material in a way that they would not on their own.
"Sessions bridge the gap between theory and practice," Norwood said.
Caminiti said that she has created an environment where students can feel free to ask her anything, regardless of how trivial the question.
"More often than not, their questions are ones that I had struggled with myself, so I feel their pain and get just as excited as they do when they get their grades back," Caminiti said.
SI sessions are completely up to the current student on how they want to use the 75 minutes with the SI leader. Caminiti has students that come in and work on their homework without any questions, while some students have a list of questions ready when the session starts.
"The SI leaders are not going to think any less of any student for coming in and getting help, and students will gain much more confidence by doing it," Caminiti said. "We're here for you and we want you to come in."
Both SI leaders and current students can benefit from the SI program at IU Southeast.
"I didn't expect to love being an SI as much as I have," Caminiti said. "Helping the students that come into my class every week is something I look forward to, and it allows me to master the subject matter because I am going back through it again and again."