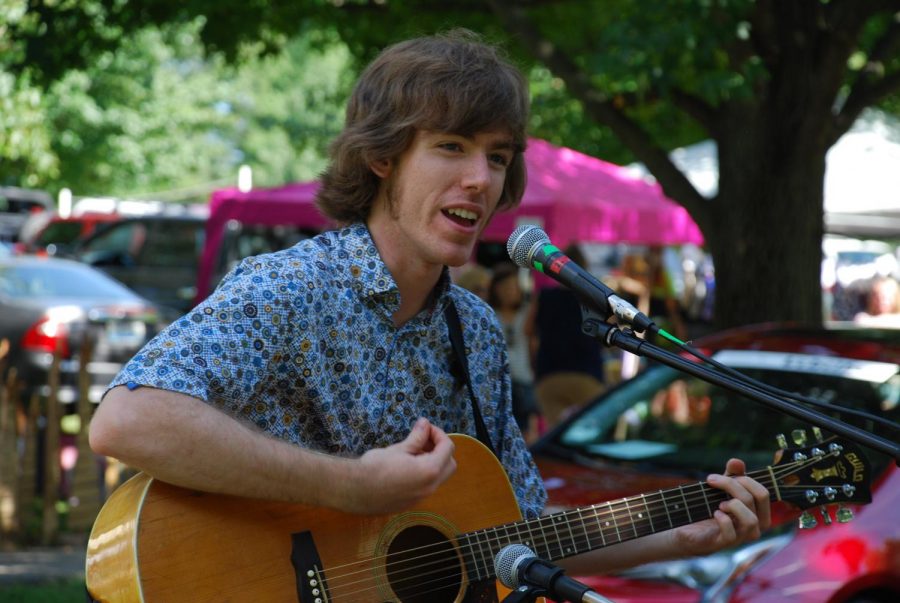 Photo courtesy of Jacob McDaniel
Mute your local music radio stations and take a look at this young musician on the rise.
McDaniel is an 18-year-old accounting major here at IU Southeast, but he has made music a huge part of his life for many years. He is a solo act who plays guitar as well as sings.
He was roughly 11-years-old when he began to learn guitar. He took lessons and is currently still in lessons learning the bass guitar.
Although McDaniel is now a solo act, he did have a band back in high school called "The Vinyl Covenant," which he described as a Rock n' Roll band. The band split up after high school because McDaniel was a senior and his bandmates were juniors.
"I guess we just really wanted to impress the girls so we started playing live, and it all just evolved from there," McDaniel said.
McDaniel has been playing live shows for over two and half years now, playing in a variety of places and wherever he is welcome. He plays local and is traveling to Memphis, Tennessee in January to perform on the historic Beale Street. He was chosen as the youth representative for the International Blues Challenge for the Kentuckiana Blues Society.
"It has been a long dream of mine to play on Beale Street," McDaniel said. "I never thought it would happen."
McDaniel said he is much more content with being a solo act rather than in a band because he is able to make his own decisions and do everything his own way.
"It's a lot easier," McDaniel said. "Sometimes you'll get a call about a show and you're like 'Sweet, I'd love to do it, but let me call the other guys and see what they think.' Plus, I don't have to split the money. The money earned is all mine and if I write a song, I can write it my own way and make sure it sounds the way I like it."
McDaniel is inspired by artists in the folk, rock and blues genres, such as Bob Dylan, Paul Simon, The Beatles, and many others. He calls this music "the real stuff" and appreciates when music has a feeling with it.
He currently has one album he has released called "An Untitled Life." It consists of all of his original songs and has a progressive rock influence, which he explains is a fuse between classical and rock.
He has sold about 50 albums so far but is just using it as a professional tool to give people an accessible example of what he can do. However, he did spend well over 1,000 dollars to record the album.
"My album was recorded professionally by Howie Gano, but it's been really hard to sell because people assume I recorded it in my basement," McDaniel said.
When McDaniel was a child, his parents kept him from computers and other technology, so his imagination was vivid.
"I used my imagination a lot, and when I would imagine things, it felt real," McDaniel said. "As I've gotten older, obviously that's changed. I'm not running around playing cowboys and Indians at 18, but I guess I felt like whatever I was doing I always wanted to do it the best and push it to the max," McDaniel said.
McDaniel is an only child and is supported by his mother for his musical talent.
"She comes to as many shows as she's able to. She takes pictures and runs the social media accounts. She does all the behind the scenes stuff," McDaniel said.
McDaniel said he loves playing his music and thrives on it and hopes to see a career in the music business in the future.
"I would like to go far, but it's not extremely practical. We'll see what happens and we'll see how far it will take me," McDaniel said.