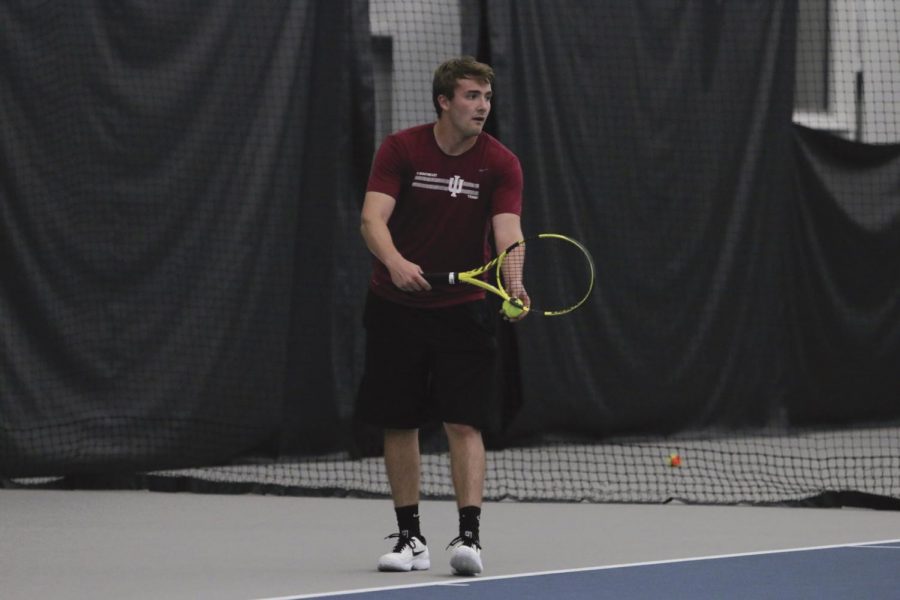 Tamar Kelly
The IUS Men's Tennis team had another strong run in 2019. Despite finishing with an overall record of 11-11, they posted a 4-1 record in River States Conference play, giving them the second seed in the RSC Tournament. They reached the championship match, facing regular-season and eventual tournament champion Asbury for the sixth consecutive year.
The Eagles prevailed in the match 5-1, winning their third straight RSC tournament title. Despite the defeat, Head Coach Joe Epkey was impressed with how his squad performed in the tournament, having defeated No. 3 seed IU East 5-1 to advance to the championship.
"Last season we made up some ground on Asbury who has had a strong hold on the conference for the previous couple of seasons," Epkey said. "We beat a good IU East team in the semifinals and overall finished the season playing our best tennis which is always the goal."
In the fall, the Grenadiers had a strong showing, finishing 6-2 with five straight wins in October. Coming into 2020, the Grenadiers are working with more experience than they were a year ago.
Aside from graduate transfer Alec Bates, most of the 2019 roster returns, led by seniors Brock Winchell, Sam Venter, and brothers Garrett and Daulton Fensler. Joining them are junior Bradley Cross and sophomore Jerid Inman, both of whom made major contributions a year ago.
A trio of freshman have been welcomed into the ranks, including brothers Cade and Sebastian Burman of Bloomfield Hills, Michigan, as well as Drew Bishop from Terre Haute North High School. Add in sophomore transfer Cameron Mount from Bellarmine and Epkey has a number of different lineup combinations to work with.
"Sebastian Burman and Cameron Mount will be two players that can play in the top three positions for us allowing everyone to move down a spot which really makes a difference," Epkey said. "The biggest key to all our additions is that not only are they very good players — they are great teammates and help the overall level of our team on a daily basis."
RSC Competition
Even with the roster additions, winning either the RSC regular-season or tournament titles will be no small feat. The biggest challenge for the Grenadiers will once again be the aforementioned Eagles of Asbury, led by three-time RSC Player of the Year Joshua Turnquest.
The Eagles enter 2020 atop the RSC Coaches' Preseason poll as they look for their sixth RSC Tournament title in the last eight seasons.
IU East will be another serious contender, having advanced to the RSC Tournament semifinals last year. The Red Wolves will be led by the senior trio of Pablo Munoz, Francisco Perez, and Max Faundez, all of whom were named to the All-RSC Second Team a year ago.
"We're poised to make a run at winning a conference championship this season and we're looking forward to seeing how good we can be," Epkey said. "I'm very excited to see what this team can do."
The Grenadiers' first match is on Feb. 15 at Grace College, who is currently receiving votes in NAIA, at 1 p.m.