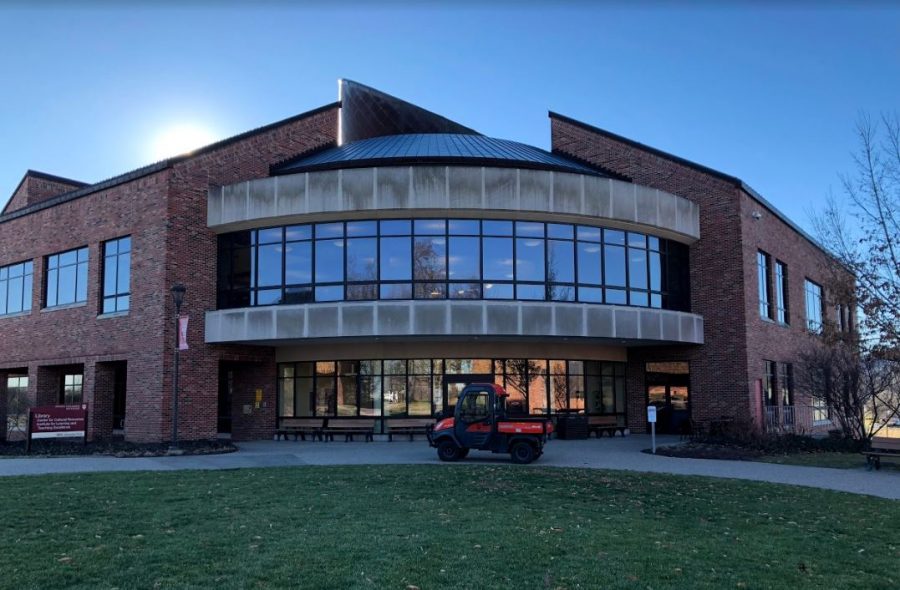 John Clere
While buildings on campus locked their doors after the university-wide announcement that classes would continue online following spring break, the IUS Library was still staffed with a skeleton crew to keep in-person services available for students. 
Following Governor Holcomb's statewide "shelter in place" mandate issued on March 20 in response to the COVID-19 pandemic, the Library announced in a Facebook post on March 27 that all face-to-face services would be suspended.
While the Library remains accessible by IU students who provide their school ID, the library is closed to the public. Students have been instructed to stay home and avoid the library if possible, utilizing computers only if they lack accessibility at home.
Marty Rosen, Director of Library Services, has been present in the building each day, ensuring the smooth transition to online-only services. 
"We're really fortunate to have outstanding cooperation from the building maintenance team. They're disinfecting to CDC standards before we open, wiping down keyboards and armrests while students are working and again after each one leaves." 
Rosen said all parties are coming together to ensure the health of those students who rely on the library to complete assignments and research. 
"I don't think six feet [of distance] is sufficient, so we've got people spaced out 15 feet apart. The cleaners will ask someone to move, or not to use a workspace until it's been disinfected between each student. We are ensuring a good, safe working environment, and that is a fundamental responsibility of the university."
Library Hours are Fluid
At time of publication, the Library is open 10 a.m. – 2 p.m and closed on weekends.  A sign on the door notes that due to the rapidly changing situation, the Library hours may change at any time and that students are encouraged to check the Library's website or call prior to making the drive to campus. 
"We want to be as reliable as we can, but everything has to be coordinated in advance with the building maintenance team. If we make a change to the hours, we first have to ensure the right people are there early to maintain CDC compliance. It's going to be difficult to know what's going to happen because it's only the first week after spring break."
Library Goes Virtual
Having offered online accessibility for all services, such as "Book a Librarian," for several years, the Library was well-prepared for the recent digital shift. Students can use the "Book a Librarian" service to schedule a video call with a librarian who will walk them through which database they should search for information or how to access e-books from home while physical circulation is suspended. 
Despite being unable to offer face-to-face services during this time, the IUS Library staff are keeping busy. The Library's Facebook page is rife with posts and videos designed to keep students engaged and help them cope with isolation. 
Some posts are recurring weekly features, such as "Libraries Around the World," the most recent of which featured a photo of a library in Auckland, New Zealand. Another recurring theme on the Library's page is "#ThrowbackThursday," which highlights interesting or humorous "On this Day" style campus memories from The Horizon archives.
In a recent video, Courtney Block, the Instruction, Reference, and User Engagement Librarian, spoke over video chat with mental health professional Liz Roberts to discuss how students can safeguard their mental health throughout the COVID-19 pandemic.
"Historically, libraries are key institutions that have responded in very creative ways during community crises," Block said. "For example, you have the libraries that became essential in the aftermath of Hurricane Katrina by helping people fill out and submit paperwork for assistance, and libraries who stayed open during times of societal rioting like in Ferguson, by saying, 'We are open, we work, we have resources for you.'"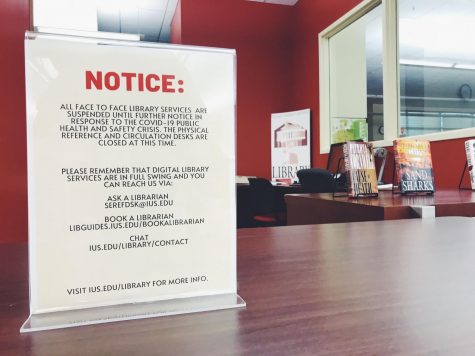 Block said the juxtaposition of a library's role during crises being faced with a threat that prevents face-to-face interaction is frustrating. 
"Libraries exist beyond their physical spaces – they are the sum of all the people inside trying hard to make a difference. However, it's difficult to continue making that difference without the physical space. Libraries continue to be a key institution when disaster strikes, but they are the very definition of what the CDC says to be avoiding right now."
Block hopes students and faculty alike will be patient with each other and reach out to the librarians for any help they need.
"We've even created an information literacy Canvas module geared towards how to navigate our digital environment. It's about compassion. This won't be a perfect semester, but we can make it perfectly compassionate." 
Though trips to campus are strongly discouraged during this time, University Center South remains unlocked. The computer lab on the second floor and the Adult Student Center on the third floor both remain accessible for use by students who may not have the technology to complete their schoolwork at home.