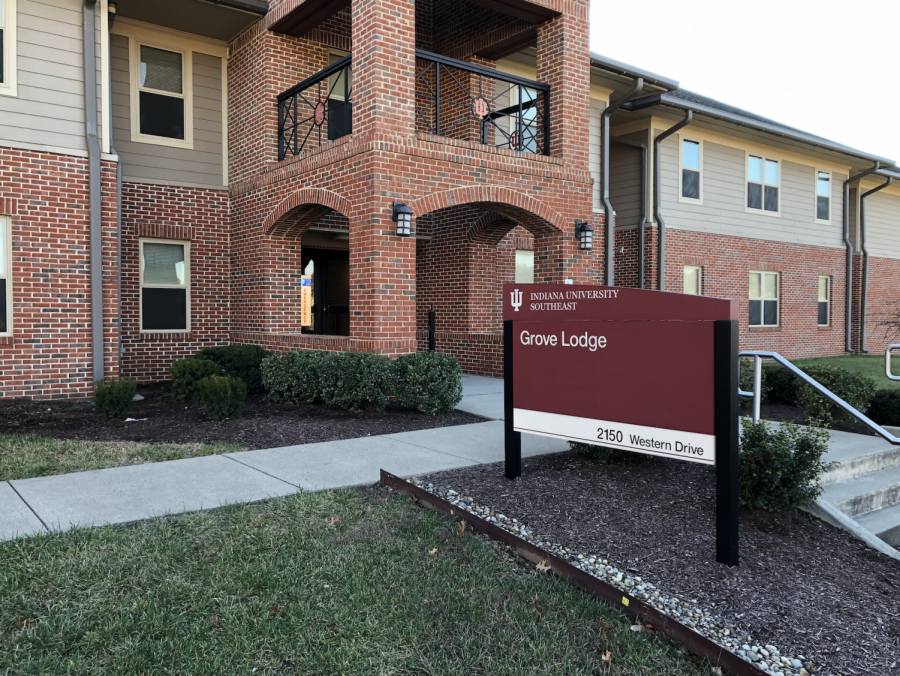 A big decision for many students that choose to go to college is whether to live on-campus or off-campus. While some students chose to live on-campus in dorms, others live off-campus in apartments and commute to school.
Both options have their benefits and downsides and many factors go into making a final decision about where to live, including cost, roommates, amenities, and location. At IU Southeast, students have the option to live in the five lodges located across campus, Meadow, Woodland, Forest, Orchard and Grove.
For those who prefer a short commute to campus, there are multiple options for off-campus housing, most notably The Annex of New Albany, located just across the street from campus, with close access to multiple fast-food franchises and a coffee shop.
Which option is better? It may depend mostly on your personal preference and finances.
Lodge Life
Samantha Deckard, a senior history major, has lived in the lodges at IUS since her freshman year began in the fall of 2017. Deckard said she enjoys living in the lodges due to the many pros of dorm life.
"Living on campus helps you to familiarize yourself with the university and allows you to make connections with other students," Deckard said. "When classes are in session and in-person, living on campus helps you to save money on gas because you can walk to class."
Deckard said other pros of the lodges include free laundry services and utility costs that are included in the housing cost, both of which are a leg-up in comparison to traditional apartments. The lodges also provide a unique living environment that can mimic the feeling of living at home.
"I chose to live on campus this year because it has become my home away from home," Deckard said. "While I could have rented an apartment off-campus, I found that I enjoy the lodges much better."
Deckard added that living on campus was the best option for her due to her and like-minded students feeling more connected to their university and the on-campus community. That connection helps with making close relationships with other students, attending campus events and joining clubs more easily, arriving at classes earlier, and having easier access to campus resources such as the IUS library.
While the above points make on-campus housing appealing, Deckard admitted that these benefits come with some nuisances.
"My least favorite thing about living on campus is how noisy it can be," Deckard said. "We do have quiet hours at night, however, there will be many times throughout the day when it may be difficult to study."
Deckard said that despite the lodges offering indoor study rooms, she has grown accustomed to studying at a nearby coffee shop as opposed to her lodge room due to the noise. 
For many students, Deckard included, the ongoing COVID-19 pandemic created additional issues for on-campus living normally not found during any regular school year. 
"Before COVID, it was easier to meet people and make friends," Deckard said. "Due to COVID, there is a harder time getting to know people outside of your roommates; while events are still being held, they are not as attended as they used to be before COVID."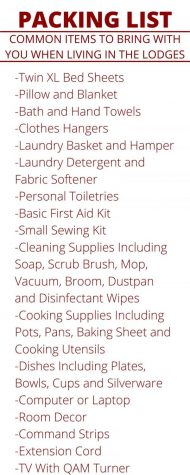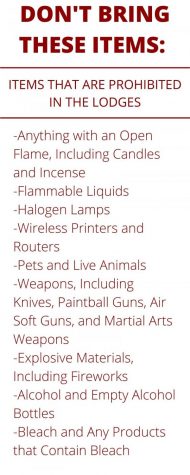 COVID-19 and the Lodges
The COVID-19 pandemic required IUS Housing to make changes to housing procedures and the living situation for students in the lodges to help protect students who have to live on campus during the semester.
Abbie Dupay, the director of residence life and housing at IUS, said that the lodges have been following new procedures to help limit the spread of COVID-19 among residents.
"We follow guidelines established by Indiana University, some of which include cleaning and disinfecting common areas a minimum of three times a day, continual access to masks, and cleaning products made available in great rooms if students would like to wipe down tables/chairs before and after use," Dupay said. 
IUS Housing also lowered occupancy, changed the guest policy to limit access, and adopted a new approach to help students adjust to the pandemic by offering even more grace, support, and education as students navigate through these difficult times.
Dupay said that she is unsure if the lodges will be back to pre-pandemic operations for the 2021-2022 school year. Most of the COVID-19 guidelines are established for all campuses in the Indiana University system, and IU has not yet released the guidelines for next year.
"We anticipate that wearing a mask will most likely be in place next year," Dupay said. "We are hoping to be able to allow more guests and have more activity overall on campus for our students to enjoy."
Dupay said that students have done a good job following the current COVID-19 policies and procedures, so new students should not be worried about the effects of the pandemic on housing should they choose to live in the university lodges.
Apartment Life
While some students prefer to live on campus in the IUS lodges, others prefer living off-campus. For many, living in an apartment off-campus is a more flexible and enjoyable option.
Peyton Rhodes, a senior secondary education major at IUS, said she chose to live off-campus for the 2020-2021 school year because she needed an earlier move-in date for a student teaching job and IUS housing was unable to be flexible with her. Having lived in lodges in the past, Rhodes thinks there are several benefits to living in an apartment off-campus.
"The pros of living off-campus for me include having more flexibility in moving in and out and less strict rules," said Rhodes. "Living in the dorms means following rules about quiet hours and alcohol, for example. I don't have to follow these off-campus."
While living in the lodges comes with more rules and restrictions, living in an apartment allows students to have a more flexible and free lifestyle, a crucial element for Rhodes in regards to her student teaching position.
As per housing policy, students are only allowed to live in the lodges for a certain time throughout the semester that starts after move-in day in August. During the winter break after the fall semester, students are not allowed to stay in the lodges. This strict living period would not have been the most ideal for Rhodes' situation.
"After campus shut down in November, I was still student teaching, and I wouldn't have had a place to stay during that time," Rhodes said. "It made no sense for me to stay on campus."
While living in an apartment was beneficial for Rhodes, she said the lifestyle may not be for everyone, mostly due to the hoops many people, students and otherwise, have to jump through to move into housing not owned by a public institution such as IUS.
"It is much easier to apply to live on campus than getting an apartment," Rhodes said. "There's a lot to think about with an apartment: how do I get a bed? Where do I do laundry? What furniture do I need? Being on campus eliminated a lot of worries."
Rhodes said that living in an apartment is a lot of responsibility, so living on-campus may be an easier option for students, especially if they are incoming freshmen.
Tips for Incoming Freshman
When deciding to live in a dorm on campus or an apartment off-campus, there are a lot of factors for students to consider. Deckard and Rhodes both had advice for incoming freshmen to consider when choosing where to live. 
"I would encourage students to analyze their current situation and see what option best suits them," Deckard said.
For those that do choose to live on campus, Deckard noted that it is important to have a good relationship with your roommates, which can be a somewhat daunting task for incoming students.
"Regardless of who you room with, just make sure that you each have a good understanding of each other," Deckard said. "You should also set rules and follow them so that living together can go as smoothly as possible."
Deckard also recommended messaging your roommates to-be before moving in, allowing you to get to know them better, and establish a relationship so the move-in day can be less awkward for both sides. 
Even if a freshman chooses not to live on campus, Deckard recommends freshmen being involved on campus in any way they can, whether it be by joining a student-led organization on campus or attending university-sanctioned events.
"I regret not getting involved in many things as a freshman, and I would hate for you to make that mistake," Deckard said. "You do not have to feel alone; there are so many nice people on campus who will be willing to be your friend and motivate you."
Rhodes said that freshman year can be a really stressful time for new students, and there are a lot of things students should think about before making a decision. The biggest commitment students will have to make regardless of choice is unequivocally the financial ramifications.
"I would sincerely consider finances," Rhodes said. "Make sure you can afford your living situation. If you live close, it may make sense to save your money. You may long for independence, but unless you can afford it long term, you may be putting yourself in a hole from the beginning."
Rhodes said that since her family's home is over an hour away from campus, it did not make sense for her to commute every day. She also noted that students should save their money if driving to school is a better option.
"IUS is an affordable school, but that doesn't mean to waste money on living if staying home for a year makes more sense," Rhodes said.