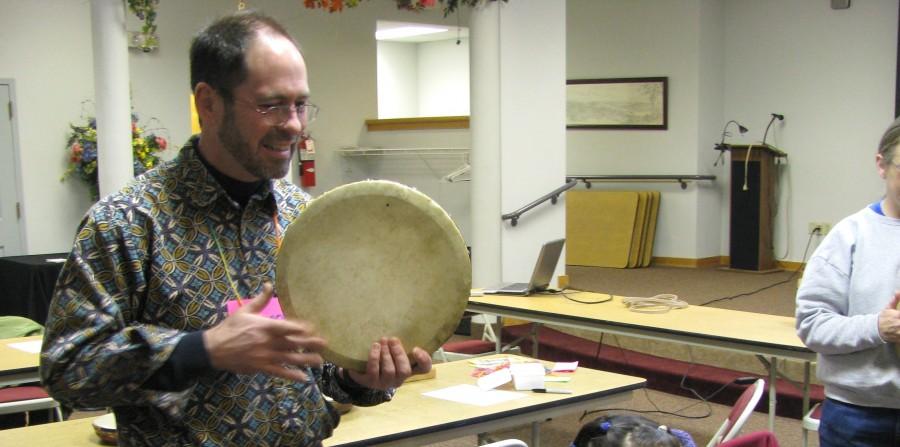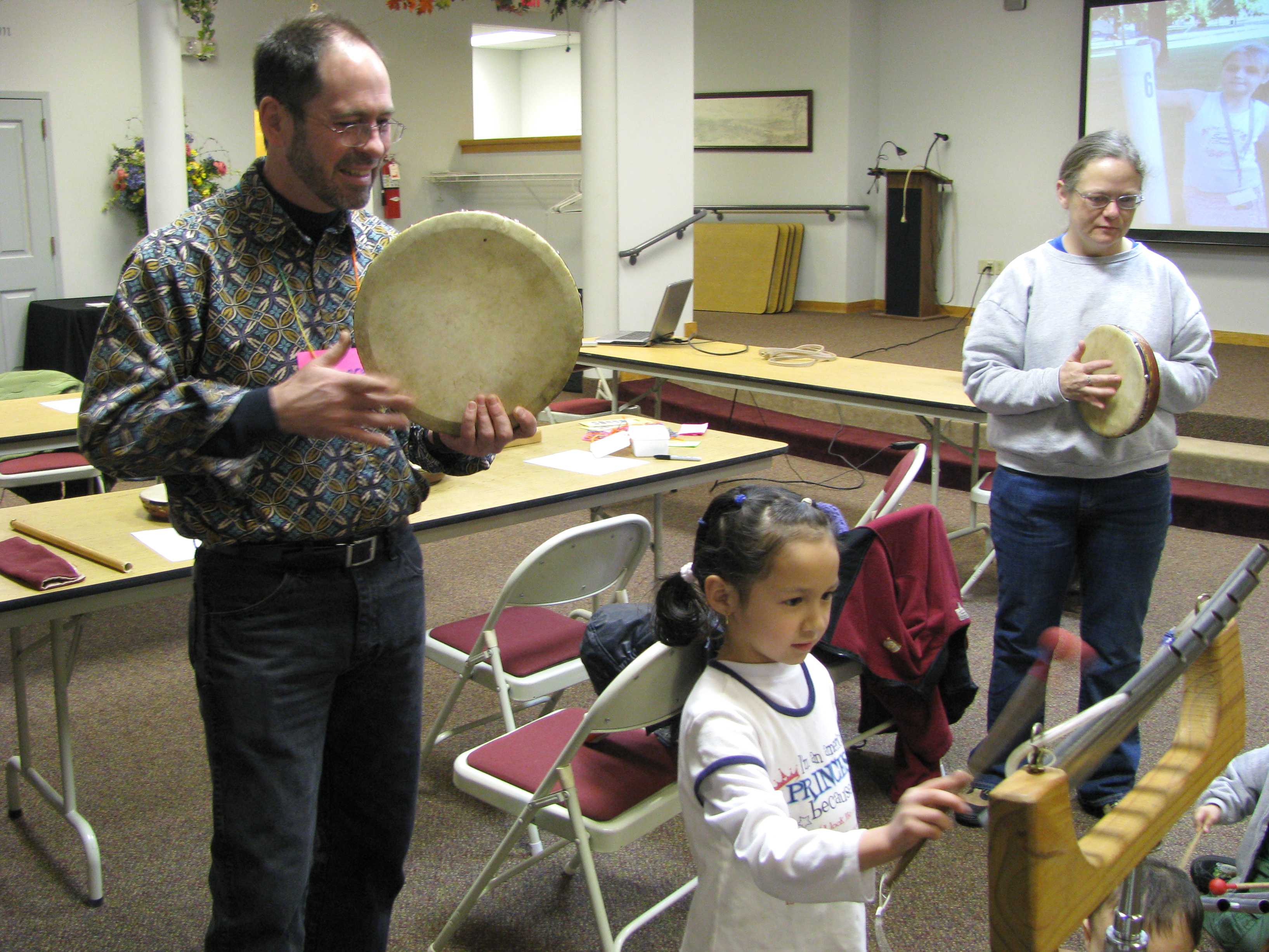 The ArtsWORK-New Albany Program hosted a gathering at the Carnegie Center for Art and History on Feb. 26.
This was the first time music was featured for the monthly event as Gregory Acker presented "World Music for the Whole World."
ArtsWORK-New Albany is a satellite program of ArtsWORK Indiana.
It focuses on the needs for those who have disabilities, although others from the public are welcome to join in at the events.
An artist is featured on the fourth Saturday of each month at the Carnegie Center to display how their work is integrated with the community.
The first event was held in August of last year.
With coffee and hot tea refreshments available for guests, the event attracted a small crowd, but the experience was appreciated.
"I never mind interacting with just a few people," Acker said. "It always brings something valuable."
Acker has developed musical instruments from hardware store supplies and locally-available materials that have been adapted to better suit those who have special needs.
If Acker finds someone who cannot grip things well, he'll add a paint roller around the handle of a mallet to make it easier for them.
Some of the xylophone-like instruments were even placed on wheelchair-friendly stands.
The notes for the musical instruments are either numbered or color-coded.
For example, the strings on one instrument may be labeled from one through six or include the colors red, green, blue and yellow.
When the attendees of his presentations join in on the jam sessions, they can compose a song based on the numbers or colors.
The homemade instruments are based on instruments Acker has encountered throughout his past experience in various foreign countries, including Indonesia and Africa.
The musical forms he incorporates in his presentations are also modeled after various countries.
Acker has been presenting his world music workshops that encourage audience participation for more than 20 years.
"The smiles I see on faces when they are creating something that sounds good in the moment — using materials and ideas I've provided — inspired by the world cultures I've spent time learning from," he said.
He said he hopes to help build the community by getting everyone to interact with each other.
"You can get to experience things through art you might not otherwise get to experience," he said.
During the event, attendees including parents, children and fellow artists  composed a song about rain.
Sally Newkirk, director of the Carnegie Center for Art and History, said she enjoyed Acker's  ability to interact well with the children during the event.
"I loved seeing how Greg is able to engage the children and our guests in the music and rhythms of world cultures," Newkirk said. "He is always a pleasure to work with, and we were delighted that he could be our presenter at this past Saturday's session."
Acker said he has always been interested and active in music ever since he was young. He said he was a child who would beat on his mother's pots and pans.
In the sixth grade, he wanted to be a drummer in his school's band, but he ended up playing the flute instead. In high school, he played the saxophone.
"Music has always been the thing to touch my heart," Acker said. "My dream was to be a jazz flute player in Louisville, and six months later, I was wondering how to make a living."
After wondering what else was in the world about the arts and life in general, Acker applied for a volunteer job in the Peace Corps so he could explore the world.
Acker soon found himself in Morocco and the Togolese Republic in Africa. He not only played with musicians in Morocco, but while in the Togolese Republic, he gained musical experience.
He noticed the residents there strongly encourage people to become involved in music, dance and other art forms.
By JENNIFER
HARRINGTON
Staff
jeharrin@umail.iu.edu