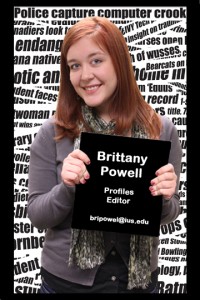 It is getting to the point in the year when, generally, everyone is ready for spring.
Classes start to drag after the fall semester ends, flu viruses spread as immune systems weaken, and, while we have had a mildly warm winter, it has been difficult daydreaming about beach-like weather while people are trapped in their homes due to the occasional snow and slush.
This epidemic, sometimes known as "cabin fever," is an unavoidable component of the last few months of winter.
It is very common for people to take vacations around this time of the year. Right now a few members of my family are visiting the Caribbean on a cruise, and, yes, I wish I was there.
However, no matter how warm or expensive the vacation a person takes to get away from the dreariness of his everyday lifestyle, home will still be there when he returns. New Albany is not getting any more exotic simply because that person went to an island for two weeks.
That being said, there is still no reason to mope around the house for four months of the year.
There are more beneficial activities to do besides sitting on the couch dreaming about what it might be like soaking up sun on a beach somewhere or updating Facebook while procrastinating on writing that history paper.
Why not put those procrastination skills to good use?
The best activity — and probably the most generic — a person can do during winter is to get active.
Exercising, whether that means going to the gym, playing a sport or simply finding a reason to get moving, can make a person feel better about himself and improve his overall health.
Motivation to exercise is hard to come by when the weather is cold, and it is hard enough getting out of bed in the morning to go to work or school.
However, once a person incorporates exercise into a routine, he will find it gets easier with practice, and his general outlook on physical activity will change.
There are opportunities for exercise every day.
All day long, I see students lounging around campus between classes doing absolutely nothing. Instead of sitting in a computer lab or relaxing on a couch in the IUS Library, why not try out the Fitness Center in the Activities Building or take up one of the fitness classes available.
Students and faculty can enjoy the benefits of campus beautification and take a walk around the parts of campus their classes would not generally take them.
Any change in routine can be satisfying.
Many times, when I stray from my normal routine on campus, I run into someone I have not talked to in a while.
People, including students or professors from previous classes, appreciate when someone takes the time to ask them how they are doing or what their plans are for the future.
Also, talking to them in person eases the social awkwardness of deleting them from Facebook after the class has ended.
Interacting with people adds to a person's self-esteem and sense of belonging. Finding time to have a real conversation with family members, significant others or friends seems like a no-brainer, but it is easy to get overwhelmed with school and work. No matter how busy a person is, it is important to make time for the people that matter.
Include more activities that involve those people, such as cooking a new recipe with younger siblings or establishing a date night with your significant other.
Do not forget about the cutest member of the family. Pets have proven to reduce high blood pressure, lower cholesterol levels and relieve stress in people by creating bonds and giving unconditional love.
Not only can owning a pet literally add more years to a person's life, but it can also add to the quality of life. What is a better incentive to wake up every morning than a happy puppy gnawing on your foot?
Dogs need plenty of exercise, so it is a great excuse to take a morning stroll or visit an off-leash dog park. Don't own a dog? There are plenty of animal shelters in Kentuckiana in need of volunteers.
Adding a new hobby or activity into a set routine can add more flavor and meaning into a person's lifestyle.
Remaining flexible and willing to change will open up more opportunities in a person's life.
If all else fails, turn to the Events page of this newspaper, chose an event and see what follows.
By BRITTANY POWELL
Profiles Editor
bripowel@ius.edu