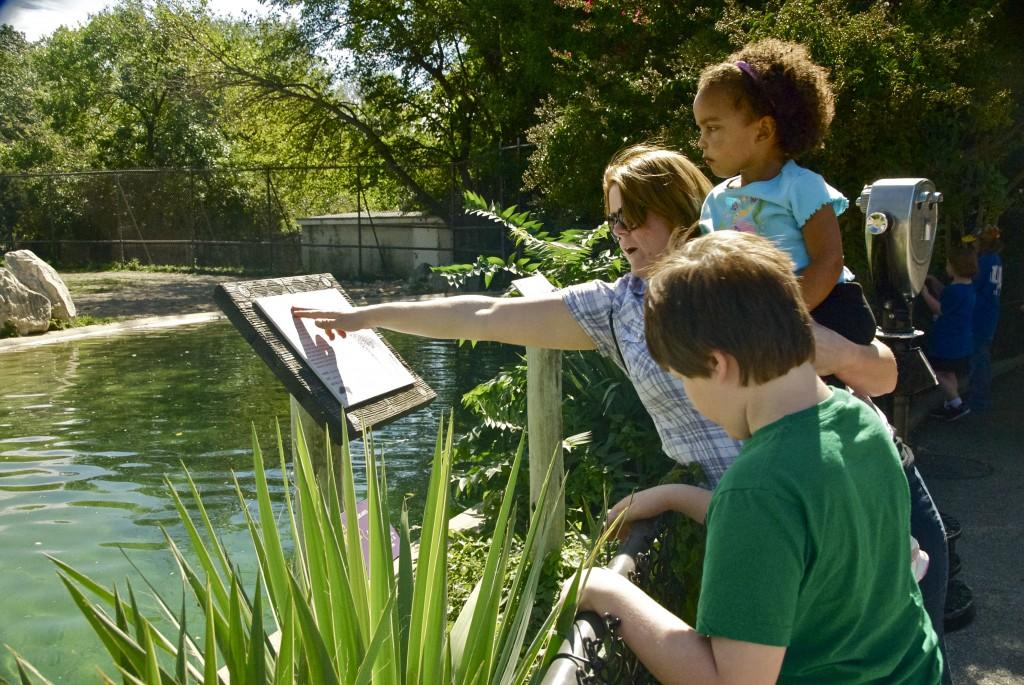 A group of nearly 100 non-traditional students, including their family members, gathered at the Louisville Zoo on Sept. 15 for a day of learning, fun and to share memories among exotic animals from around the world.
Each attendee picked up their free ticket at the IU Southeast welcome table from Kimberly Pelle, coordinator for Non-traditional Student Programs, with her assistant, Yvonne Bagshaw, general studies sophomore and non-traditional student.
"Coming to the zoo is not cheap," Pelle said. "We can give them a free ticket, so it cuts down on costs, and they can bring their families."
Bagshaw brought her 3-year-old daughter, Brooklyn Belle, to the event.  Bagshaw's niece, Hope Ida, education senior, who also attends IU Southeast, brought her son, Quentin White.
Bagshaw said these types of events are important to non-traditional students who have little interest in traditional campus activities.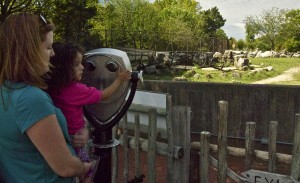 "We're not only sharing an event off of campus," she said, "We're making memories with our kids, too."
After finishing at the welcome table, Bagshaw met Ida, Belle and White at the zoo carousel.
Ida cupped Belle's small, outstretched hand and directed her down the zoo pathways.
"We're going to learn some new words today," Ida said.
Belle told Ida her favorite animal is the giraffe, so they walked over to the exhibit to see them.
"I know where the word 'giraffe' is," White said, pointing to a sign.
Ida scooped up Belle in her arms so she could read the name of her favorite animal on the animal info sign, just beyond the fence surrounding the giraffe's territory. White pointed out the word to Belle as Ida sounded it out. Belle smiled and pointed to the word with White.
Ida also had the chance to teach White some addition skills at the zoo concession stand. She asked him to round up dollar amounts to get an estimate of the sum total cost. He succeeded each time and was rewarded with a slushy and cheese nachos.
Bagshaw said she thinks the Family Day Out Program is a great way to introduce children to college.
"Any time my daughter sees an IU symbol, she's like, 'That's mommy's school,'" Bagshaw said. "She relates the symbol to these types of events. It's incorporating in a 3-year-old that it's all about going to college."
Pelle said the university has incorporated Family Day Out events for the past three years.
"We have a very large, non-traditional student population at IU Southeast, and we wanted to put on an activity that allows those students to incorporate their families into their academic lives," she said.
Pelle also said why there is a need for off-campus events.
"There's really not a lot out on campus for non-traditional students to do," Pelle said. "They're not really interested in the homecoming game or the sock hop in the gym. Our non-traditional students like to do things where they can bring their families and their kids."
Ray Brown, communication junior, came to the event with his wife, Erin Brown, IUS graduate, and their two children, Alexander and Emma.
Brown said being a working student with children puts an emphasis on how money is spent.
"I figured I ought to take advantage of every opportunity I can, since I'm paying for it," Brown said.
Pelle said family support is important for students.
"Studies show that if you have the support of your family behind you when you're going to college, you are probably going to graduate and meet those academic goals that you set for yourself," Pelle said.
Pelle said the events are also important for the university.
"The way our budgets are designed today, it's really not about enrollment figures anymore," Pelle said. "It's actually based on graduation rates, but, outside of that political and financial stuff, we want to see our students succeed. We want to see them graduate because it's going to change their lives forever."
By SAM WEBER
Staff
samweber@ius.edu
[photospace]