Artists of Wonderland Way
Exhibit commemorates New Albany bicentennial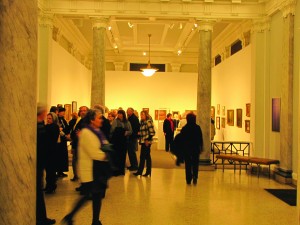 The Carnegie Center for Art & History on E Spring Street joined in the bicentennial celebration with an art exhibit entitled The Artists of the Wonderland Way. They held an open reception on Friday, Jan. 25.
The show features work by artists who came together after the 1906 opening of James L. Russell's art supply shop and gallery, The Art Shop, in New Albany.
Warren Payne, co-guest curator for the exhibit, owns several of the pieces in the show. He pointed to a Lawrence Russell, Untitled, oil on board painted in 1936.
"This is another one I like," he said of the Russell painting. "He was an iron worker, not related to the other Russell, but he loved to paint."
Like Lawrence Russell, many regular citizens — including iron workers and baseball players — became painters after gathering around the inspiration given off by The Art Shop in the early half of the 1900s.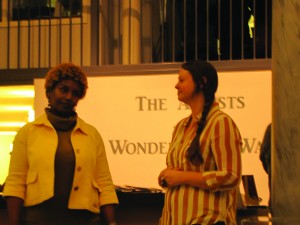 Collectively, these artists came to be known as The Wonderland Way Art Club, named for a stretch of roads that ran along the Ohio River entitled Wonderland Way.
"It's a nice picture for a guy who was an iron worker," Payne said. "That's the good thing about these guys—a lot of them were just regular people who liked to paint.
The Jamey Aebersold Quartet played on the Carnegie Center balcony during the opening reception. The basement floor was filled with guests talking about the show—munching on brie and marinated vegetables and sipping complimentary wine.
"It's great," Payne said. "I think the Carnegie always gets a good crowd. They really love their art here."
Hannah Litkenhous, art history senior, is currently an intern at the Carnegie Center. For this opening, she greeted guests at the front door, handed out programs and assisted with information.
"I love the history that's behind this exhibit," said Litkenhous. "It's different than what we usually have."
In a side hall— looking at the dioramas on display— Amy Jo Romig, former IUS student, said that she was no stranger to the Carnegie Center.
"I've been here on field trips because I've grown up here, and I've brought my kids here when they were in elementary school," Romig said. "That's why I came over here to see [the dioramas] it's just nostalgic."
Romig said that she was invited to the exhibit by a Carnegie Center curator because she had submitted ideas for the exhibit. She is a photographer and painter.
"I knew it would be a one-in-a-million shot," Romig said. "I literally was at the post office submitting it when they were closing, but I just wanted to put it in there."
Although Romig's ideas were not used for this project, she said she appreciated getting a personal call from the curator and an invitation to this event.
By APRILE RICKERT
Staff
apmricke@ius.edu