Even when she is not running plays, Ashmere Woods said she has one thing on her mind–basketball.
Although Woods is a serious basketball player, her outgoing personality keeps everyone around her entertained, her teammate, Kortney Woods, said.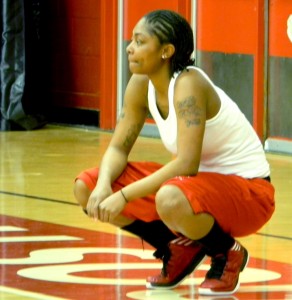 "Through her funny side she is a leader," Kortney Woods, senior center, said. "She is somebody people can look up to."
Throughout her career as a Grenadier, Ashmere Woods has won several awards including Kentucky Intercollegiate Conference (KIAC) Women's Basketball Player of the Week and National Association of Intercollegiate Athletics (NAIA) Women's Basketball All-American Honorable Mention, which she said she is most proud of.
"I want to get the All-American award, not just be mentioned for it, but it's always good to be mentioned for something," Woods said.
Woods also ranks No. 23 in Division II in points per game, 27 in Division II in total scoring and 41 in Division II in field goal percentage, according to NAIA statistics.
"She's a competitor," said Robin Farris, IUS women's basketball head coach. "Her statistics show that she is a good player."
The Grenadiers have competed in the NAIA Division II National Tournament all three years that Ashmere Woods has been on the team.
Farris said he hopes the team will be able to compete in the tournament again this year.
Ashmere Woods said she enjoys competing in the tournament.
"It's a really good experience to go compete at a higher pace and compete with people at a different skill level," Ashmere Woods said.
One of her favorite things about playing basketball is the spirit of competition, Woods said. She said competing against other players is fun and helps her become a better player.
She decided to become a Grenadier because she was drawn to IU Southeast's small campus, she said.
Before joining the team, Woods said she had taken a year off from school after high school and missed playing basketball.
She said she talked to Farris about playing basketball and received a scholarship to play at IU Southeast.
Farris said while Woods is competitive, she is also a team player.
"She's a winner," he said. "She's also an unselfish player. I think she could probably be more selfish, with her ability to score."
Woods said that while she plays, she makes an effort to pass the ball and share with others.
"I like to get everyone involved," she said.
After graduation, Woods said she wants to earn her master's degree in sports education.
"I want to continue in this sport, whether it is in coaching or playing," she said.
Woods said she took a basketball coaching class at IU Southeast and that the class was the best class she has taken.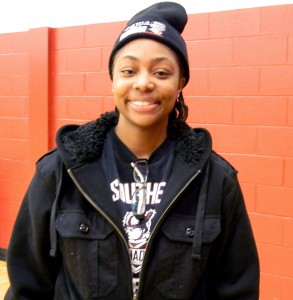 "I learned stuff about basketball I didn't know, even though I've been playing for years," she said.
Heather Wheat, sophomore point guard, said Woods is known as the entertainer of the team.
"She's always laughing and making everybody else laugh," Wheat said.
Kortney Woods said Ashmere Woods always maintains a positive attitude and helps encourage the team if they are having a bad game.
"She is always there to help us," Kortney Woods said.
Ashmere Woods said she looks up to Candance Parker who plays in the WNBA for the Los Angeles Sparks.
"I actually got to meet her," Woods said. "Everything about her is positive."
Woods developed a love for basketball when she began playing in community leagues, she said.
"From five years old I never stopped dribbling the ball," Woods said.
Farris said Woods' dedication and love for the game does not go unnoticed. Woods is a multi-dimensional player that has the ability to drive, shoot and draw contact.
"She's going to leave IUS as one of the best players to play here," Farris said.
The first round of the KIAC tournament begins on Feb. 23 where Woods will compete for her last championship.
By HANNAH ASH
Staff
hash@ius.edu