IUS alumnus finds new passion, inspires others
In a spacious, L-shaped room with 20-foot ceilings at the edge of New Albany's Industrial Park, transformations are taking place.
The floor is cement, half covered with black mats and in the center—a jungle gym.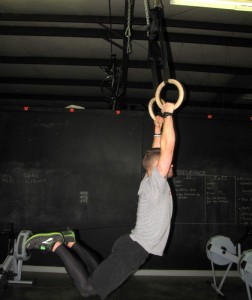 On several walls there are chalkboards filled with workout stats, diet reminders and inspirational quotes. Ropes and rings hang from the ceiling. There are no mirrors. It is clean and functional.
At the center of it all is IUS alumnus Case Belcher, who knows the benefits of working and playing hard. He has been at it for years.
He opens a side door for fresh air and turns on the music for a warm-up.
Black Flag, Against All Odds, Johnny Cash—it depends on how he's feeling.
"We kind of consider ourselves the punk rockers of the gym world," he said.
The 26-year-old coach and owner of ClarkFloyd CrossFit gym is a man of motion, a lifelong athlete who has finally found his niche.
Growing up in Henryville, where his closest neighbors were a mile away, Belcher said he found team sports—everything from tennis to baseball—to be a good way to stay social and active outside of school.
While working on a marketing degree at IU Southeast, Belcher said he became a "gym rat," exploring different avenues of fitness—personal training, body building and endurance—but he kept running into injuries.
In search of a way to push himself athletically while avoiding putting his body in harm's way, Belcher said he discovered a new program that combined fitness and health on a deeper level.
"I drank the CrossFit Kool-Aid," he said.
CrossFit is an international athletic program that adopts a 360-degree approach to life and fitness, meaning it caters to the whole person—athletically, nutritionally, socially and mentally.
"Life's little everyday problems are easy," Belcher said, in comparison to the stress and adrenaline he receives from working out.
The dedication that Belcher and the other members put into the CrossFit lifestyle has turned them into what he calls a second family.
Belcher said ClarkFloyd CrossFit is a more intimate setting than some of the bigger "globo-gyms" that rely on a certain number of people paying dues and not showing up.
"When someone doesn't show up here for a week or two, they're getting a phone call," he said.
Jessica Bergman said she stumbled onto CrossFit when she overheard Belcher talking with someone about it in a coffee shop.
She said the first thing she thought was "that's awesome" and introduced herself. Bergman said she was looking for a change in her life and had just read a Buddhist proverb, 'When the student is ready, the teacher appears.'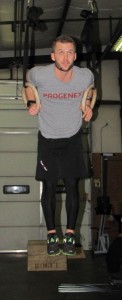 "I'm really glad I found CrossFit," Bergman said. "It makes me a happier person and that is invaluable."
Bergman said although she does not have as much time as she would like to work out, CrossFit makes it count for more.
"I feel like that hour of the day, I get the most out of it, fitness-wise," she said.
Bergman said she travels a lot for work—she is the Vice President for Advancements at Union College in Barbourville, Ky.—and that people are always asking her if she visits other CrossFit locations across the country.
"I don't want to check them out because Case isn't going to be there," she said.
"He's always looking for ways for us to do different things—to show progress, to compete against yourself," she said. "Everyone in there is truly wanting the best for everyone and that is a great feeling."
Bergman said Belcher's attitude and energy play a large part in the success of the gym, which Belcher said is growing.
"I think that's what makes people drawn to that space and to him. He truly wants people to be healthier," Bergman said. "He's not in it for the money."
When Belcher started getting more involved with CrossFit, he said he knew he was at a crossroads. He quit his digital marketing job, sold his house and poured his savings into opening the New Albany gym.
"Some people at Samtec thought I was nuts for leaving," Belcher said. "It was a good company and good money but it just wasn't something I was passionate about. I'd rather make $40,000 a year at this job than $200,000 chained to a desk."
Jeremy Wooldridge worked with Belcher and was one of the gym's first members when it opened a year ago this month.
"On one hand, I was disappointed because I thought [Belcher leaving] was a big loss for the company but I was also supportive because I believed he was going to make a big difference in the community, and he has," Wooldridge said.
Wooldridge said he works out about four days a week—the same amount that he did before joining CrossFit—but that he is seeing different results.
"CrossFit added an element of coaching," he said. "It added an element of competitiveness. My personal results have been phenomenal. I've learned a ton about nutrition to lifting—and my body fat is half of what it was in May."
Wooldridge said he thinks Belcher's vision is making a big impact on many people. As a coach, he does a great job helping individuals improve their workouts, even though they may have varying levels of fitness.
"People come to that gym because of Case," Wooldridge said. "He's very unique. I think deep down, he's an entrepreneur. He's going to succeed at whatever he does."
By APRILE RICKERT
Staff
apmricke@umail.iu.edu