IUS interns nominated for intern of year
For the first time, two IUS students were nominated for Intern of the Year by their employers for the Indiana INTERNnet Impact program.
On Feb. 6, John Berlejung, who graduated in December with a double major in geology and environmental geosciences, and Alexandra Brown, sociology senior, were recognized for the hard work and dedication they put into their internships at the 7th Annual IMPACT Awards Luncheon in downtown Indianapolis.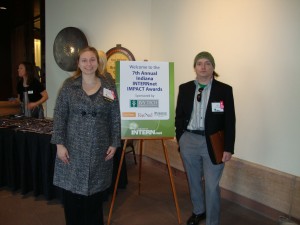 John Berlejung
John Berlejung spent his summer vacation on a mountain in Maryland that is guarded by U.S. Marines.
Nestled somewhere deep in the hills of Catoctin Mountain Park is Camp David, which has been a rural retreat for U.S. presidents and their families since 1938.
For security reasons, it is not listed on the park map.
Berlejung got his internship with the parks service through his membership in the Geological Society of America.
Berlejung said when he arrived for his internship, the area was getting ready for the G8 Summit, the annual conference where the world's top political leaders discuss problems.
"I got a really rough start there because first thing they're going through all my stuff searching for bombs and guns," Berlejung said. "But it was cool after that."
He said he believes he was nominated for the INTERNnet award because he went out of his way to do extra things at the park.
"I just volunteered for every opportunity I could," said Berlejung. "I got certified to run a chainsaw and to drive a dirt-moving vehicle, so I ended up doing stuff that had nothing to do with my job requirement."
During his internship, Berlejung said he lived in a bunkhouse in the park with several other interns, all but one of whom were locals.
He said the office where he worked was 30 feet from where he slept.
"I loved it," Berlejung said. "It was the first time that I didn't need four to five hours to wind down before falling asleep," Berlejung said. "It was one of those places where I didn't have helicopters flying overhead, I didn't have ambulances and the smell of McDonald's across the street—I didn't have any of that. It was peace, quiet, stars and fresh air."
After trying out physics, biology, economics and the army, he said he discovered his calling in an unexpected place.
"I've always been interested in rocks, but that was not something I thought I'd study until I was sitting in a guard tower in Iraq," Berlejung said. "Nine hours a night with nothing to do but think about what I was going to do for the rest of my life."
When he graduated from high school, Berlejung said, he did not want to go right into college.
He wanted to "break the monotony" of school.
"I joined the army to drive tanks," he said.
He said he learned things during his military career that have fostered his current belief system.
"I had the least environmental job on the planet when I was in the army," he said. "My tank got two gallons per mile fuel efficiency, jet fuel—real high grade jet fuel. We'd go out for a day and we'd burn close to 1,000 gallons."
It was during this time that Berlejung said he decided not to drive a car when he got home from Iraq.
He began doing research on recumbent bicycles as a form of transportation, and stumbled across Velomobiles, which are recumbent tricycles covered with a metal hood.
He said he ordered one of the least expensive kits, which was $5,000 and built it himself in around a year.
"I'm the kinda guy that's really attracted to awkward, quirky things and I saw it and said, 'yes, that's mine,'" said Berlejung.
As for the future, Berlejung said he does not know where it will take him, but his core plan is not going to change.
"In the long term, I really want to devote my life to the protection and restoration of the natural environments," he said. "If people treated this planet with as much respect as they treated whatever god they believe in, or their car, or whatever that's important to them, I don't think we'd be having any of these horrible problems—food shortages, crazy weather patterns and pollution."
Berlejung said he has hope that the environment can be improved if people change some things that they do daily.
"I believe that there's always time to make changes, but it's impossible, again in my opinion it's impossible to get us back to baseline. I think we've done irreversible damage already."
Alexandra Brown
Alexandra Brown is making her mark on the students of Scottsburg, Ind., this year.
The sociology senior has been the Educational Programs Coordinator for the Scott County Community Foundation since September, thanks to a grant from the Lilly Foundation that allowed room for the much-needed position to open up.
Brown spends about 15 hours a week at the schools and she said she makes the most of her time there.
She said she thinks this may be why she was nominated for the INTERNnet award.
"I think they've been really happy with the amount of work I've been able to get done in a short amount of time," said Brown.
Jaime Toppe, director of the Scott County Community Foundation, said having Brown on staff has been invaluable to the schools.
She said since there have been so many budget cuts recently, guidance counselors were having to take on extra work and students were not getting all of the help that they needed.
"It's been wonderful for the schools to have her there," said Toppe. "We're so impressed with her performance and the enthusiasm that she brings that we will be offering her a position in fall."
This year Brown said she has been preparing lesson plans, teaching, helping to administer the ISTEP tests and planning field trips.
One of Brown's main jobs is teaching a life skills class, which she said gives students the tools to stay away from drugs, weather peer pressure, develop high self-esteem and learn how to exercise good decision making skills.
"I think life skills is a very important class," said Brown, "and if it wasn't for this grant, they wouldn't be getting it."
Brown said part of this program also allows students to explore career paths.
Each of the 33 eighth-graders will get to go on a field trip individually to learn more about the career they are interested in.
Brown said she is in charge of planning the trips and has gone on several of them.
Some field trips this year have been to the IUS Writing Center, Actors Theatre of Louisville and a gunsmith.
Brown said she hopes to go to graduate school in a few years, probably at IU Southeast, but she would like to start working first. She said she hopes she will be hired on with the Scott County Community Foundation full-time next year.
"I love it there and I think when you love something, you do your best," she said.
Brown said she has been working with children since she was a child herself—she started baby-sitting at 14.
After that, she spent time as an assistant Sunday school teacher and worked in a day care throughout high school.
Her time spent at the day care opened up her eyes to some of the problems families in her community were facing.
"The experiences I had while working at the day care, further reinforced my desire to help communities, starting with children," she said. "I saw a lot of hurt that people in my community are dealing with, such as poverty and divorce."
As for her gift of helping children, Brown said she thinks it may her faith that sets her apart.
"I believe that God wants us to love everyone and my mission in life is to love everyone and contribute somehow in people's lives," she said.
By APRILE RICKERT
Staff
apmricke@umail.iu.edu