Grenadiers dominate Bearcats during Senior Night
The Grenadiers defended their territory against the Brescia University Bearcats Feb. 19 in the Activities Building for back-to-back Men's and Women's Senior Night basketball games.
Before both games, each senior was recognized for the hard work that was put into their IU Southeast basketball career.
WOMEN'S GAME
The women started out strong, and maintained a 10 to 12 point lead throughout the first half. Early into the second half the Grenadiers shot up to their biggest lead of the game—19 points.
The Bearcats closed in during the second half—the teams were tied at 75 points with 8.7 seconds left on the clock. One overtime gave the Grenadiers just enough time to win with 86 points to Brescia's 82.
"We were playing well, and in the middle of the second half we got a little complacent," Robin Farris IUS women's basketball head coach said.
The women are now in fourth place for the conference tournament.
"I like the way we play I just think in the second half, things were going against us and we hung in there and did what we needed to do," he said.
Farris said Ashmere Woods, senior guard, Heather Wheat, sophomore guard, and Kortney Woods, senior center, helped pull in the win for the Grenadiers.
"Heather and Ashmere had 49 points between them, Ashmere nine rebounds and Heather seven," Farris said. "I thought Kortney Woods had a fantastic game tonight, she had a tough defensive assignment tonight, and I thought she got the key rebounds for us and she got six block shots. That's huge."
Wheat said the Grenadiers' game went down a little in the second half.
"We got off to a great start and that just gave us energy through the whole first half," Wheat said.
Dalana Shaw, freshman forward, said the Grenadiers are going to miss the seniors when they leave.
"They're the spirit of the team," Shaw said. "They're such a big part of the Grenadiers that I couldn't imagine this team without them."
Farris said he has been trying to fill the gaps of the seniors.
"We've already recruited a couple of big players, post players, but it's going to be hard to fill Ashmere's shoes because she's so versatile," Farris said. "She can drive to get to the free-throw line, she's a good rebounder for her size and she can beat people off the dribble. It's hard to find players like that at our institution."
Summer Quesenbery, Women's head coach at Brescia said their point guard getting fouled out hurt the Bearcats' game.
"Jill Jones is a heck of an athlete and we don't have a second-string point guard," Quesenberry said. "She's averaging close to 17 points and almost five assists a game which is amazing for a freshman. The dynamic changes when Jill's not on the floor."
Quesenberry said the team tends to step up their game when they are down.
MEN'S GAME
The men played a fairly steady game, keeping a lead over of Brescia throughout.
Terence Billups and Jake Simpson led the scoring with 18 and 16 points, respectively. The final score was 77-67, ending with Kevin Mitchell dribbling down the clock.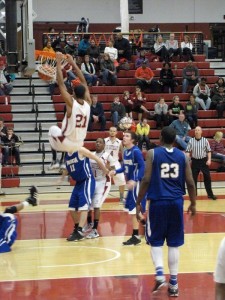 Wiley Brown, IUS men's basketball head coach, said although the defense could have been better, there was never a point in the game when he thought the Grenadiers were not going to win.
"Our guys work extremely hard," Brown said. "What we try to do is help each other on defense and we didn't play good defense tonight but we played just enough so we could win the game."
He said he planned the game a little differently than normal since it was Senior Night.
"My main focus was not to come out of there with any kind of injuries," Brown said. "I wanted to send the seniors off right, and we did that. Our lineup wasn't like I normally do—I made some substitutions in there but again, I was focused on not getting injuries, winning the game, and did it."
Brown said he hopes to bring the defense up to where it needs to be.
"We'll be off tomorrow and come back Thursday with some very hard practice."
Brown said he has been talking to recruits who will fill the positions that will be left by the seniors.
"Believe me, there are a lot of players we're working on now," he said. "We had three guys here tonight, so we'll fill it up, when you win and everybody wants to be a part of it. We've got some good recruits that will be coming in here."
Kevin Mitchell, junior guard, said he thought the defense needed improvement.
"We didn't play that defensively," Mitchell said. "We got a lot of stuff to work on—a lot of stuff to catch up on. Coach Wiley, he's going to make sure he fixes it. We're
starting a new season—we gotta win now."
By APRILE RICKERT
Staff
apmricke@ius.edu