Grenadiers win sixth KIAC championship
The IUS men's basketball team brought in their sixth consecutive Kentucky Intercollegiate Athletic Conference championship title Feb. 26 in the Activities Building, in the final conference game against the Asbury Eagles.
In a nail-biting first half, with the lead changing four times and the teams tying five times, tensions ran high on the court and in the stands.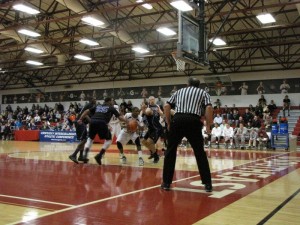 Jake Simpson, sophomore guard, said he respected the fight the Eagles put up.
"Asbury's a very good team," said Simpson.  "You gotta give it to them.  It was a good game, just at the end of the game we beat them out for the 'W.'"
Simpson and Cameron Mitchell, junior guard, led the game in scoring with 19 points each, followed closely by Kevin Mitchell, junior guard, with 14 points, and Terence Billups, senior forward, with 10.
The Grenadiers, with a season record of 24-7, have been on an 8-game winning streak since Feb. 8, when they beat IU East 98-93.
Leading up to the KIAC Finals, they overtook Alice Lloyd with 77-68 in the quarter-final, and crushed Cincinnati Christian in the semi-final with 91-61.
The 74-62 win over Asbury means the Grenadiers have secured a spot in the National Associations of Intercollegiate Athletics Division II Men's Basketball Tournament, which beginning on March 6.
Wiley Brown, men's basketball head coach, said the team put in a lot of hard work to earn the KIAC title.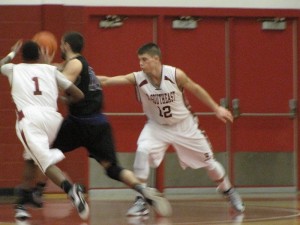 "This is the moment right here that I'm so proud of these guys, because they fought for this and they definitely deserve it," Brown said. "They really do.  It was a great season."
Brown said by finals, the team was made up of those players who persevered all year, while many of the other players were lost due to injury, grades or quitting the team.
"These guys here tonight stepped up and said it don't matter who or what's going on, we're gonna represent IU Southeast," Brown said. "They did that all year long.  We played a tough schedule—they could've quit some games and they never did."
Mitchell said the strength and unity of the team is what has brought them this far.
"It's a real special team we got—a brotherhood, like I always say, a family." Mitchell said.
He said he attributes this win to the team staying together during the game and keeping their heads up even when victory was uncertain.
"I know we were down in the first half, but we've been in this situation before," Mitchell said. "Coach Brown prepared us for this.  We don't put our heads down and lose it, we just find a way to get back into the game. That's what we did tonight.  We stayed, played as a team, and came out with a dub [Win]."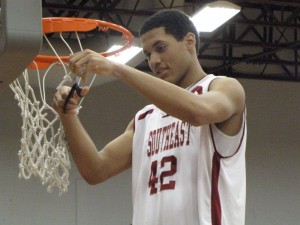 Kegan Clark, junior forward, said the Grenadiers brought in the win against Asbury, because they fought harder for it.
"I think we just had more heart than they did," said Clark.  "We knew what we wanted and we just went out and took it."
The Grenadiers headed to Point Lookout, Mo., on Sunday for the first round of the NAIA tournament.  They are slated to play Valley City State, N.D., March 6 at 6:45 p.m.
"Their goal all year long was to win the conference again, be the conference tournament champions, and then win the national championship," said Brown.  "They've done two of them, so now they got another one to go."
By APRILE RICKERT
Staff
apmricke@umail.iu.edu