Whether it is the sound of squeaky tennis shoes rushing up and down the court, or the sound of a bat cracking when a baseball or softball hits it, or the sound of a volleyball being pounded over the net, one thing for sure—Stephen Utz, sports information director, is there.
"I send out all the press releases, all the information on the website about the games, and all the photography," Utz said. "I also tweet live information and provide information for broadcasting. I have to make sure the sports information gets out to various media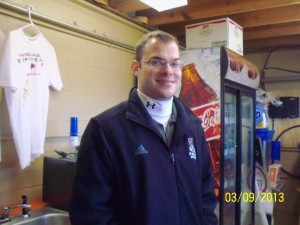 outlets."
Utz has filled the position at IU Southeast since 2011. He graduated from the University of Richmond in 2010 with a double major in history and journalism.
He started as an intern in November of 2010, and then became the sports information director in February 2011, Utz said.
The long hours lead to some late nights, and Utz said he hardly has any free time because the job is so demanding.
"I stay pretty busy. Since the hours are so long, you soon learn about quick restaurants like Jimmy Johns."
Growing up, Utz's parents would always encourage him to go to college.
"I knew at a young age I was going to go to college," Utz said. "And as I got older, Richmond seemed to fit the bill."
At the University of Richmond, Utz said he worked sports for the college paper and wrote up game stories. He also ran the score and shot clocks.
One of the University of Richmond's athletic public relations directors connected Utz with the University of Louisville during his senior year, Utz said.
"I got to actually work a couple of NCAA championships at U of L," Utz said. "I transcribed the press conferences and then they were sent out to the reporters."
Tom Mullen, professor of journalism at the University of Richmond, was an influence to Utz.
"He was very supportive in everything I did," Utz said. "He told me I could use journalism in other ways, even if it wasn't for journalism."
Utz said there have been many accomplishments he has been proud of since coming to work at IU Southeast.
"We hosted the KIAC basketball tournament a couple of weeks ago," Utz said. "I think we did a really good job at that. The whole athletics department came together. We put some really long hours in on that week. For such a small department, we were able to pull something like that off in such a successful way."
Utz said that he has had many unforgettable moments at IU Southeast.
"Seeing the athletes grow from being freshmen to graduation," Utz said. "That is always real nice to see."
At IU Southeast, Utz said his job not only consists of making sure the media has information about the games, but also making sure the journalists have what they need to write-up their stories and get them in before deadline.
Joe Glover, athletics director, said Utz has done a great job as sports information director.
"Utz is professional and organized, those qualities are so huge in the sports information director's job," Glover said. "He's really built the relationships with the media and the athletics department. His knowledge about sports comes through in his writings and in everything he does."
Amanda Dailey-Weaver, administrative assistant, said she has known Utz since he first came to IUS and was involved in his hiring.
"It was obvious that Stephen loved sports," Dailey-Weaver said. "He's a great addition to our department, and not just our department, but to the whole university."
Glover said because of the tremendous talent Utz has, he knows Utz will move on to bigger venues.
"Fortunately for him he will move on up to the major leagues, the NCAA sports information director, because he's that good," Glover said. "There's no doubt in my mind."
However, Glover said, there are some draw backs to the job.
"He puts a lot of time into his job." Glover said.
There are not many people who could do the job Utz is doing, Glover said.
"Information directors go unnoticed," Glover said.  "They are like unsung heroes. People don't know all the work they put into their jobs. I wish I had two of them. There's always work to be done."
By TINA REED
Staff
tinkreed@ius.edu