Stephon Moore, political science sophomore, and Dejan Tomanic, political science sophomore, say although they do not always agree, they make a great team as Student Government Association President and Vice President.
The duo met when they were assigned as Model U.N. partners, and they continued to work together in the Civil Liberties Union and in classes.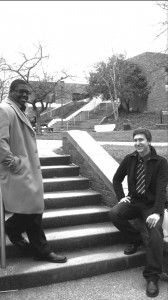 "We've had a working history longer than we've had a friendship," Tomanic said.
Moore said part of the reason they make such a good team is that they do not always agree on everything.
"We honestly have open debate about a lot of things," he said. "We play devil's advocate."
Moore said he and Tomanic are different sides of the same coin and that they both share a vision for the campus.
Moore and Tomanic want to focus their efforts on academics and a recommitment to student organizations, Moore said.
He said as part of these goals, the two are pushing for more in-depth course descriptions on OnCourse.
These descriptions could be taken from class syllabuses to give students a better idea of what to expect from different courses, Tomanic said.
Moore said the SGA approved the descriptions last year, but they have not been fully implemented.
"This is something I want to make sure is revived," Moore said.
He said he also wants the descriptions to include information about requirements and structure of classes, so students are fully aware of what they are signing up for when they enroll in a class.
For instance, Moore said, some students are not good at taking tests, they could avoid taking classes that have grades based mostly on exams.
"These aren't some lofty, grandiose ideas," Tomanic said. "These are things you can actually implement."
Moore and Tomanic said they want to focus making improvements for the entire student body, not just a select group of students.
"Our main focus is we just want to dedicate the SGA to students," Moore said.
Moore said he ran for president because he wants to help students in any way he can.
"This is something I wanted to do for a long time," Moore said.
Moore said since he started attending college, he has been involved in the SGA.
"I really want to contribute to the student body in a lot of big ways," he said.
Moore is also the president of the Civil Liberties Union and a community advisor of Orchard Lodge and said he is dedicated to service because of his past experiences.
He said throughout his life, he has seen people that need help go without it, but he has also seen good people make sacrifices to help others.
"I like seeing people do well," Moore said. "I enjoy seeing people do what they aspire to do, and any way that I can help them in that, I want to."
When Moore is not working to serve his fellow students, he enjoys playing "NBA 2K13" and watching University of Louisville basketball.
"I've been a U of L fan since I was two," he said.
Moore said he enjoys learning and is open-minded and happy to listen to different opinions.
He said if people have a question, they can come ask him any time.
Tomanic said he originally joined the SGA a year ago because Moore convinced him it was a good idea.
"I really didn't know what it was about," Tomanic said. "I was new here."
Tomanic said he began to flex his small amount of influence in the SGA to gain an officer position.
"I ran with my position," Tomanic said.
He said through his involvement with the SGA, he has learned about the issues that concern students most, and he is excited to have a seat at the decision-making table as a representative of the student body.
Like Moore, Tomanic said he recognizes the importance of serving others and learned at a young age the impact simple acts of kindness can have on another person's life.
As refugees from former Yugoslavia, now Bosnia, Tomanic said his family relied on help from others, even before arriving in the United States. He said witnessing these acts of service helped him realize the importance of giving back.
"Service to others is a virtue," Tomanic said. He also said when people are the beneficiaries of kindness it is their responsibility to pay it forward. Otherwise, they are not doing justice to the people that helped them.
Tomanic said he spends his free time relaxing by reading historical nonfiction, working out and hunting for a new pair of sneakers.
He described himself as a "sneakerhead" and said he looks for a new pair nearly every other week.
As SGA Vice President, Tomanic said he is open to suggestions. While Tomanic described himself as passionate in his beliefs, he said he could never be called close-minded.
"I do enjoy trying to understand other perspectives, and I can appreciate a good argument," he said.
To present their ideas or express concerns, students can contact Moore at mooreso@ius.edu or Tomanic at dtomanic@ius.edu. Students can also visit the SGA Executive Office, across from the Campus Life Office, where Moore's door is always open.
By HANNAH ASH
Staff
hash@ius.edu