IT manager makes models into masterpieces
Hobbies tend to be minimized as just something that a person likes to do in their free time.
However, when Lee Station stood and watched one of the models he built being unveiled at the IBM Gallery in Manhattan, it became much more than just a hobby.
Staton, IT manager of communications and special projects, has always had a desire for making models and creating replicas.
His hobby has led to the displaying of his models in museums and to him becoming the co-creator of a convention that holds the largest sci-fi model contest in the world, among other accomplishments.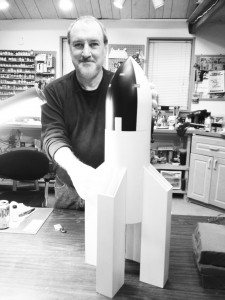 Staton started making models at the age of seven. Staton said he remembers buying model kits at grocery stores for 98 cents, which he said was even cheap for back then.
Staton is the only model maker in his family, but Staton said he made replica planes and tanks — without the model kit — for his two brothers.
After realizing he could create models without kits, Staton said he began entering car-modeling competitions and reading modeling magazines.
Staton said the magazines were a vital way for him to teach himself all the aspects of modeling he was interested in at the time.
Staton never realized how good he was at his hobby until he was approached to do work for other companies and movies, he said.
When doing work for hire, Staton said, many times the people assigning the work were particular about how exact his replica matched the original.
Staton lets it be known that the research is about as —if not more— fun than the actual assembly of his model.
Staton's work is in a museum with the works of famous rocket scientist Werner Vonbraun in Alabama.
Other works of Staton's were for the National Air and Space Museum and for Space X. Space X is a company that launches supply rockets to the International Space Station.
Staton said he also has made a model of a tequila factory for the company Seagram's.
One of his main projects is a replica of German rocket scientist Werner Vonbraun's 1950's 3-foot-wing span mars lander.
A time when Staton said he felt great accomplishment was when he was waiting to see one of his own models being displayed in Manhattan, New York at the IBM Gallery.
Staton said not only was it an honor to be recognized in Manhattan, but Vicent Difate, a famous space artist, told him that his work was like a gem in the display of work being shown at the event.
The science advisor of Staton's favorite science fiction movie, "2001: A Space Odyssey," even told him behind the scenes information about the movie as they watched it at his house, Staton said.
Staton said he finds it intriguing how he is able to work with the people who entertained and inspired him all because of his hobby of making models.
Another accomplishment of Stanton's is creating the Wonder Fest convention in Louisville.
The convention has over two thousand people attend each year and hosts the largest sci-fi model competition in the world with 600 entries.
Lee describes the convention as an art show of science fiction and movies. He said that certain actors and special effects people attend the convention every year.
The convention is going on its 24th year this May.
"Lee Staton is the finest model maker for rockets and space," said Dave Hodge, co-founder of Wonder Fest.
Hodge said Staton is meticulous in his work and in his personality; He has a "killer-eye" for detail, Hodge said.
Artists get attached to their work and Staton said so does he.
Staton said the problem he finds himself in is doing commercial works and never seeing them again, such as his "Friede", his model spaceship which is displayed in a German museum.
"The only thing I don't like about this weird hobby is the solitude," Stanton said. "You have to take many breaks or the work become very tedious."
In the future, Staton said he plans to incorporate more technology into his hobby. Specifically, he said a 3D printer is what he has in mind for his projects.
He said no commercial products are presently in the works.
"From time to time I will pick up a model kit and bang it together," Staton said.
To walk away from commercial work that must be so perfect and precise, Staton said it is sometimes nice to know how easy it is to do model kits like ones he did when he was a kid.
Wonder Fest will take place this year on May 18 and 19 at the Crown plaza next to the airport in Louisville. For more information, visit www.wonderfest.com.
By MYCHAL HARRIS
Staff
myharris@ius.edu