Student finds more time, money with Mary Kay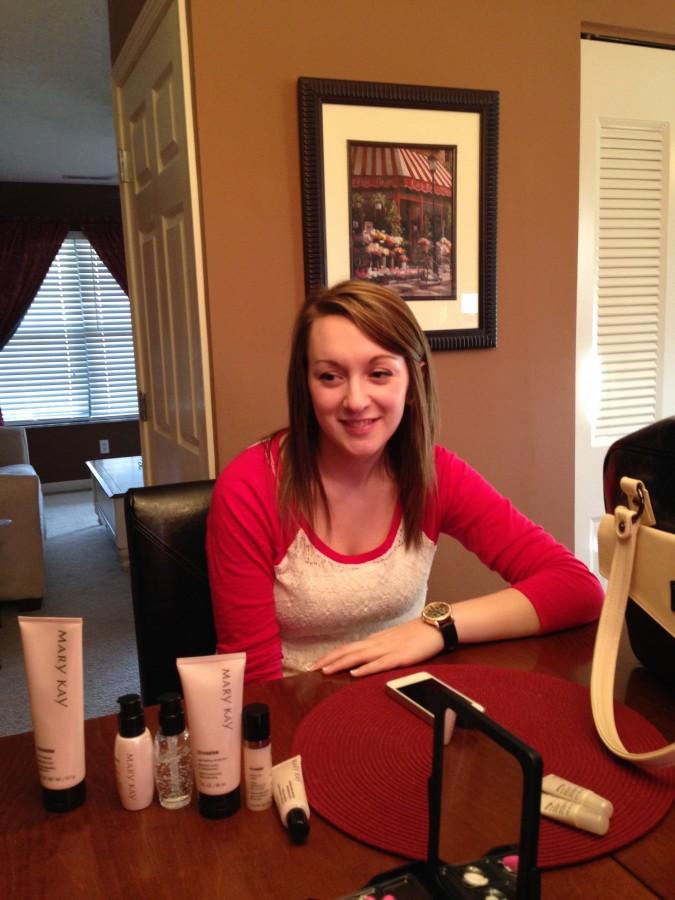 When Jessie Clifford, biology freshman, sits down with a client, she smiles. It does not seem or look like work to her. She explains everything she knows about aging and the beauty products lined up in front of her. She knows they work because she uses them.
Clifford is a Mary Kay independent beauty consultant, selling skincare and makeup items. She began her journey on Dec. 31, 2013 and said she made $1,000 in sales in her first month in business and has continued to be successful.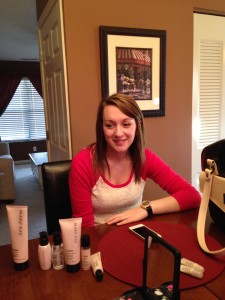 "For me, financial stability is a huge thing," Clifford said. "I have doubled my savings account in just four months."
Clifford said losing her job last semester was a financial surprise she was not prepared for. She was sitting in class when a friend texted her to tell her the company they worked for, Starvin' Marvin's Country Kitchen, was closing its doors.
"I put my backpack on and left class sobbing," Clifford said. "I started calling people and crying to them about not having a job anymore."
Clifford said her boyfriend, Jamie Nash, computer science sophomore, helped her get a job at the Applebee's where he worked. But by the time she received her first paycheck, two and a half months with no pay had passed and Clifford said she had spent most of her savings.
After her first several months with her Mary Kay business, however, Clifford said she is no longer worried about her financial situation and is even paying for her summer classes herself.
After Clifford paid the $100 to become a consultant she was thrilled.
"I had a free pampering session," Clifford said. "I fell in love with the products and wanted everything."
She said she became a consultant in part for the 50 percent discount on all products and the lack of obligation to sell products.
"I was fine until my starter kit showed up," Clifford said. "I freaked."
Her grandmother, Trish Upton, sat down with her to discuss the business and help her come up with a plan.
"I tried to encourage her and give her advice on how much to spend on supplies and merchandise," Upton said.
With everything on Clifford's plate, Upton said she sometimes worries that it will become overwhelming, but she also knows that Clifford knows how to manage her time well.
"I am very OCD and have to be organized," Clifford said. "My calendar goes with me."
Scribbles fill her notebook planner. She blocks out scheduled appointments, writes in her school schedule and her work schedule. Clifford is also managing a senior softball team, with girls in middle and high school. Her life is crazy, she said.
"I've never thought about how busy my life is," Clifford said. "Oh man."
Her eyes are wide but she smiles as she explains that she can not sit still; she always has to be doing something.
Clifford said Mary Kay has given her the ability to schedule appointments and work on her own time. Ten to 15 hours constitutes a full-time consultant. Clifford said sometimes she exceeds 15 hours, booking four to five appointments a day on her "Mary Kay" days, which are Tuesday, Thursday, Saturday and Sunday.
"I try to book parties for more than one person at a time," Clifford said. "That way I can get more work done and save on time."
The great thing about working on her time, Clifford said, is that she can work less during weeks where she has important tests in school. And if she needs time off, she simply does not schedule appointments.
Nash said he tries to help with her business as much as he can.
"The best thing I've done is help come up with ways she can advertise," Nash said. "I also help with the financial aspect–accounting."
Clifford said she is grateful for the support she has from Nash, his mother and her grandmother.
"It would be hard if they didn't support me," Clifford said. "Everybody sees that I want to do this and that I want to be successful. They are supportive."
Nash said although he was indifferent at first, he is excited for her success.
"She has a lot of appointments," Nash said. "She works hard. I didn't think she would get this far this fast."
Upton said she is amazed at how quickly her granddaughter's business has taken off as well.
"I had
no idea it would take off as fast as it has," Upton said. "She has a  very strong determination. Once she makes up her mind to do something she is going to do it. She takes after me, being a little stubborn and determined."
Upton let Clifford set up shop in her basement and Nash helped her organize the area and decorate.
"The basement was unused and just sitting there, so when Jessie wanted to use it, it just worked out," Upton said.
From her downstairs office, Clifford conducts in-house appointments where clients receive a free pampering session to try the products. She said she is working on building her inventory to a full store, which would be valued at $3,600.
Clifford said she feels good being part of a company she respects.
"Mary Kay empowers women," Clifford said. "It's about giving girls and women confidence and to help them feel better about themselves."
Upton said she has always had a special relationship with Clifford because she was her first grandchild.
"I can't express how proud of her I am," Upton said. "Whatever she does, she does well. I think she will take this business as far as she can."
For more information about Clifford's business, visit https://www.facebook.com/jrclifford.marykay.