A sweetheart deal: Freshman packs her suitcase for Miss Indiana pageant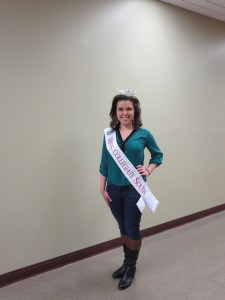 For Emily Kunkel, it was never about her. It was about giving back to the community she called home.
"I grew up with volunteerism in my life, since I was little," Kunkel said. "My parents have always encouraged it. They told me I had to give back to my community."
Kunkel, marketing freshman, is the new Miss Collegiate South. She will be competing for the Miss Indiana title June 15-21, in Zionsville, Ind.
"The first couple days are meetings with the public," Kunkel said. "We will go to [James Whitcomb] Riley Hospital for Children and make appearances with the kids. We'll make appearances with Big Brothers, Big Sisters. We'll do the Joy of Life Lunch, which supports breast cancer."
Kunkel said she understands the impact her position as Miss Collegiate South has, and the greater impact being Miss Indiana could bring.
"If you have a crown and sash then people are going to pay attention," Kunkel said. "When you have a group of 25 girls that have them on, people notice.'"
But Kunkel said the best part about being a pageant girl is not the glitz and glamour that comes with it, but the chance to perform beneficial philanthropy.
"To me, personally, it's the feeling you get from helping other people." she said.
To be a part of the Miss America organization, each contestant much be a sponsor of a charity group. Kunkel chose Suitcases For Sweethearts, a foster child program located in New Albany.
"When foster children are removed from a home, they either have nothing due to contents of the home, or they do have something but they have very little." Kunkel said.
Suitcases for Sweethearts seeks to make a difference in this issue by supplying the children with essential supplies.
"What we do is we collect suitcases. We fill them with basic hygiene items, clothing, and something the child can have," Kunkel said. "It's broken up by age group. If it's a young child, they get a stuffed animal. If it's an older child, they get a book. It's something to call their own while having the ability to move homes."
Kunkel said her choice of charity organization was a personal one, forged by her experiences as a child.
"My sister is adopted from China," she said. "I actually got the opportunity to go to the orphanage and see what it was like, and it was heartbreaking."
Kunkel said the experience was one she could not forget.
"I can't go to China, but there is an issue in our community here," she said. "Why start something new? A new platform, a new cause, when I have something that needs to be known as an issue."
Meadow Ryann, Miss Collegiate South's Outstanding Teen, said Kunkel is passionate about her charity and takes it seriously.
"Emily and I have already come together and try to plan events to support her charity, as well as mine," Ryann said.
Kunkel said she hopes that, if she wins the Miss Indiana competition and a chance to compete at a national level, more attention will be brought to the charity she supports.
"It's more of getting my program out there and saying, 'This is what I've done with this, and who can help me make it better?'" Kunkel said.
For more information on Suitcases for Sweethearts, visit: http://suitcasesforsweethearts.wordpress.com/.