Grenadiers lose close match to Oakland City
The IU Southeast volleyball team lost to the Oakland City Lady Oaks in five sets Thursday night (25-22, 13-25, 25-19, 13-25, 13-15). The loss drops the Grenadiers to 3-6 on the year.
The first set started off close, but IU Southeast was able to score five straight points to take a 12-8 lead. The Grenadiers had as much as a six point lead and won the first set 25-22.
Oakland City regrouped and opened up the second set with four straight points. Down 13-6 the Grenadiers were able to score three straight points, but the Lady Oaks regained control and won the second set 25-13.
IU Southeast came out strong in the third set jumping out to a 13-7 lead.  The Grenadiers led by as much as eight. The Lady Oaks, however, closed the gap and got to within 3 points, until the Grenadiers pulled away and took the third set 25-19.
After the Lady Oaks won the fourth set decisively, the teams headed to a fifth and final set.
The Grenadiers opened up the fifth set on a 6-1 run, before the Lady Oaks scored four straight of their own to cut the lead to one at 6-5. The teams battled back and forth until   the Grenadiers were one point away from defeat and were able to score two straight points to cut the Oakland City lead to 14-13.   The Grenadiers comeback came up short with the Lady Oaks winning the fifth set 15-13 and winning the match.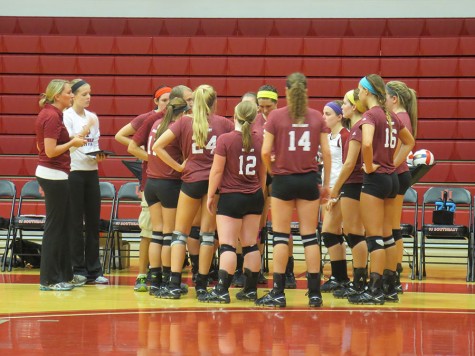 Sara Schum, senior middle blocker, led the Grenadiers with 14 kills, while Michala Beasley, freshman outside hitter, added 12 kills. Meaghen Tompkins, senior setter and defensive specialist, led the team with 27 assists. Demi Richardson, freshman setter added 20 assists.
The Grenadiers next home game is Sept. 22 at 4 p.m. against Alice Lloyd College in the Activities Building.