The Horizon haunted house guide
WAVERLY HILLS SANATORIUM
Waverly Hills Sanatorium, known as the most haunted place on Earth, is continuing its haunted house again this year! The haunted house is open every Friday and Saturday now until Nov 1. Doors open at 7:30 p.m. and close at midnight. General admission is $20. Waverly Hills also gives tours of the scary building. Whether you're looking to learn more about the Sanatorium or hoping to capture some paranormal entities, tours are the thing for you! For more information on the haunted house and tours, visit thewaverlyhills.com.
THE FIELD OF SCREAMS
This isn't any haunted house you've been to; it's Kentucky's largest Halloween attraction. Walk through a six-acre cornfield maze full of horror. After the maze, if you can't get enough of the terror, hop on the Hayride to Hell. Screams is $20 per person while the Hayride to Hell is $15. Combo tickets for both attractions are available for $30. Open until Halloween. Fridays and Saturdays 7 p.m. to 1 a.m. For more information, visit thefieldofscreams.net.
LOUISVILLE SLUGGER FIELD
The Louisville Slugger Field is hosting its annual Dreams With Wings Jack O' Lantern Stroll. This is a free, family event on Oct. 24 from 6 p.m. to 9 p.m. Go check out over 1,500 carved Jack O' Lanterns while listening to live music and trick or treating! If that's not enough, make sure to see Louisville's largest pumpkin pie!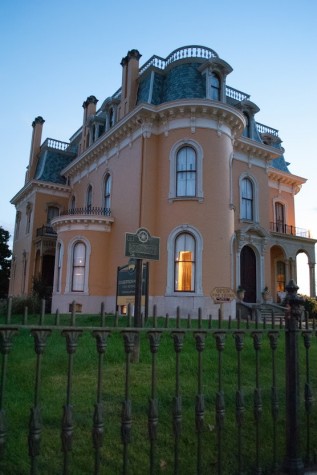 THE HAUNTED HOTEL
Kentucky's longest continuous running haunted attraction is back for its 23rd year! This haunted house pushes the boundaries and makes sure to give customers a scare. Haunted Hotel is open until Nov. 1. General admission is $20. On Nov. 8 from 8 p.m. to 12 a.m. for $15, zombie lovers can participate in the Lights Out – Zombie Outbreak. This attraction is pitch black. Groups of three must navigate through the hotel while trying to hide from the living dead! For more information, visit hauntedhotelky.com.
LOUISVILLE ZOO
Don't like being scared, but still want to enjoy Halloween festivities? Head over to the Louisville Zoo where they have the "World's Largest Halloween Party"! This is a family friendly event. Dress up in your costumes and walk around their pumpkin display all the way to the headless horseman! This event is open every Thursday to Sunday until Oct. 30. Gates open at 5 p.m. and the last entry is at 8:30 p.m. For more information on ticket prices, visit louisvillezoo.org/halloween.
LITERALLY, A HAUNTED HOUSE
The Culbertson Mansion of New Albany hosts a haunted house located in their three-floored carriage house. As you walk through their haunted house full of scares, remember that you're not alone. This is a true haunted house. Open Friday and Saturday nights until Nov. 1 at 7 p.m. Admission is $14. Want more scare? The mansion also offers storytelling and ghost tours for guests who want to learn more about the spooky happenings For more information, go to hauntedculbertson.org.
INDUSTRIAL TERRORPLEX
If you're looking for different kinds of scary in one location, Industrial Terrorplex is the place for you. They have four attractions: Industrial Nightmare, Dementions, Carnevil 3D, and INFECTED. A regular ticket for both Industrial Nightmare and Dementions is $19. A regular ticket for both Carnevil 3D and INFECTED is $19. A combo ticket for all four haunted attractions is $29. Hate waiting in line? Skip the lines with a combo ticket priced at $40.Thursdays and Sundays 8 p.m. to 11 p.m. and Fridays and Saturdays 8 p.m. to 1 a.m. until Halloween night. For more information, visit industrialterrorplex.com.