IU Southeast Honors Program: Beyond the Books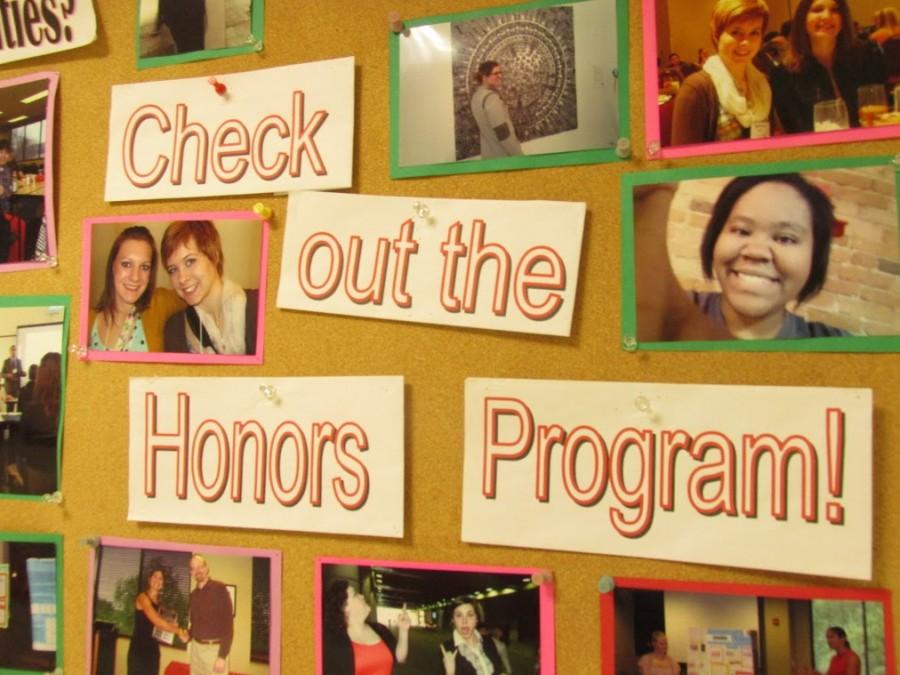 Over the summer, Amanda Coomer, special education junior, took a yoga class at IU Southeast. Now, through the guidance of the Honors Program, she is researching how yoga can help autistic students and those with behavior disorders. Coomer said this information will be valuable to her once she graduates and becomes a special education teacher.
The Honors Program at IU Southeast offers students the opportunity to take specialized classes and be a part of a tight-knit community of like-minded individuals. It provides students with many direct benefits, such as scholarships, extra one-on-one academic help and opportunities to do research with faculty.
Coomer, who entered the Honors Program as a freshman, said, beyond the unique research opportunities, she also appreciates the social aspect of the organization.
"It's a really nice, supportive community," Coomer said. "Especially starting off as a freshman when I didn't really know anybody. I've made a lot of friends through the Honors Program."
Jenna Lacy, psychology senior, entered the Honors Program when she transferred to IU Southeast as a junior. Lacy said the community within the program has helped her both socially and academically.
"The social benefits are very rewarding," Lacy said. "I've been surrounded by intellectually-curious people. I'm always learning something new when I'm around them."
But the program provides more than academic and social benefits, said Angela Salas, director of the Honors Program. Salas said students develop skills they will use beyond the classroom walls—not only day-to-day rules for life, but the reasons behind those rules.
"Students go to college because they want to get a good job, but also because they want to have good lives," Salas said. "It's not just about having a new car. It's about getting up in the morning and knowing that there's purpose to the work that you do."
Salas said the smaller class sizes in the honors classes and the increased one-on-one meeting times give students the opportunity to reflect on these rules and life choices. It also allows them to formulate their life goals and develop what constitutes "a good life" to them.
"
We hold each other accountable in a positive sense; we don't compete against each other."
— Jenna Lacy, psychology senior
"Stopping the car and getting a dog off the street could be more important than showing up on time," said Salas. "If a good life to you means getting the dog off the road, then get the dog off the road."
Salas said the Honors Program can act as a vehicle to guide students where they want to go in life. Through seminars and group activities, the program gives students the confidence to hold themselves accountable so they can achieve their goals, Salas said.
Lacy said being in a tight-knit group like the Honors Program gives her motivation to improve her own skills and allows her to help others reach their full potential.
"We hold each other accountable in a positive sense," Lacy said. "We don't measure ourselves against each other. It's self-competitive. It's always about how we can improve each other."
Salas emphasized students shouldn't be scared to apply to the Honors Program because they don't think they're academically good enough. No one is perfect within the program, Salas said, but it can help students grow and develop both academically and personally.
"If you hadn't changed, even if you had a 4.0, wouldn't that be a waste of four years and a waste of money," Salas asked. "If someone hadn't pushed you and made you rethink something, if it were just easy, it wouldn't be worth it."
Lacy said, with the specialized help of the Honors Program staff, she has grown tremendously during her two years in the program.
"Dr. Salas has moved mountains for me," Lacy said. "She's very much in tune with my strengths and my weaknesses and how we can improve both. You really do get a lot more than you expected when you joined."
Any student, even upperclassmen, can apply to the Honors Program, said Salas. Current students who enter the program will take two 300-level seminar classes and complete a research project of their choosing.
Students who enter the program as freshmen will take two lower-level classes and can take the two upper-level classes as well. Coomer said the two freshman honors classes are especially useful because they often fulfill English and speech general education requirements.
Graduating as an Honors Program student—either fulfilling the lower-level class requirements, the upper-level requirements or both—will be noted on transcripts and could be used on resumes, Salas said.
To apply, current students must submit an application along with three letters of reference and an essay. Applications will then be considered by the Honors Council. There are no hard application deadlines, Salas said, because the Honors Program accepts students on a rolling basis.
To find more information on the IU Southeast Honors Program, as well as application materials, visit www.ius.edu/honors.