It's all about the details of the journey
By the time you read this, I will be wrapping up the final details of my time here at IU Southeast and getting ready for the next step.
I'm pretty stoked to be graduating, and it feels a little unreal.
However, I am really gonna miss this place.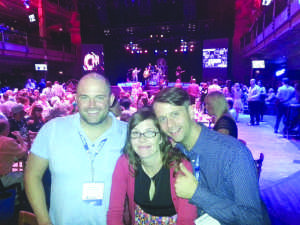 I had no idea when I got here, two and a half years ago, that I would become so attached. At that time, I saw getting that degree as one of the primary motivations for being in school.
Although it will be cool to get that degree, I can't ignore the details of the journey.
The people I have met here, the things I have been a part of and the lessons I've learned contribute to make this one of the best experiences of my life.
I have received a great education here and feel very well prepared for a career in journalism and if I had it to do over again, I would choose IU Southeast.
It has also been really amazing to be a part of something much bigger than me, both as a student of this institution and also as a staff member and editor of The Horizon.
Thank you so much to the IUS community for sharing your stories with us. Thank you to the staff and editors in whom I have found great friends and a second family. Thank you to the officers in University Police who have gone out of their way to be helpful. Thank you to the administrators of this school who have helped open the lines of communication between the campus and its administrative leaders. Thank you to the staff and faculty who work tirelessly to help make sure students have every opportunity to get the most out of their time here as they can.
Ron Allman, I have learned design skills from you that I never thought possible, and thank you for always being available when I needed help with my schedule, designs and ethical journalism.
Kendra Ulrich, your expertise in journalism has been so valuable to The Horizon. If it wasn't for your push, I don't know that I would ever applied to become an editor, an experience which has been so important to me.
Reneé Petrina, thank you for your help on design nights and for pushing us, both individually and together, to be the best.
Adam Maksl, I wouldn't even be sitting here if it wasn't for you. I was unsure if journalism would be a good fit for me until I took my first class with you—your enthusiasm for journalism got me interested, and now I can't stop. Your dedication to the profession, The Horizon and your students makes a real difference in people's lives, and I feel quite lucky to have crossed paths with you. I know I'm not the only one.
Good luck to everyone who is graduating—some now, some later. It's been great sharing this space with you.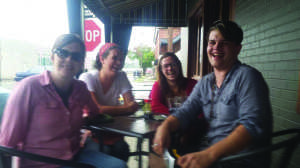 Every one of us is an important part in the bigger picture; I feel connected to the ones who came before me and the ones who will be here years from now.
This means that for the rest of my life, IU Southeast and The Horizon will be a part of me, and I a part of them, and I will never forget the things I learned here.
                                                                     —30—