SGA plans GUSTalks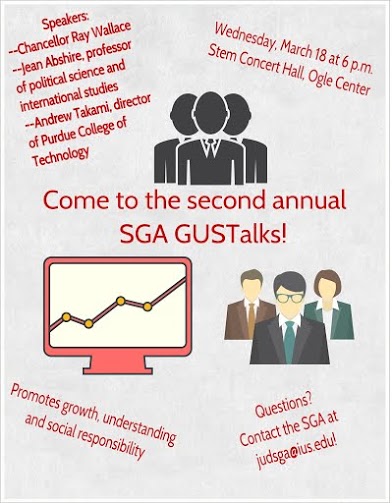 The Student Government Association has been preparing to hold its second annual GUSTalks event for months, and the day of the event is approaching.
The SGA discussed final details of the GUSTalks during its meeting on Thursday, March 12 at 4:30 p.m. GUSTalks will occur on Wednesday, March 18 at 6 p.m. in Richard K. Stem Concert Hall in the Ogle Center.
In a press release, Trent Wallace, SGA president and advertising and communications junior, said the SGA is excited to bring back GUSTalks this year.
"It's going to be a great experience and I hope people come out and enjoy it," Wallace said.
GUSTalks will feature the following three speakers:
● Chancellor Ray Wallace
● Jean Abshire, professor of political science and international studies
● Andrew Takami, director of Purdue College of Technology
Each speaker will discuss a topic related to a different aspect of GUSTalks for 20 to 25 minutes. The aspects of GUSTalks are growth, understanding and social responsibility.
Brittany Murray, SGA event coordinator, GUSTalks chair and communications junior, said IU Southeast students will be able to benefit from the speakers' discussions.
"I am really excited for (GUSTalks) to take place, and we have a great lineup of speakers this year that hopefully the student population will be interested to come and hear," Murray said.
IU Southeast students, faculty, staff and community members can attend GUSTalks. Students from over 10 area high schools have also been invited to attend.
Before GUSTalks, there will be two receptions. On the day of the event, a lunch reception will occur from 11 to 1 p.m. in the Hoosier Room, and another reception will occur from 5 to 6 p.m. in the Ogle Center.
For GUSTalks, the SGA has a Twitter account, @IUS_GUSTalks. On Facebook, the SGA has an event page called 2nd Annual GUS Talks, and it has an additional page called GUSTalks.
During the SGA meeting, the members decided to boost posts on the IUS GUSTalks Facebook page. The posts can be boosted for $5 a day, and the SGA will pay with money in the GUSTalks account.
In addition to discussing GUSTalks, Caleb Bell, secondary social studies education and political science sophomore, was sworn in as a senator by Angel Russell, sociology junior and chief justice.
"It feels good," Bell said. "My freshman year, I never would have thought that I would have been a part of SGA, but after wanting to make changes during my freshman year, I thought that I needed to step up and be a part of it. A lot of people would use it as a resume builder, but I want to use it as a chance to communicate and learn more about bills and things like that."
After Bell was sworn in, SGA members voted for the SGA senator of the year and the SGA member of the year. The award winners will be announced during the Campus Commitment to Student Learning award luncheon on Wednesday, April 1 from 12:15 to 1:15 p.m. in the Hoosier Room in University Center North.
Seuth Chaleunphonh, SGA adviser and dean of student life, said this year's theme for the Campus Commitment to Student Learning awards is Blazing Into the Future. He advised the SGA members to vote for the senators and other members who have "paved the way" for changes in the SGA.
The SGA nominated two SGA senators and two other SGA members before voting to determine the winners of the awards.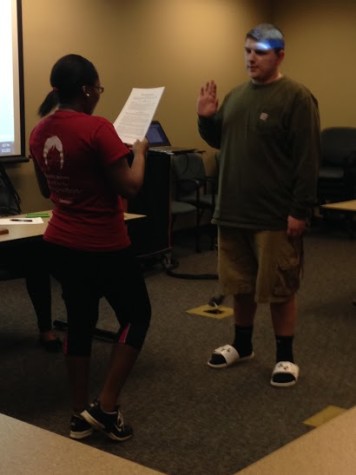 Murray and Wallace are the nominees for SGA member of the year. The nominees for SGA senator of the year are Rebeccah Nesbitt, SGA senate pro-tempore and international studies sophomore, and Greg Huda, SGA press secretary and criminal justice freshman.
During the meeting, the SGA also passed a bill to order new name badges for SGA members who hold positions. 18 name badges will be ordered from Plastic Nameplates in Clarksville, and the cost will be $181.80.
Also, Chaleunphonh said the IU Southeast student body will receive invitations to vote in this year's SGA elections. The invitations will be e-mailed on Monday, March 16.
For more information about the SGA or GUSTalks, e-mail the SGA at judsga@ius.edu, or e-mail Chris Schoettmer, SGA vice president and general studies senior, at chmschoe@ius.edu.