Students network at Education Job Fair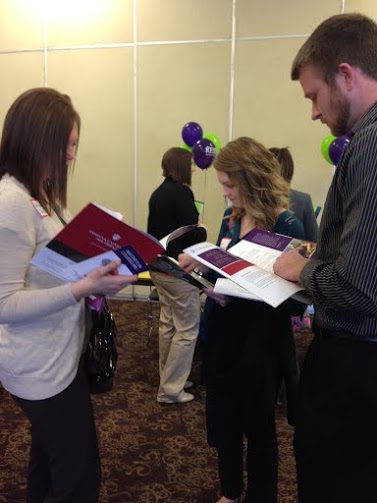 Students in the School of Education were able to expose themselves to employers during the Education Job Fair.
The Career Development Center held the Education Job Fair on Tuesday, March 17 from 4 to 6 p.m. in the Hoosier Room in University Center North.
The Education Job Fair provided opportunities for undergraduate and graduate education students to meet and network with representatives from various school corporations and companies, including the following:
Archdiocese of Louisville
Bullitt County Schools
Greater Clark County Schools
New Albany Floyd County Schools
Kelly Services
Kentucky Science Center
Professional Educational Services Group of Indiana
Additionally, a representative from the School of Education graduate department provided information about graduate programs to interested students. These graduate programs include the counseling program, the elementary education graduate program, the secondary education graduate program and the elementary transition to teaching program.
The Education Job Fair was originally going to be held on Thursday, March 5, but it was rescheduled due to winter weather. Lynn Prinz, assistant director of the Career Development Center, said she believes the schedule change impacted the event's success.
"It made it less successful than it would have been had it not been rescheduled because some of the school corporations could not attend today, and I think a lot of the students could not attend because of the change and because of the beautiful weather, so I think it's not quite the turnout that it usually is," Prinz said during the Education Job Fair.
Prinz said Jefferson County Public Schools and Carroll County Schools were two school corporations that were scheduled to be represented at the Education Job Fair, but the representatives from those school corporations could not attend.
Despite the consequences of the schedule change, Prinz said the Education Job Fair was beneficial to the education students who attended.
"It gives them (the students) an opportunity to meet one-on-one with the recruiters from the different school districts," Prinz said. "It saves them the time of having to write the letters and figure out who they need to contact because all the contacts are right here at one place."
(Story continues below)
Autumn Duckworth, secondary social studies education junior, said she enjoyed the Education Job Fair because she was able to learn about hiring preferences.
"It was interesting because of all the places there, and who exactly will be hiring within the next year and exactly who they'll be hiring," Duckworth said. "It was nice to hear that they do look for some social studies teachers, because that's the hard one to get into. So that made me feel a little happy."
Katherine Morrison, elementary education senior, said the Education Job Fair exposed her to several job options.
"I really like that it shows all the different opportunities in education," Morrison said during the Education Job Fair. "It just opens my eyes for what's out there when I graduate in May."
Morrison said she will be open to any available teaching job after she graduates.
"I used to think I was going to be a fourth or fifth grade teacher, but I'm student teaching in kindergarten, and so it opened my eyes," Morrison said. "So really, I don't have a preference right now, it's just whatever is available, I'll take."
Stephen Yochum, special education senior, said he hopes to become a high school functional mental disability teacher after he graduates.
"That's just where my heart is," Yochum said. "It's what I think is the most fun to teach. It's where I feel like I need to be."
Yochum said he spent some time preparing for the Education Job Fair.
"I basically put my resume together and I started to look up interview questions and rehearse those, just in case they decided to do that," Yochum said.
Morrison said she researched the school corporations that were scheduled to attend the Education Job Fair.
"I made sure that I knew what each corporation stood for, just to make sure I was well informed before I came," Morrison said.
Duckworth said she also prepared for the Education Job Fair, but she was unsure of the specific information that needs to be included in a resume. She said the school corporation representatives gave her helpful information about resume building.
Morrison said she appreciated that the Education Job Fair helped her network with potential employers.
"It's getting my name out there," Morrison said. "I'm passing out resumes, so at least my name is out there when it's time to consider hiring new teachers, and also, it's given me the ability to know what's out there for me as a possible job."