Grenadiers Sweep Double-Header on Senior Day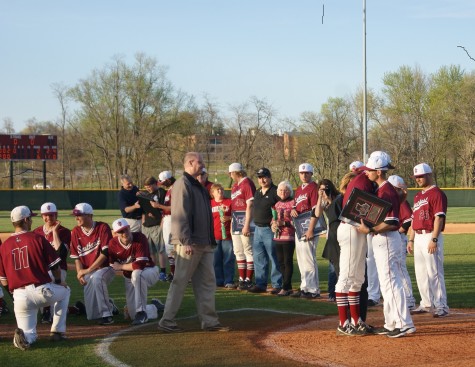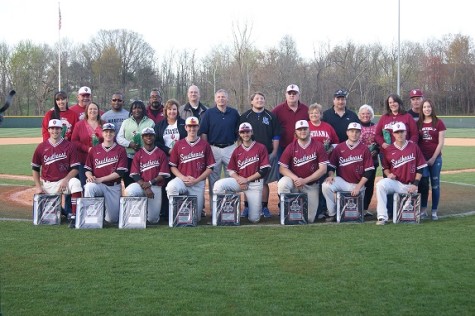 The IU Southeast baseball team honored their eight seniors on senior night in a double-header against Alice Lloyd College. The Grenadiers ended up sweeping the two games against the Eagles.
The Grenadiers are currently third place in the KIAC behind Rio Grande and Point Park with a conference record of 13-7 and an overall record of 33-16 as they head in to the KIAC tournament.
In game one of the double-header, senior pitcher Michael Fitzwater, got the start. Fitzwater allowed only one hit in five innings and striking out three batters.
"I did pretty well for the most part. It wasn't my best stuff on the mound, but I thought what I had, I executed pretty well," Fitzwater said.
Head coach Ben Reel said that Fitzwater did really well and said that he had a little back pain from last week when he threw over 100 pitches. Fitzwater only threw 74 pitches against Alice Lloyd in hopes of getting him well rested for their matchup against first place Point Park, according to Reel.
Fitzwater, who has an ERA under two this year and leads the team in strikeouts, said he's loved every second of his career as a Grenadier.
"I've had great coaches and great teammates behind me," Fitzwater said.
The scoring began in the bottom of the second inning with a triple by junior designated hitter, Tyler Adams. Adams would end up scoring later in the inning on a wild pitch.
The Grenadiers would score another run on a bases loaded walk. And with runners on second and third, sophomore third baseman Josh Beams, singled to left resulting in two more runs.
IU Southeast struck again in the bottom of the fourth inning. Sophomore outfielder, Alex Bush, came in to pinch run for freshman catcher Nick Pope who singled to leadoff the inning.
Bush stole second and then scored on a single by senior center fielder, Marcus Howard. Howard would later score on a bunt by Beams.
Beams finished the game 2-3 with 2 RBIs, while Howard went 2-4 with a run scored and an RBI.
The Grenadiers ended up winning the first game 6-2. After the game the Grenadiers held a ceremony for all eight of their seniors and their families.
In game two of the double header the Grenadiers got off to a hot start scoring two runs in each of the first three innings.
Senior pitcher Clint Chestnut had a solid outing going five innings, with six strikeouts and allowed just two runs, both unearned.
Junior first baseman Trent Simpson knocked in Beams with a double to center field in the first inning. Simpson would later score on an error by the Eagle's third baseman.
In the second inning the Grenadiers scored on a wild pitch and an RBI single to left-center by Beams.
Junior second baseman Brad Walker knocked in a run with a single to left in the third inning, and then senior shortstop Jarret Young later scored on a wild throw by the catcher.
Young is batting over .308 with 30 RBIs this year for the Grenadiers. He said that all the seniors have a great relationship.
"We get along really well on and off the field," Young said. "It seems like we know how each other are going to play and have each other's backs.
Young also said that he has gotten a lot better being at IU Southeast.
"I've had some good coaches like (assistant) coach Dickson (Andy Dickson)  who've really worked with me hitting, and I feel like I've gotten a lot of close friends and teammates," Young said.
The Eagles were able to get two runs in the fourth inning thanks to three Grenadiers errors.
Alice Lloyd also scored a run in the sixth inning to make it a three run game, however the Grenadiers scored two runs in the bottom half of the inning from a bases loaded walk and a sac fly.
Senior closer Evan Bickett finished off Alice Lloyd, striking out four batters in one and a third innings to get the save.
Coach Reel pointed out two seniors, Howard and Bickett, who have been with the team all four years.
"They bleed crimson and cream, and in four years they've done a lot for the whole program," Reel said.
The Grenadiers begin the KIAC tournament today in Kingsport, Tennessee at 8 p.m. against Asbury College.