Grenadiers lose in four sets to Point Park
The IUS volleyball team returned home on Friday, Sept. 18 as they hosted Point Park University at 7 p.m. in the Activities Building. The Grenadiers fell short to the reigning KIAC conference champions, losing in four sets (25-23, 25-23, 20-25, 25-22).
The Grenadiers are now 5-6 for the year and are 1-1 in conference play. The Grenadiers went 3-2 last week defeating Cincinnati Christian, IU East, and Montreat and losing to St. Catharine and No. 16 Georgetown.
"This was a big game for us," head coach Eric Brian said.
The Grenadiers had chances to win each of the sets in Friday's game. Each set was very close, including the fourth set where the Grenadiers led by as much as seven points. However, errors were the one thing holding the IU Southeast back the whole match. They had a costly 22 attacking errors in the game.
"The sets were close but it just didn't end in our favor," Katie Fischer, junior middle blocker, said.
Hannah Joly, freshman outside hitter and last week's KIAC Attacker of the Week, had a team high 17 kills for the Grenadiers. Joly leads the conference with 3.1 kills per set. Monica Loftus, freshman right side hitter, and Michala Beasley, sophomore outside hitter, each added seven kills of their own.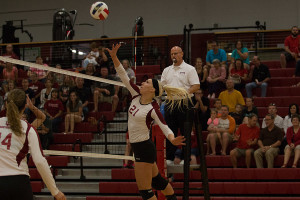 Setting those kills for Joly, Loftus, and Beasley was Hannah Barker, junior setter. Barker had a huge game with a game-high 36 assists. She is third in the KIAC in assists per set with eight and a half.
Brian said that if the team keeps playing like they did Friday night then the sky's the limit.
"It's just about the middle of the season and I am watching this team grow," Brian said. "We are going to be scary come conference time."
Even with the loss to their Point Park the Grenadiers still have an opportunity to improve their 1-1 conference record with ten conference games still remaining.
Next week, IU Southeast head to Oakland City to play the Mighty Oaks on Tuesday, Sept. 22. Following that game, they'll go up against another conference opponent as the Grenadiers travel to Alice Lloyd College to take on the Eagles on Friday, Sept. 25.