Student organizations dedicate time and service to community
October 5, 2015
Running down the road in front of the University Center, three IUS Police officers and seven Campus Life staff members leaned forward, pulling a blaring fire truck 100 feet. The team completed the task in 17 seconds and 50 milliseconds.
Pi Kappa Alpha, also known as Pike, held a fire truck pull event on Monday, Sept. 28 from 9 a.m. to 5 p.m.
"I didn't realize we'd be running," Ashley Kern, English senior and student liaison of Campus Life, said. "It's cool. I got my exercise in for the day."
The event was one example of campus organizations' community service and philanthropic efforts. Greek and other student organizations on campus have participated in and held community service events, as well as donated money to various philanthropies.
Patrick Jaggers, advertising junior, is the risk awareness, campus involvement and social chairperson of Pike. Jaggers said Pike's fire truck pull has become the chapter's signature fall event, due to the event's success. The pull — in its first year — raised over $900 for Crusade for Children.
Brandon Weaver, business junior and member of Pike, said most of the Pike chapters hold fire truck pulls each year to raise money for Crusade for Children.
Throughout the duration of the fire truck pull, an activity called "Pie a Pike" also occurred. Students, faculty and staff donated money to throw pies in Pike members' faces.
"We figured it would be a great way to attract people," Jaggers said. "It's not very often you see somebody pieing someone on campus. It was a great way to get people to donate a little bit of money, to not only donate money to a fun cause but a good cause as well, especially for Crusade for Children."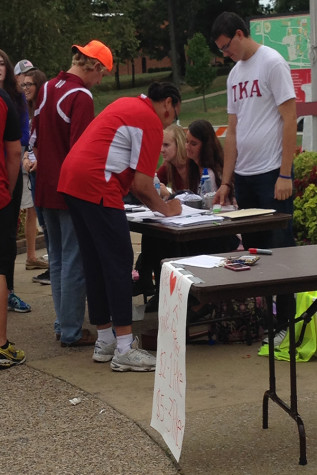 Each academic year, the Pikes collectively earn thousands of community service hours by participating in events the chapter holds, Jaggers said.
"As of the 2014 to 15 school year, we actually had more community service hours than any other fraternity on campus," he said. "It's something that we really strive for. We have a goal every year of a certain amount of community service hours that we want to reach."
This academic year, Jaggers said the Pikes' goal is to earn 5,000 community service hours collectively.
He said the chapter doesn't enforce community service requirements, but at the bare minimum, members usually earn about 20 hours a semester.
Jaggers said volunteering benefits the Pikes in several ways.
"It helps us build character," he said. "It turns us from young men into men. It's a great way to give back to those who have less and who are in need. It's excellent PR for us because it helps us build this organization."
Besides the fire truck pull, Pikes can earn hours by volunteering at the Taylor Trudeau Cycle for Life, a weeklong event held on campus each April, Jaggers said.
Cycle for Life raises money to find cures for leukemia, lymphoma and melanoma.
Jaggers said the three IU Southeast sororities, Alpha Phi, Phi Sigma Sigma and Sigma Kappa, helped the Pikes with the truck pull and other philanthropic events they have held in the past.
"All three sororities really helped out with not only donating, but also trying to get people to support our cause," Jaggers said. "Without them, we wouldn't have been able to do it."
Jacqueline Labor, communications senior, is a member of Alpha Phi. Labor said volunteering is one of Alpha Phi's main values.
"As a Greek organization on campus, we want to help serve our community in which we learn and live in," she said.
Labor said each member of Alpha Phi is required to complete 10 community service hours per semester.
Alpha Phi provides several opportunities for members to volunteer, including American Red Cross blood drives, the annual St. Jude walk, donating items to Choices for Women in New Albany, and others.
Volunteering helps Alpha Phi members gain skills and experience for their future professional careers, Labor said.
"[Volunteering] shows that you can work in teams, communicate and build relationships," she said. "Volunteering is also a great way to network and get our name out in the community. You meet so many wonderful people while volunteering for other organizations and it provides a great opportunity for our girls to create these relationships with these organizations for their future endeavors."
Labor said she enjoys volunteering with Alpha Phi, even when it means early mornings.
"I have gotten so much personal growth from [volunteering] that I don't mind waking up at 6 a.m. on a Saturday morning to devote my time to a great cause when I could have been sleeping," Labor said. "It's all worth it to me."
Labor had an early morning on Saturday, Sept. 19, because Alpha Phi participated in the annual St. Jude Walk at the Louisville Zoo. The IU Southeast chapter of Tau Kappa Epsilon, a fraternity known as TKE, has led campus participation in the walk for several years.
"
We just like to volunteer our time whenever we can.
— Ethan Wells, marketing sophomore
Ethan Wells, marketing sophomore, is the vice president of TKE. Wells said St. Jude Children's Research Hospital is the main organization TKE supports, and he developed an interest in volunteering when he learned more about St. Jude. He also said St. Jude provides TKE with other volunteer opportunities besides the St. Jude Walk.
"[St. Jude] lets us know how everything's going," Wells said. "They keep us updated on tables they have set up. For example, last year, at the Louisville Expo at the science museum, they had a table set up for St. Jude that we actually earned volunteer hours, and we got to help them work it. It was a St. Jude table, but it was run entirely by TKEs from our chapter."
TKE mainly devotes itself to St. Jude events, including the annual walk, Wells said. Besides those events, members normally volunteer individually or in small groups.
The fraternity sometimes helps other campus organizations as well, including Alpha Phi and other Greek organizations.
"We just like to volunteer our time whenever we can," Wells said.
"It's little things here and there. That's what adds up and allows us to get those hours. We all have our own schedules too, so we're all fairly busy. It just makes it easier on us to make our own hours."
Wells said volunteering helps TKE defy fraternity stereotypes."We're not just a group that goes and hangs out, what people think a fraternity is," Wells said. "We like to separate ourselves from that point of view, and we like to be involved in everything that we can possibly be involved in, especially when it comes to philanthropy, money and community service hours."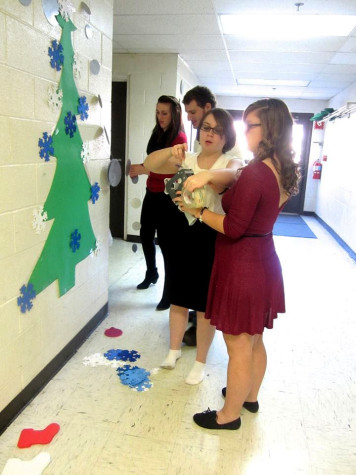 The Dining Hall, TDH, is a student organization that helps fraternity members, sorority members and other students earn volunteer hours.
Jessica Pilkerton, education junior, is the treasurer of TDH. Pilkerton said TDH also allows anyone on campus to participate in its volunteer events.
"If we do any event, it's welcome to any IUS student who wants to get involved in their community," she said. "We're not going to exclude them because they're not a part of TDH."
Pilkerton said TDH mainly focused on intramurals when it was founded, but the original members decided to turn TDH into an organization that values philanthropy. The members had volunteered individually on their own time, and they decided they wanted to volunteer together.
"Getting involved inside and outside of campus and in the community was probably the biggest step," she said. "So we started implementing volunteer hours a little late into the fall of last year, and now we actually require six per semester."
Pilkerton said TDH accepts new members in the fall and spring semesters. Each semester, new members learn what counts as volunteer hours and how to log them online.
Pilkerton said TDH encourages its members to go above and beyond by earning more than the required amount of hours.
Each year, TDH gives two types of community service awards to members who perform an outstanding amount of community service. The Lil' Fry award goes to new members, and the Hootie Hoo award goes to full members.
"There's not a single person in our group who I can think of who would ever complain about doing it," she said. "They're excited. They want to do more."
TDH members have volunteered at several places since the organization was founded, Pilkerton said. Habitat for Humanity is an organization TDH will help this year, although they are still working out details.
"We're trying to get anywhere from 10 to 15 people to do it because to build a home, you want a big group of us to come out," Pilkerton said.
In December 2014, TDH members decorated Harbor House of Louisville for Christmas, and they gave holiday presents to children in the IU Southeast Children's Center, Pilkerton said.
Burns said he has enjoyed performing community service as a TDH member. He said he coaches a middle school wrestling team, and volunteering with TDH has helped him and his team.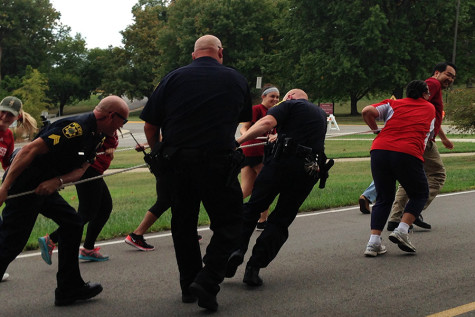 "With volunteering that we have here, if I need to raise money for my team, I can always rely on TDH helping, and I can get volunteers for TDH through my wrestlers," he said.
Burns said volunteering has helped him and other TDH members network with people around the community.
"If you're volunteering, you're helping somebody, and then you're meeting new people to make connections," he said.
Burns also said TDH's volunteer efforts make IU Southeast and the community improve.
"With having another organization on IUS's campus that volunteers — and that's one of our main principles — it helps IUS look better, and the community also," he said.
Besides Greek organizations and TDH, other student organizations have participated in several community service events each year.
Susan Ridout, professor of education and adviser of the Student Education Association, said SEA members are not required to volunteer, but several of the members choose to volunteer and participate in community service events with the chapter. Ridout also said the SEA events tie into the future teachers' studies.
"Most of the volunteer opportunities we have deal with children and helping the community," she said. "I think it just shows them that teachers should always be looking for ways to engage with the community and to give back, and to look for ways to support children and students outside of the school walls, and outside of school time."
Ridout said SEA members help stock community bookcases in two locations in New Albany: the YMCA and the Interfaith Community Council. If parents bring their children into these locations, the books can keep the children engaged positively, she said.
"
There's not a single person in our group who I can think of who would ever complain about doing it [volunteering]. They're excited.
— Jessica Pilkerton, education junior
"We try to provide interesting and engaging books for children at these sites," Ridout said. "So SEA members go and refill and replenish these bookcases as books get weathered and worn, and as we just get more books to put out there."
Ridout said the SEA members refill the bookcases during each academic year, but take a break in the summer.
"We're picking back up on it this fall," Ridout said. "We've been away for the summer, but they have been doing that last year, and they'll be starting up late this year."
In addition to keeping the community bookcases filled, Ridout said the IU Southeast SEA and other Indiana SEA chapters participate in an event called Outreach to Teach each spring. Ridout said the event occurs in a school in a different region of Indiana each year. In 2016, Outreach to Teach will occur on Saturday, April 9 at Oakland Elementary School in Lafayette, Ind.
"Students go into an identified school, a school that is in need of some assistance in some form," Ridout said.
"They go in for usually a day, or a day and an evening, and refurbish the school by painting, doing landscaping, whatever the school personnel have said needs to happen at that school."
Besides participating in community service events that relate to the teaching profession, Ridout said the SEA officers are encouraging other members to donate jeans during the entire month of October, as part of the Honors Program Student Advisory Board project called Teens for Jeans.
Mark Jallayu, political science and journalism sophomore, is the volunteer coordinator of the HPSAB.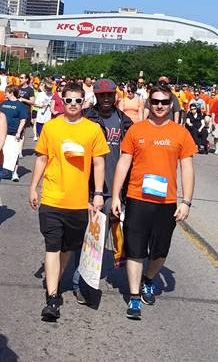 Jallayu said Teens for Jeans is a partnership between dosomething.org and Aeropostale.
"Students, faculty and staff can donate jeans to the donation center in Knobview Hall, room 235. Aeropostale will give the jeans to homeless teenagers," he said.
Besides homeless people, Jallayu said jean donors will benefit from participating in Teens for Jeans.
"For every two pairs donated, people get one volunteer hour," he said.
"And the people who we are donating jeans to are going to benefit from it because dosomething.org said that one of the main things that homeless people ask for is jeans."
Jallayu said the HPSAB hopes to collect 500 pairs of jeans. He wants the HPSAB to partner with the IU Southeast schools, offices and campus organizations.
"I feel like if we all partner together, we can do a great deal of work," Jallayu said. "If it's just the HPSAB, I don't know how close we will get to the goal of 500, so it's important that we try to get everyone on board."
Amanda Coomer, education freshman and member of the HPSAB, said the HPSAB has also performed community service by working with the Kentucky Center for the Performing Arts, the Dare to Care food bank in Louisville and the IU Southeast Campus Beautification Day.
Coomer said volunteering comes naturally to her, as she enjoys helping people, organizations and businesses.
"
I feel like if we all partner together, we can do a great deal of work.
— Mark Jallayu, political science and journalism sophomore
"I'll pretty much do anything to help people out if I can, or if I have the time," Coomer said. "It's usually fun. Usually, volunteering is actually fun, so it's not really a lot of work."
Coomer said volunteering is a good activity for anyone.
"You have all of these gifts of knowledge and talents," she said. "You should be able to give them back to other people and be humble."