Thinking about joining a sorority?
One of the largest communities on campus is Greek life. Some join for the resume builder, others sisterhood, or even philanthropic work. It is full of opportunities to get involved on campus and in the community.
Following is a guide to formal recruitment for girls interested in joining a sorority.
Formal recruitment is a three night process which will take place September 11 through the 14.
•Friday the 11: Casual Wear
•Saturday the 12: Business Casual
•Sunday the 13: Cocktail
•Monday the 14: Casual Wear
Friday night every person visits every sorority. Based on personal rankings and invitations extended by the sororities determines which ones you visit the second night.
Saturday you can visit one or all three sororities.
By the third night, your decision is mostly made. Sunday girls are normally only given two, if not only one, sorority to visit.
Monday is bid night, arguably the most exciting night of the weekend. Bids are extended and accepted or occasionally declined and you start your journey into the life of a sorority girl.
There are three sororities from which to find your home.
Alpha Phi
•Colors: Bordeaux and Silver
•Symbol: Phi Bear
•Philanthropies: Alpha Phi Foun dation: Research for Women's Heart Health
•Open Motto: Union Hand in Hand
Phi Sigma Sigma
•Colors: King Blue and Gold
•Symbol: The Sphinx
•Philanthropies: Phi Sigma Sigma Foundation, Kids in Need, and Practice Makes Perfect
•Open Motto: Aim High
Sigma Kappa
•Colors: Maroon and Lavender
•Symbols: Heart and Dove
•Philanthropies: Maine Sea Coast Mission, Gerontology with a focus on Alzheimer's Disease Research, and Inherit the Earth
•Open Motto: One Heart One Way
If you're a man and want to go Greek
The fraternities recently formed the Interfraternity Council (IFC) so they will hold formal recruitment in the fall. Events will be held on campus September 8 through 11. For more information and updates visit iushorizon.com.
The best part about Greek life and why they joined

"My favorite part about Greek life is definitely the lifelong connections I have made. I never thought I would love a group of girls so much, let alone call several of them my best friends. I also can't believe how many friendships I have made with other Greeks and how much we all support on each other and help the community with all of our great philanthropies. The hardest part, honestly, would have to be when everyone becomes gamma chis and they have to disaffiliate. It's really hard to be apart that long."
Holly Glass, Alpha Phi
"The most rewarding part of being in Greek life is all the connections and relationships I've made.

I've met so many people and our Greek life is so small and special that I've met many people who were involved when they went to IUS.
The hardest part is trying to make it to everyone's philanthropy events when I'm working and have classes. I still try to go to what I can but I'll also support in other ways than just attendance."
Kimberlyn Beck, Sigma Kappa

"The best part about being in Greek life has been the friendships I've gained and the fact that I know I've always got someone to call or text when I need something or someone. I'm not alone with whatever I'm going through. It does require a lot of dedication though. There's always charity events to do and volunteering as well as mandatory meetings that it takes up a lot of time. And there is such diversity that there's bound to be butting heads so it can be kind of hard working with such different people but it's worth it in the end."
Devin Armbruster, Phi Sigma Sigma
"I recommend Greek Life for so many reasons. Being Greek has given other sorority women and myself many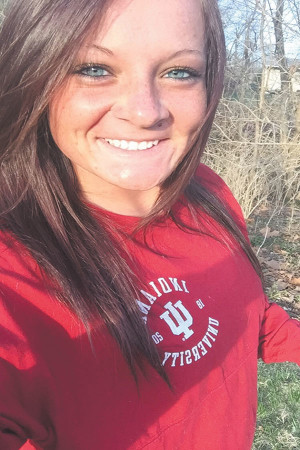 opportunities. It allows women to connect with one another while working together to raise support and awareness for their chapter's philanthropy. It has allowed me to have opportunities to better myself by attending workshops and institutes put on by my chapter. Greek Life is one big network as well. The friendships made in Greek Life are forever."
Shelby Lucas, PanHellenic President