Illuminating awareness
Martina Andrews lit her candle and passed the light around until all the candles were lit. Everyone bowed their heads as Andrews said a silent prayer.
Zeta Phi Beta held a candlelight vigil for breast cancer awareness.
Each of the women held a candle and shared their experiences with breast cancer.
Martina Andrews, sociology and criminal justice junior, said she never realized how important it was to get checked until she lost someone very close to her over the summer.
"It was tough. You never really think it will happen to you or someone you love until it does," Andrews said. "I wanted to have this event to help bring light to breast cancer this month so other women can know just how important it is to make sure you don't have it."
The women agreed that they were glad this event was arranged because it brought them all together. They said now they wouldn't feel alone when dealing with the loss of someone close due to breast cancer.
"This was important to me because breast cancer has affected me personally and it still does, so it was nice to be able to come together and share some happiness instead of only focusing on how many people have been harmed from it," said Adelis Giovin, psychology junior.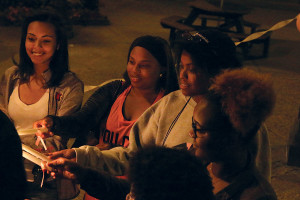 According to the National Breast Cancer Foundation, breast cancer is the most commonly diagnosed cancer in women and the second leading cause of death.
The Indiana Breast and Cervical Cancer Program, BCCP, is a statewide public health program that is dedicated to saving lives and reducing the tragic effects of breast and cervical cancer for women in Indiana.
The BCCP provides women with diagnostic services and high-quality screening to detect these cancers at their earliest and most treatable stages. They focus on low-income, uninsured, and underserved women and provide free clinical breast exams, mammograms, and Pap tests to women from the ages of 40 to 64 who meet the program requirements.
Andrews also stresses how easy it is to do a self breast exam.
"People always think it's weird to do that kind of thing to yourself but it's so important. You could find something and be able to get treated earlier if it is cancer rather than a doctor finding it later and it being harder to get rid of," Andrews said.
Peyton Liggins, psychology senior, said that having everyone come together and be supportive of each other was great.
"We have this kind of social stigma on keeping our personal lives very private, especially when we're sick," Liggins said. "It was good to see a group of women get together and discuss their stories with this disease and how it has affected them and just shed light on and bring a positive outlook to the disease and how it has affected them and just shed light on and bring a positive outlook to everything."