Athletic trainers offer watchful eye over student athletes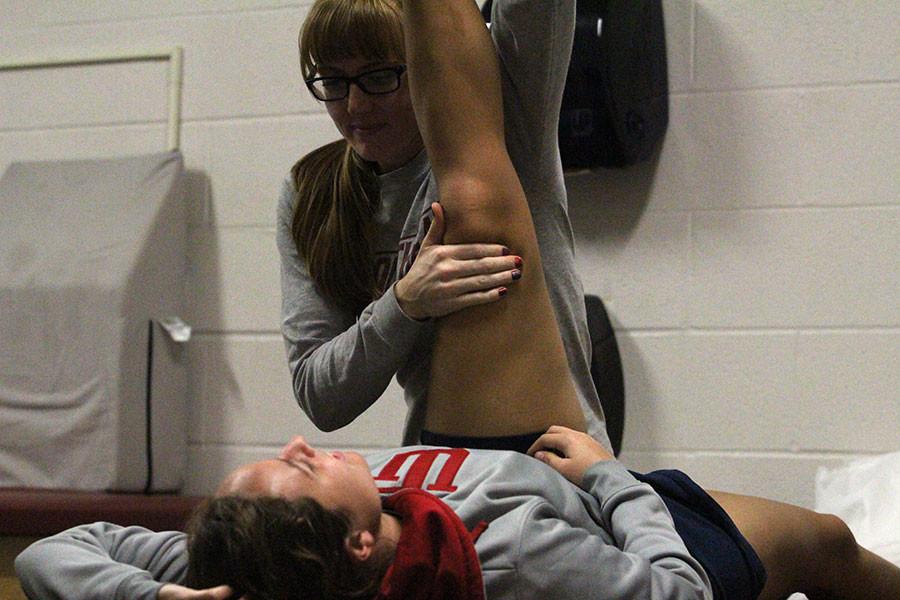 Two athletic trainers protect IUS athletes from terrible muscle tears to the always dangerous concussions.
Tiffany Hammond, head athletic trainer, and Megan Graf, assistant athletic trainer, have worked downstairs in the Activities Building Training Room for more than five years.
Every home game, Hammond and Graf are courtside waiting to take care of some type of injury. They take shifts to make sure that all the athletes make it through practices without any problems.
Hammond has been the head of the IUS athletic training program for 14 years.
Hammond said she was with Kentucky Orthopedic Rehabilitation Team, KORT, as a graduate assistant for one year at Spalding University.
"They hired me the following year as the head athletic trainer here at IUS," Hammond said.
IUS athletes go to a KORT therapy center for most of their rehabilitation sessions. Centers are in Southern Indiana and Kentucky, but IUS athletes use the location off Grant Line Road.
"KORT is very important to the IU Southeast sports community," Graf said.
KORT has been around for 28 years and has provided physical therapy for high school, college and professional sports teams.
The IUS men's basketball team experienced injuries early in the season. Five players sat out or were limited when they visited Harris-Stowe State University.
Junior forward Cody Young sat the game out because he tore his meniscus during practice, ending his season early.
This wasn't the first sports injury for Young.
"I tore my ACL my senior year of high school," Young said.
Having had two major injuries, Young said he has been in and out of the KORT facilities. Young also meets with the trainers at IU Southeast.
According to Graf, it is important for an athlete to always stay in shape, even when not injured.
"You lose your fitness faster than you gain it," Graf said. "So, if you want to stay competitive you can't afford to let that slip."
Graf said that an in-shape athlete doing strengthening exercises and conditioning all the time is less likely to become injured.
The postseason is about recovery and the offseason is when you want to look to be bigger, faster and stronger, Graf said.
"Strength and conditioning should be done in periods or cycles, mixing in a few weeks of building with a week of recovery before building again," Graf said.
Young said that the toughest part of an injury is mental.
"Your mind automatically thinks, 'Hey, I don't want to injure this again.' And that's what gets you hurt again," Young said.
According to Graf, concussions are one of the most serious injuries. Studies have shown that concussions cause harmful and long lasting effects, especially for those with multiple concussions.
Hammond said that she has seen the need for proper awareness and education for athletes, ranging from professionals to youths.
She said that it is important that athletes know what a concussion is, the symptoms they may experience, proper diagnosis and treatment.
"We need to make sure athletes understand the life-altering affects a concussion can have," Hammond said.
Part of KORT's concussion management plan, put together by Hammond and other team physicians, includes having student athletes perform baseline neurocognitive testing called ImPact.
When a concussion occurs, Hammond said that their physicians can use this as a tool to assess an athlete's cognitive function. Through KORT's services, this testing is provided to all student athletes.
After diagnosing a concussion, Hammond said that it is important for student athletes to have proper physical and mental rest.
"We encourage our players to limit screen time with phones, computers, and tablets, and often modify their class activities," Hammond said.
The management plan includes removing a player with a suspected concussion from play and referring the player to the team neurologist.
Hammond said that concussions tend to necessitate time away from class or additional time to complete coursework.
The IUS trainers work with the academic advisers and professors to make sure they receive the proper information about the student athlete from the physicians.
"We have been working with Indiana University on what is called a Return to Learn protocol for all IU campuses," Hammond said.
Concussions are tricky, Graf said. There is never a good time table for an athlete to get back into action.
"If a student athlete sprains an ankle, I could give an approximate timeline," Hammond said. "Concussions are very individualized. A high percentage return in 10 to 14 days, but there are cases in which the athlete cannot return for the season."
About the Contributor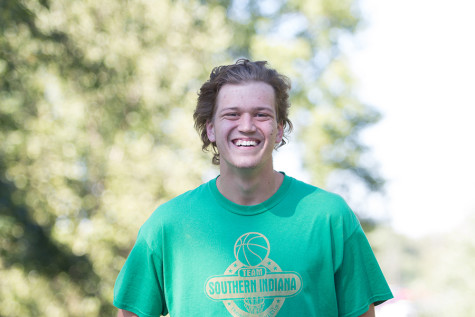 Parker Henes, Sports Editor (Spring 2016); Staff Reporter (Fall 2015; Fall 2014)
My parents called me Parker in the wonderful year of 1993. Fun fact, every five years my birthday is on a Friday the 13th. I am passionate about sports...