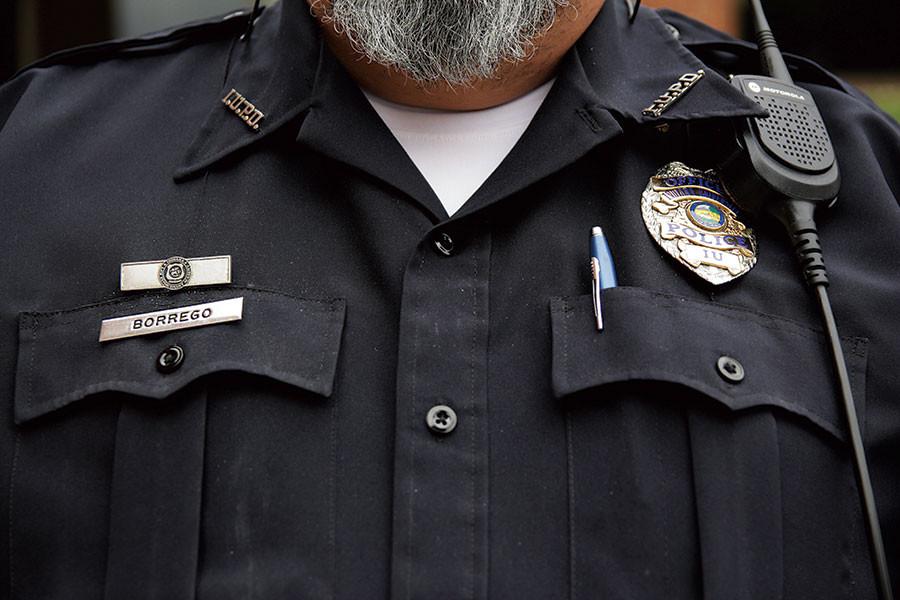 Clocking out
Veteran officer to retire after 15 years of service
November 15, 2015
Whether it's a friendly smile, a quick wave or an upbeat 'hello,' the presence of Ruben Borrego has been felt throughout the IU Southeast campus. Now, after 15 years, his service to the campus and its students is coming to an end.
On Nov. 20, Borrego will celebrate his retirement from being an IUS police officer with a celebration held in the University Breezeway from 1-3 PM.
Before becoming a police officer at IU Southeast, Borrego was in the Marine Corps for 21 years. During this time, he worked in law enforcement and corrections while traveling around the world to places such as Japan, California, Virginia, and North Carolina.
When Borrego retired from the Marine Corps, he got a job with the phone company Ameritech, now known as AT&T. While working for Ameritech, Borrego was approached by Steve Cotton who was working for the IUS police department as a dispatcher.
Borrego said Cotton encouraged him to apply for a position with the IUS police department. Beginning in August of 2000, Borrego attended the Indiana Law Enforcement Academy for 12 weeks. IU Southeast sponsored Borrego's attendance and, after he completed it, hired him as an officer in October of 2000.
Now, a decade and a half later, Borrego said it is time for him to move on to the next part of his life.
"I'm ready to retire and go on to different things, but I'm going to miss this place at the same time. I'm going to miss the people," Borrego said.
After his retirement, Borrego is moving to Texas where he will be able to spend more time with his parents.
"I have not been with my father since 1975," Borrego said. "I have visited but not to where I've been able to drive up and see my mom and dad and not have to worry about 'I'm only here for a couple of days.'"
Even though Borrego said he is ready to be back with his family, he said he will miss the humor and time he spent working with his fellow officers.
"You never know what's going to come out of their mouths or what they are going to say," Borrego said..
Travis Huntley has worked as a fellow officer with Borrego for four years now. He said Borrego is fun to be around, a practical joker and dedicated to fellow workers.
"I think it is good he is retiring because, after 21 years in the Marines Corps and working at IU Southeast for 15, he can now spend time with his family and quit working," Huntley said.
Deven Estes, Criminal Justice Senior and fellow IU Southeast part-time police officer, has worked with Borrego for one and a half years. Estes said he is going to miss Borrego but is glad Borrego will get to spend time with his family.
"Ruben is very caring. He goes out of his way to teach me things and always lets me tag along with him. I got a lot of experience and learned a lot from Ruben when I started working as a cadet," Estes said.
Estes chuckled as he told a story of a time when he was tagging along with Borrego. It was a cold winter day and they went to check and empty the money from the parking permit kiosks. Borrego told Estes the task would be simple, easy and quick. However, the kiosks were metal and had frozen shut. It ended up taking over 15 minutes in the freezing cold for them to open the kiosks.
"Opening the kiosks went from being the easiest task to the hardest. It is not a hard job and Ruben does a great job. The cold, frozen metal just made it difficult," Estes said. "When Ruben leaves I'm going to stay away from the kiosk when they assign jobs."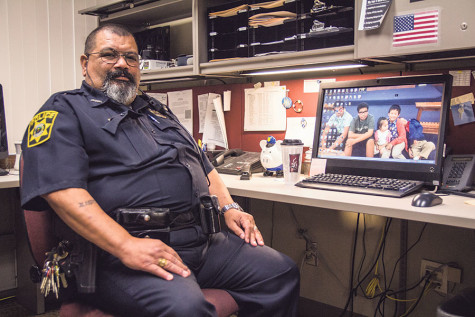 Christine Thompson, Office Services Assistant Senior, said she is sad Borrego is retiring but happy for him.
She said Borrego is always dependable, and can always be counted on.
"Ruben is always ready to help people, I appreciate that about him," Thompson said. "He will check in with the working dispatchers for bathroom breaks, coffee, and just to see how their day is going."
IUS Chief of Police, Charles Edelen, has worked with Borrego for six years.
"He is very dedicated. If asked to do something he will get it done and get it done early," Edelen said. "He's done anything I have ever asked. He comes in early, stays late, picks up holidays, and if it snows, he is the first to come in."
Edelen said everyone seems to know Borrego when he walks down the hallways. He said that is a very admirable attribute for a police officer.
Borrego said he has experienced a lot of good and bad memories while working at IU Southeast. One of his favorites includes working the graduations.
"I love graduation. I love watching the adults graduate and go on to become more successful," Borrego said.
Though there are many good memories, there are some less pleasant ones as well. Borrego said one of the hardest things to do is arresting students.
"Having to arrest students, in general, is one of the hardest things to do, and it has happened. You arrest students not because you want to but because of what they did," Borrego said. "They sometimes ruin their career depending on what the arrest was for. They could lose a lot of things."
Reuben Borrego, one of Borrego's sons, studied Computer Science at IU Southeast and graduated in spring 2012. In December, he will have worked for the IU Southeast IT department for two years.
Reuben said he is proud of his father's retirement. He said Borrego has worked at IU Southeast for quite some time now, and it still amazes Reuben how well-known and respected his father is across the campus.
"Without my old man I wouldn't have the work ethic I do today. He pushed me as a boy to always strive for success, and I'm proud to say his encouragement worked," Reuben said. "My father's a great man with a big heart. I'm sure I speak for everyone here on campus when I say he'll be sorely missed."
Phillip Borrego, a senior who is majoring in Geology and Geographic Information Systems, said he has enjoyed the opportunity to see his father at work while attending IU Southeast.
"[My father] is a very important person in my life." Phillip said. "He was always there for me for when I needed him. He is a hero to me."
Phillip, nicknamed 'Mijo' by Borrego, said having a father who's a police officer leads to a lot of unique memories. Phillip spoke of rides in the cop car where his father made him sit in the back. Borrego would also help Phillip when dealing with tickets, paperwork and car problems.
When Phillip got into a car accident, he decided not to notify his father. He thought it would be best if he waited until the following day to share the news with Borrego.
Phillip said his father used a very stern voice when he learned Phillip had not informed him of the accident. Borrego told his son he could have helped Phillip in more ways than just as a police officer.
Even with a move down south in his near future, Borrego said he plans on returning to IU Southeast to see his son Phillip graduate in May.
"I'm happy he is retiring and moving closer to his family to help, but it sucks because I want to see him as often as possible," Phillip said.
Tanya Borrego, one of Borrego's daughters, graduated from IU Southeast in May 2008 with a B.A. in Communications Studies. She is currently attending IU Southeast for a B.S. in Mathematics and Computer Science.
"I always loved it when I was in class and someone would see our name, Borrego," Tanya said. "If they knew my dad, the next question would usually be, "Are you related to Ruben?" I'd smile and tell them Ruben is my dad."
Tanya said she has always been proud of her father's position as an IUS police officer.
"So many people around campus have told me how much they love him," Tanya said. "He spent years at IUS helping students and teachers."
Tanya said her father has worked for a very long time, and he deserves the small break retirement will allow.
On Nov. 28, Borrego and his wife, Wanda, are moving to Texas where he was born and raised. They have not yet found a house but will live close to his parents.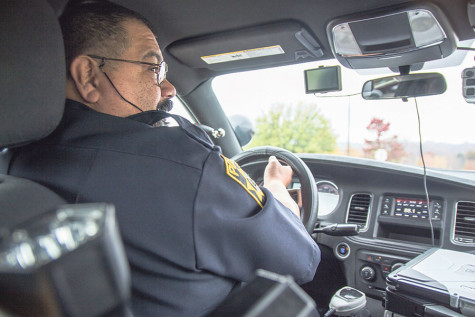 "It's time for me to go back home and be around my family for a while," Borrego said. "My parents are getting older, and I want to be there with them and spend more quality time with my parents rather than just a week here or a week there."
Though Borrego is retiring, he has an interview set up on Nov. 30 with the Child Protective Services in San Antonio. He said there are children in need of help and that his retirement will give him an opportunity to help them.
Even with his sights set on retirement, Borrego said he remains appreciative of the campus and people he is leaving behind.
"IUS to me is a big family. I'm going to miss the employees, and I'm going to miss the students," Borrego said. "To me it's a big family. I enjoy everybody."